Disney traditions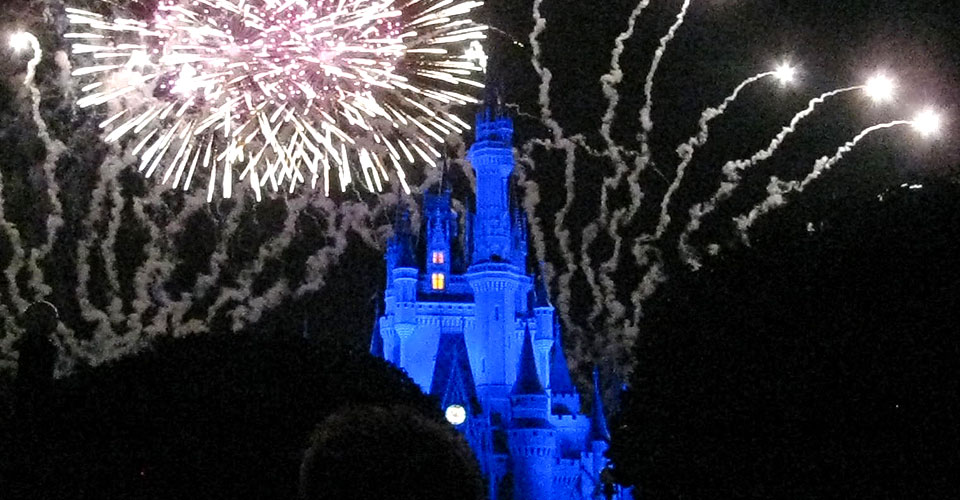 Oh man, today was such an amazing experience, today was my Traditions training for the Walt Disney World Company! Traditions is all about learning the history and 'traditions' of the company, we got to learn about the early years of Walt and his brother, Roy. But here's kinda how the day went!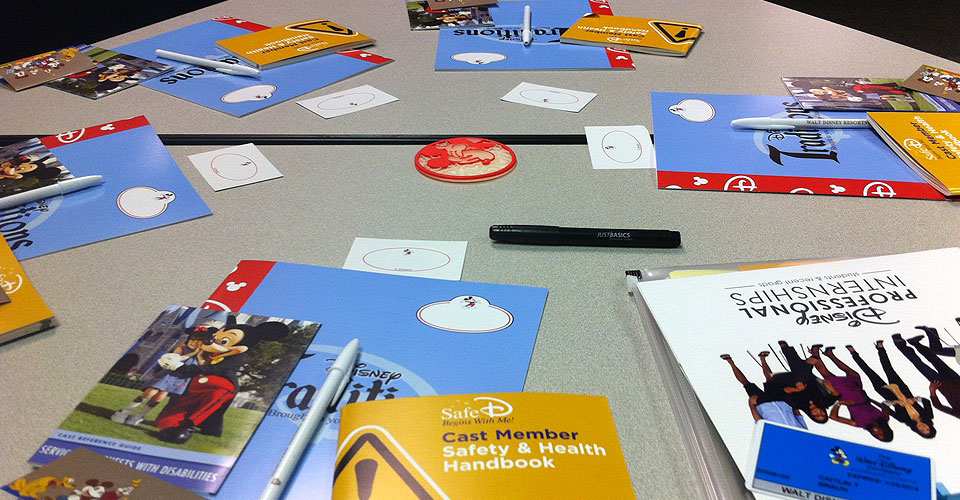 So we have to meet at Disney University for our official first day of training as a Walt Disney World employee!!! So we walk into the doors at Disney University and we are instructed to turn down a hallway and we have to wait in line to get into our classroom. As we are entering our classroom, we are handed our Disney I.D. cards!!! This is the card that proves that I am a Disney employee and this is my 'golden ticket' to get into the parks! This is so cool 🙂 After entering the classroom, I find a table to sit down at and at each seat there are folders with a lot of information in them, but I am excited to begin to learn about all this information. We have some really fun facilitators leading us through all the classroom work today. First we learn all about the history of the company and the magic that it has brought to guests throughout the years. We learned about the quality of business that Disney requires from each of its employees.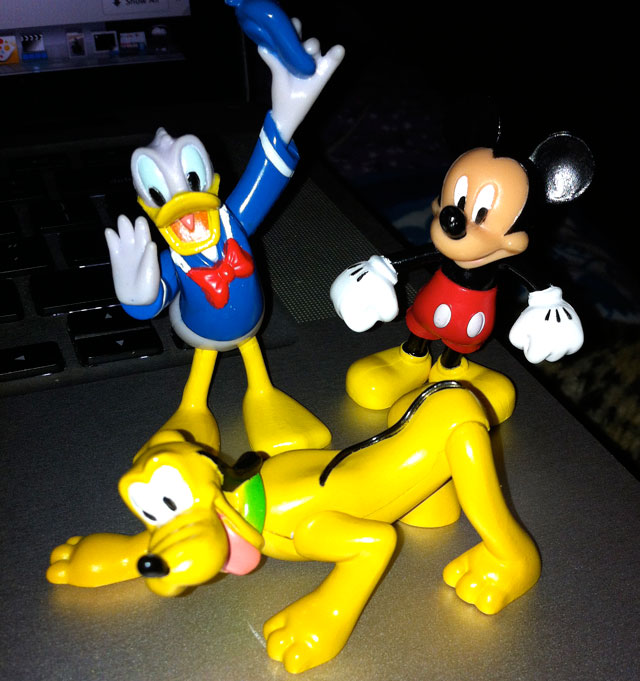 One fun thing that they did throughout the day was earning critters! Critters are little Disney character figures that we can earn if we participate in the discussion. I am so excited, I received a Mickey, a Donald and a Pluto!
One of the highlights of the day was that we were given a tour of the Utilidor under the Magic Kingdom! That was really neat, we took a bus from Disney University to the Magic Kingdom which was not a very long bus ride because you can practically see Magic Kingdom from Disney University! Visiting the Magic Kingdom for the first time as a cast members was really cool! We learned the ins and outs of how the parks work and how to effectively find your way around. After about an hour exploring the underside of Magic Kingdom, we had to head back to Disney University.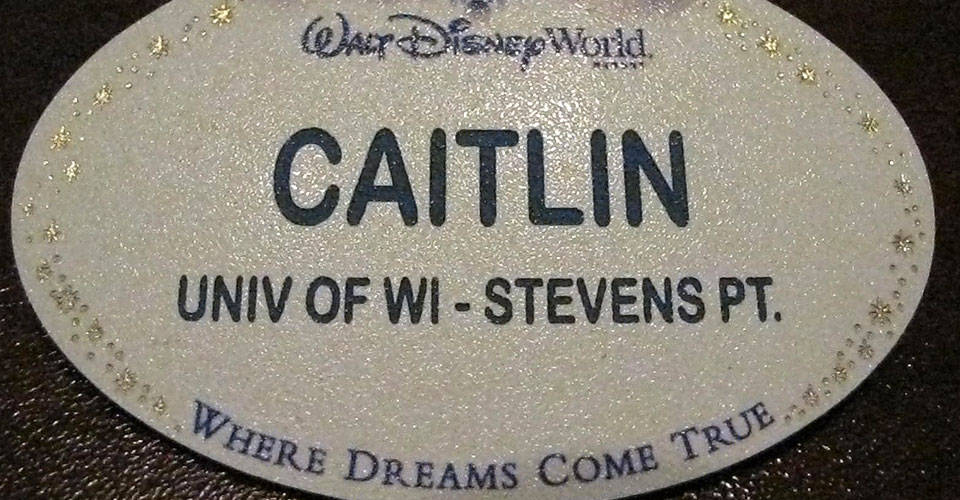 Once back at Disney University we continued to learn about the parks and employee roles as well as the beginning information about company safety expectations. As we are working on this material there comes a knocking on the door. We are all kind of taken by surprise, our leaders open up the door and … IT'S MICKEY!!!!! We're talking the boss man, the big cheese, Mickey Mouse himself! He was carrying a big red wrapping paper covered box! He handed the box to our leader and we opened the box and inside were our official Disney name tags!!!! Thank you Mickey! That was by far the coolest thing that has happened to this point, I almost started to cry I was so excited 🙂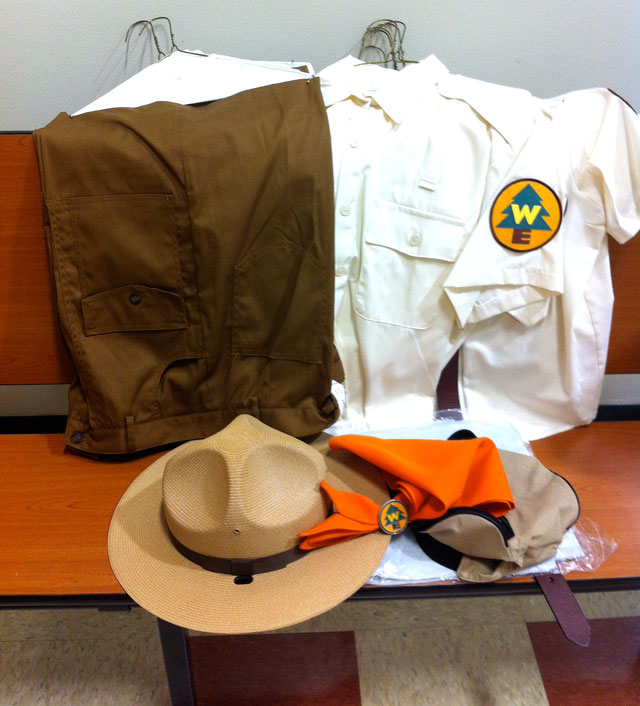 After Traditions, the education presenters went to costuming and got to pick up our costumes! This was really cool because the Wilderness Explorers experience is new we have brand new costumes and they are super adorable! It was a lot of fun trying on the different sizes and finding what looks/fits the best.
When costuming was over two of my new friends and I decide to head to EPCOT for the night and we used our I.D.s for the very first time! It was so cool being able to just drive in and park and then waltz right into the park! We head over to explore the Imagination building in Future World. We rode 'Journey into Imagination with Figment' and then we saw the Captain Eo show with Michael Jackson, a little trippy but kinda fun. We then headed over to the land and rode the 'Living with the Land' ride, this was my first time on this ride! After that we went and rode Mission Space and Test Track, we followed that up with Maelstrom over at the Norway pavilion. We then made our way around the World Showcase and stopped at the French pavilion for some crepes and ice cream! That ended our time at EPCOT for the time being.
I then met up with my roommates at Magic Kingdom and we got to see the new castle show which is super cool. Images are projected onto the castle and it just looks spectacular! We then stayed for the fireworks show Wishes! Which like all Disney fireworks was outstanding 🙂 We then went on a few rides, we hit up Pirates of the Caribbean, Big Thunder Mountain Railroad, and on our way out we hit Haunted Mansion 🙂 What a great first night as a cast member!
-Caitlin
Caitlin Braun is a senior majoring in natural science with teaching intent at the University of Wisconsin-Stevens Point. She is interning as a wilderness explorer troop leader at Walt Disney World's Animal Kingdom.