Stepping into a New World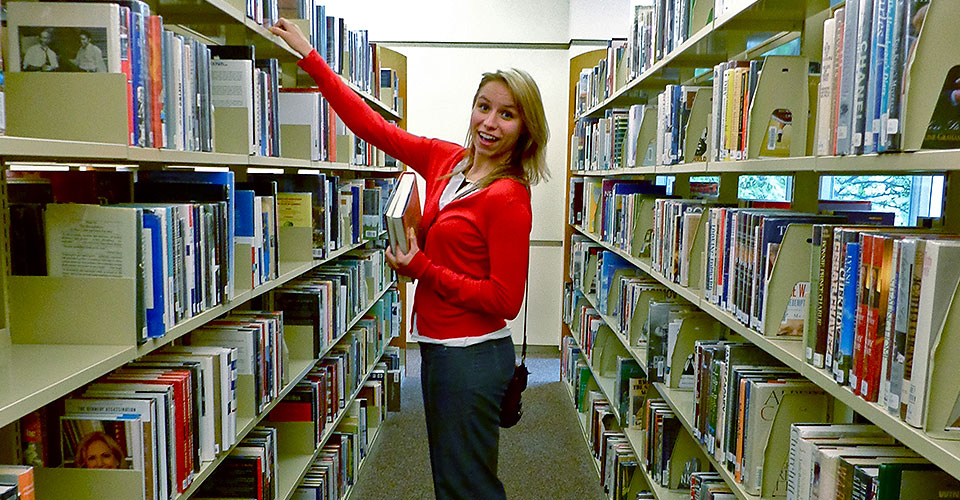 One of the first places I go when I get back home is our public library. Even at school, I put things on hold here and often times have my parents pick them up for me if they come earlier than I do. I'm quite aware of the two wonderful libraries in Stevens Point, but there's just something about your hometown's library.
It's a piece of my childhood. My mom used to take my sister and I once a week when we were little. I still have my original library card with my scratched in signature on the back. It's cracking and taped together, but if I replace it I'd get a new library card number. This would be terrible, because you see, I've memorized it.
When I come home on breaks I always stop in to pick up anything I put on reserve for while I'm home. Then I wander. This is a long process and I like to think I have it down to a science. I hit different areas and sections in a certain order, and pick up new materials that look so intriguing I can't possibly leave them on the shelf.
This summer I've been digging through two lists of books recommended for people in their college years. I'm loving it! I started with She's Come Undone by Wally Lamb. A girlfriend and I read it aloud to each other on our camping trip to the Porkies. It was a cool way to read a book, aloud like that. It seemed more real, and when you were the listener, you could just sit there and visualize the story playing out in front of you. (Even though I tended to fall asleep, heehee.) The story is of a girl's coming of age. You follow her from her childhood to her 30s with all her trials and tribulations … and she has a lot of them. People in psychology would love it.
Then I read a Steven King novel, The Girl Who Loved Tom Gordon. I picked out a short one to read in between the Lamb book and another from the list. This one is about a young girl who gets lost in the woods for a week, and a creepy creature follows her around. I didn't enjoy it as much as other Steven King books, but I read the whole thing.
Then I had two other collections out from the library: Black Tickets by Jayne Anne Phillips and The Benchley Roundup by Nathaniel Benchley. I read a couple entries from each and really enjoyed both. Benchley is a hilariously satirical writer who wrote in the 20s about all sorts of random things. My favorite was 'How to Get Things Done.' Black Tickets is a collection of short stories. They're very dark, and tap in to a lot of mature topics that were really intense sometimes. Some of them were hard to read since they were so raw and emotional.
Currently, I'm into my first taste of Sylvia Plath. The Bell Jar is her only novel ever written, and before I read about the book, I could tell it's almost a reflection of herself in the protagonist. It's very similar to Wally Lamb's novel, but this character has more education, and her thought process resonates more with me. The character is going to end up in a mental institution, but I haven't gotten that far yet. Another one for those psychology lovers out there!
I love reading. There's so much power in a book. You are exposed to a new way of life, a peek at how someone else see's the world and makes sense of the world around them. Even if it's fiction. Ahh, I love it. I look forward to cruising through many more books this summer. I hope you're reading, too! There seems to be a certain kind of 'coolness' that emits from people who read … be one of those cool people.
What are you reading?
-Courtney
Courtney Cerniglia is a junior at the University of Wisconsin-Stevens Point majoring in business administration and Spanish.
*Neenah Library Photo Credit: https://twtrland.com/profile/neenahlibrary