Trip to Victoria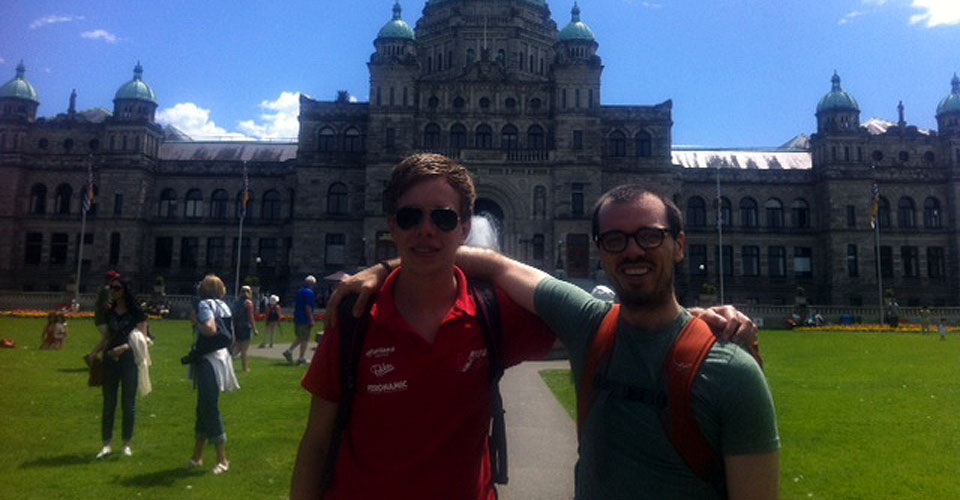 My roommate Nils and I decided to take a weekend to Victoria and be tourists for a weekend! We had such a blast! Nils and I took a ferry to Victoria on the ocean for $15! Now that's cheap traveling! We found two beautiful ladies on the way from Montreal, and I got a quick tutoring session in French … Bonne nuit? Then we spent the whole day walking around asking people what there is to do in the area. Word to the wise … this works so well as an opener (for ladies and men). We ended up walking all around Victoria and exploring the city with random people and learning about their lives! So much fun! We got to see parliament and enjoy all the tourist-y things with locals … so European! It reminded me of my time in Ireland and England.
At the end of the night, we ended up at a hostel (my first), in a room with 40 other guys! It was a blast! I got up at 6 a.m. and traveled on back to Vancouver to teach a yoga class by 3 p.m. on the Art and Science of Yoga. All-in-all, the best weekend with the best roommate I could have in Vancouver!
-Matt
Matt Cooke is a senior at the University of Wisconsin-Stevens Point majoring in health promotion/wellness and musical theater.