Run, Bike, Unite! Welcome Back to Stevens Point!
There's no better feeling than comin' around the corner of a ride to an open sun – corn field, a line of dedicated riders ahead pushing to the finish, a breeze whisping past your ear an your breathing heavy. It's one of those moments you just close your eyes and lean back…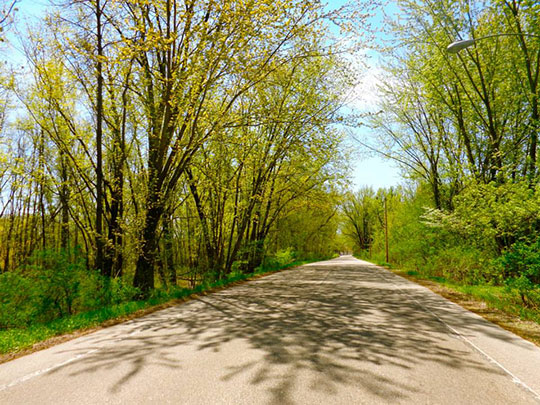 I was welcomed back to Stevens Point this past weekend not with moving trucks and crabby helpers, but by a community of athletes and volunteers ready to lace up their shoes and hit the beautiful trails of Stevens Point. The Run, Bike Unite Duathlon, benefiting the United Way of Portage County, was held on Saturday; two of my best friends and I pedaled to the start bright and early to participate.
The race course was beautiful – as expected. We ran and bike through some of the prettiest parts of the city and the Green Circle Trail. Both runs had portions in Schmeeckle Reserve (where we noticed new boardwalks! Yay!). It was a perfect morning for the race, since the temperature didn't climb too high by the time we were through. We ran through the finish chute with cowbells, claps, cheers and whistles from happy spectators celebrating the sport!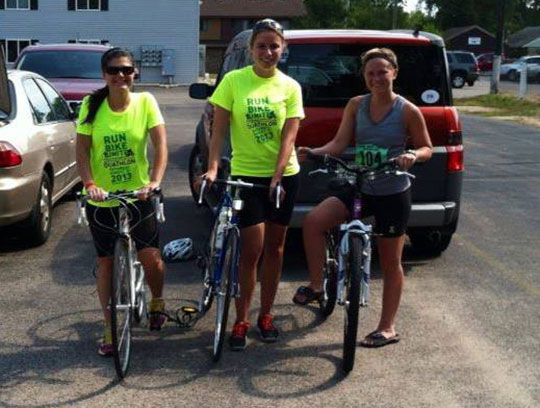 For Ashley and Hannah, this was their first duathlon. For me, my second. All of us enjoyed the course and finished strong; excited that we followed through on something we committed to together months ago. I was proud of them and thought how cool it was that we can do stuff like this together. That these awesome ladies are active, healthy and happy people!
There are many chances for YOU to get active too in the Stevens Point area! Whether a freshman or senior – take the challenge! The Spud Bowl hosts a 5K the first weekend back in class, the Heartland Bike Club does many week day rides as well as the UWSP Cycling Club, Marathon Runners of UWSP is welcoming in new members this month, and there are always free classes to take part in at the Allen Center. Set a new goal, try something new, or get active for the first time! You won't regret it in this area, there are beautiful sights to be seen and people to meet!
Ride on!
-Courtney
Courtney Cerniglia is a senior at the University of Wisconsin-Stevens Point majoring in business administration and Spanish.