Point in Common: Brain Research and Learning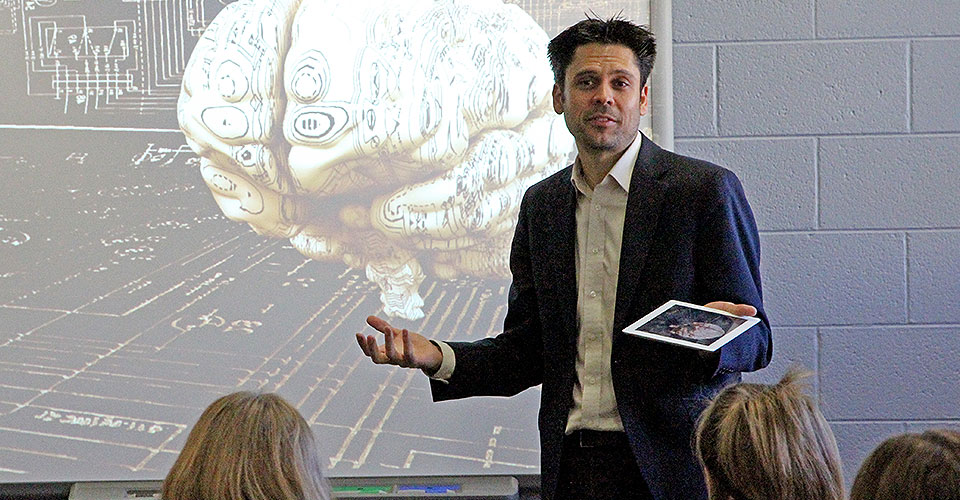 Providing a greater understanding of how a child's mind works, Matthew Peterson, Ph.D. spoke with local educators, parents, community members and UW-Stevens Point education students about brain science and learning on Monday, Oct. 21 at the Ben Franklin Junior High School Auditorium. The event was the first of a three-part community series called Point in Common. [Photo Gallery]
Peterson is the chief operating officer and senior scientist at MIND Research Institute, a nonprofit that applies academic research on the brain to educational programs for elementary school students.
Peterson's approach has been especially helpful with children who have different learning styles. He provided information about teaching students to think, reason and solve problems mathematically as well as game-based ways to teach toddlers and preschoolers during the evening presentation.
Point in Common is a community speaker series for parents, teachers, business people and anyone who wants to have a positive influence on students. The intent is to learn from some of the brightest, most innovative educators in the nation and share ideas to raise awareness and engage more people in ways to improve education.
Peterson also spoke to students in Professor Mike Simmers's Math Education 229: The Teaching of Elementary School Mathematics class on Tuesday, Oct. 22.
"Our goal is to equip parents and teachers with the tools they need to teach children to think critically, solve problems and invest in lifelong learning," said Marty Loy, dean of the College of Professional Studies at the University of Wisconsin-Stevens Point.
"Education is a lifelong process," said Attila J. Weninger, superintendent of Stevens Point Area Public Schools. "No longer can we achieve success in school or in life after school with only the formal education we received in our youth.  We need to broaden the horizon from which we take curriculum, teaching and learning practices, and measures of achievement."
Other talks are scheduled in 2014 at Sentry's Theater @1800:
Tuesday, Jan. 28 – "Sex, Drugs 'n Facebook: Balance and Boundaries in Technology Use," with Megan Moreno, a pediatrician at Seattle Children's Hospital Center
Tuesday, April 29 – Daniel Coyle, New York Times bestselling author of "The Talent Code" and "The Little Book of Talent"
Each presentation is from 7-9 p.m., and is free and open to the public.
Point in Common is sponsored by the Stevens Point Area Public School District, Stevens Point Area Catholic Schools, UW-Stevens Point, Mid-State Technical College, Sentry Insurance, Okray Family Farms, Phi Delta Kappa and the Community Foundation of Central Wisconsin.  To register or for more information, visit www.pointincommon.org.​