Point in Common: Sex, Drugs 'n Facebook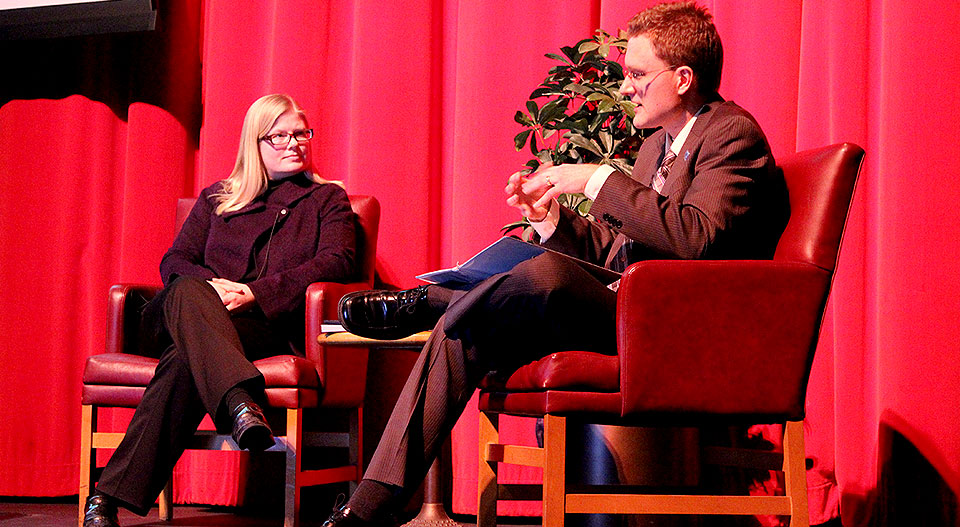 "Balance, boundaries and communication are the keys to technology use," emphasized Dr. Megan Moreno as she spoke with more than 500 local educators, parents, community members and UW-Stevens Point education students Tuesday, Jan. 28 at the Sentry Theater in Stevens Point. The event was the second of a three-part community series called Point in Common. [Photo Gallery | Watch Full Video]
Moreno, author of "Sex, Drugs 'n Facebook: A Parent's Toolkit for Healthy Internet Use," is a pediatrician at Seattle Children's Hospital Center for Child Health Behavior and Development. She was joined on stage by Kym Buchanan, associate professor of education at UW-Stevens Point, to answer questions submitted by video about the benefits and pitfalls of Internet and social media. [Read more tips.]
Moreno also spoke to students in Professor Kele Anyanwu's Educational Technology class in the morning and to community agencies during a lunch presentation at UWSP.
Point in Common is a community speaker series for parents, teachers, business people and anyone who wants to have a positive influence on students. The intent is to learn from some of the brightest, most innovative educators in the nation and share ideas to raise awareness and engage more people in ways to improve education.
The next Point in Common presentation is Tuesday, April 29 with Daniel Coyle, New York Times bestselling author of "The Talent Code" and "The Little Book of Talent." The presentation is from 7-8:30 p.m., and is free and open to the public.
Point in Common is sponsored by the Stevens Point Area Public School District, Stevens Point Area Catholic Schools, UW-Stevens Point, Mid-State Technical College, Sentry Insurance, Okray Family Farms, Phi Delta Kappa and the Community Foundation of Central Wisconsin.  To register or for more information, visit www.pointincommon.org.​
More coverage:
Related Posts
You may like other posts.