Campus Feature: The Cupboard student food pantry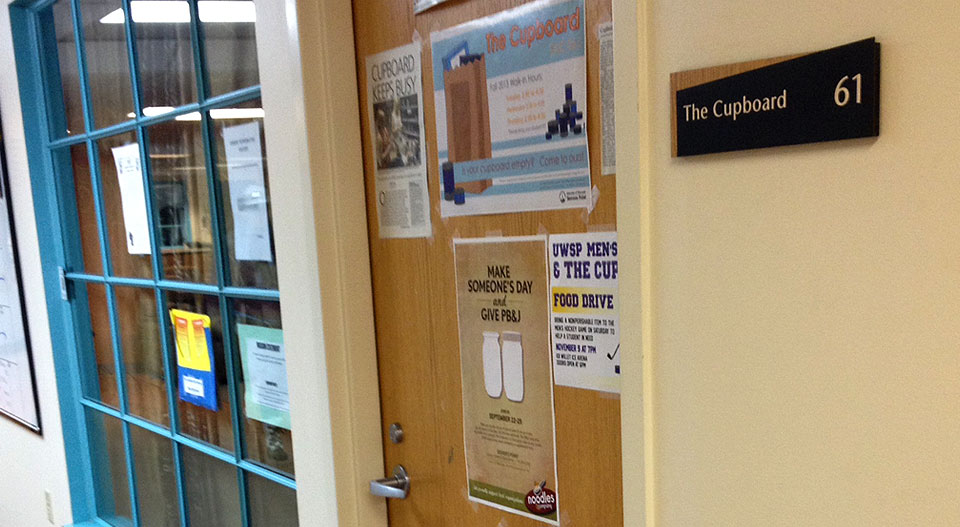 One of the most popular associations with the phrase "college student" is "poor." There's a variety of reasons for this, but one of them is that while paying massive school bills, a lot of students try also to scrape by supporting themselves either on or off of campus. And in the case of many people—not just those off campus, and certainly not only those in college—sometimes that's harder than other times. Making ends meet can be difficult when you can only work so many hours at so many jobs and you still have coursework to do. And when it's time for bills to come due, one of the corners that's most quickly cut is in the grocery bill. It's a nasty cycle, and it was recognized as a problem on this campus, where hundreds upon hundreds of students qualify for need-based financial aid and so many students work at least one job.
Not too terribly long ago—actually, around the time that I transferred to this university—UW-Stevens Point took a massive step forward in supporting students on this campus who need a helping hand in making sure that they do not go hungry. Thus, The Cupboard student food pantry was born.
I love this place!
The Cupboard is a resource available to all UWSP students. It provides supplemental groceries free of charge to any Pointer who could use the help. Once per week, any interested party is able to go to the pantry, which is located in the Dreyfus University Center (DUC) basement near to the SIEO office. The Cupboard stocks shelves of nonperishable goods which are rationed out by availability, and which are constantly being replenished by both UWSP students and faculty/staff and also by community members and organizations at large. Beyond food, The Cupboard also offers toiletries as available to anyone who stops by.
The place is run by a Cupboard Operations Coordinator, presently Jennie Stage, and staffed entirely by students at the university. It's truly by the students, for the students. And it's incredible the amount of impact The Cupboard has on hundreds of students' lives per semester. It is a simple and yet vital thing that The Cupboard does in serving those among us who could use the hand, and it is a fantastic way to truly help students.
Be it through volunteer staffing or joining the Cup-Board of Directors as I have, coordinating a food drive through a student org or independent group or local business, or even just donating a few dollars, some nonperishable canned goods, or a spare evening to the efforts of The Cupboard—I highly recommend that you get involved. It is an experience that does not leave you unchanged, and it really means a lot to this university. Even just spread the word! The more people who are aware of The Cupboard, the more support it will get, and the more students it can help.
Stop by any time, too; it is an extraordinary feature of this university.
-Amy
Amy Vida is a junior at the University of Wisconsin-Stevens Point majoring in family & consumer sciences and English.