The School Days
We made our first trip of many to the school on Tuesday. It was the most heart melting moment when we pulled into the school. Describing it for you will not do justice. The learners (what we call students) were jumping up and down and running around. They made a line of hugs for us as we got off the bus. Every one of them saying, "Hi. What's your name?" and "How are you?"
A few minutes later we were able to join a staff meeting, where we met the other teachers along with the principal. Everyone introduced themselves and where we were from. The teachers headed back to class, while we chatted with the principal some more. She has no other expression other than joy and welcomeness. She said a little thank you speech stating, "Thank you for bringing the world to our kids." This expression warms the heart because we don't really realize how big of a deal it is for the learners. They care so much and are so interested in who you are.
The following day we were greeted with a welcoming assembly. The learners sang a welcome song in English and then another song in Africans. Their performance left most of us speechless … Then it was our turn to sing. We prepared, on our ten minute ride, the hokey pokey and the Wisconsin milk song. They absolutely loved it!! The learners told us our "choir" was really good!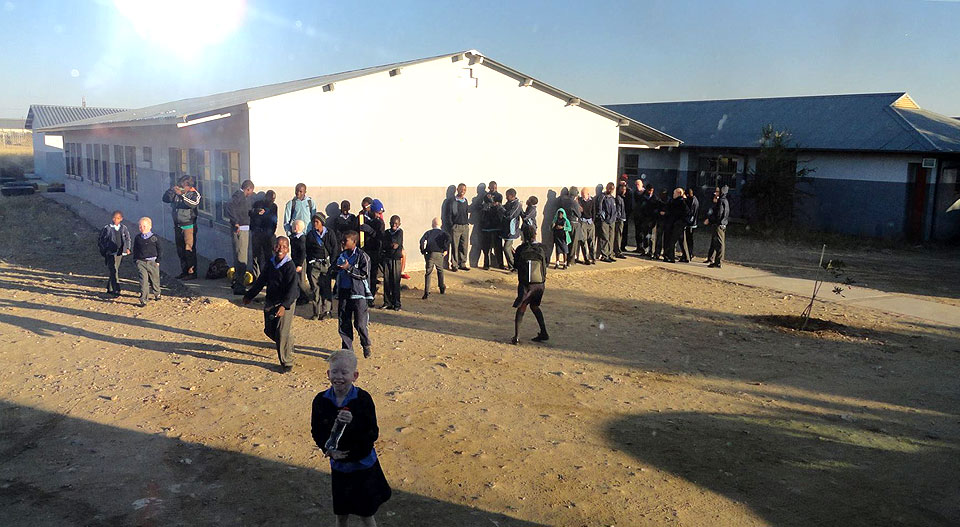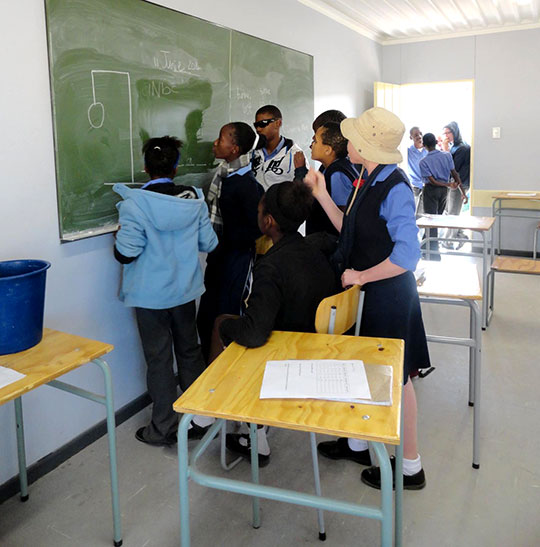 Another culture shock came during our break time. As soon as the learners saw one camera, all the cameras were in their hands. They just wanted to snap all the pictures and told us who to pose with. It was quite funny to look back at the pictures! There were more pictures of the grass and ground than of people … They are just super curious and so caring! The learners are always asking "What's this?" "How much was that?" They enjoy playing with your hair and feeling your skin.
We ended our day Wednesday working hands on with the learners. Each university student was assigned a grade. The afternoon was teacher meetings, so all of us taught a lesson and taught a game. Some of us taught the human knot, while others played hangman. Both were a hit with the learners. They were so fascinated! They were not the only ones who learned though, my grade 6 class taught a little hand game and rhyme to pass time.
All of us ate like a Namibian for dinner Tuesday. The menu contained oryx, springbok, salad, vegetables, and rice. Springbok was the more liked meat. It tasted more familiar to us than the oryx did. Everyone tried a little bit of everything, some girls even have a list of food items they have tried so far here in Africa. We are all loving Namibia! We are excited to leave for Swakopmund for the weekend. Can't wait to share details soon.
-Brittany
Brittany Busscher, a junior majoring in early childhood education at UW-Stevens Point, is blogging about her study abroad experience in Namibia, Africa.