Cue "The Lion King" opening credits: African Safari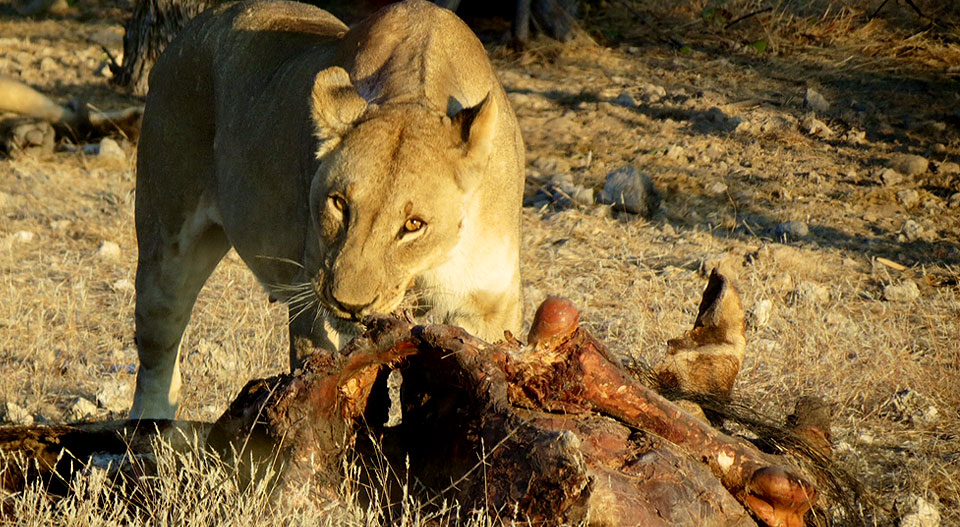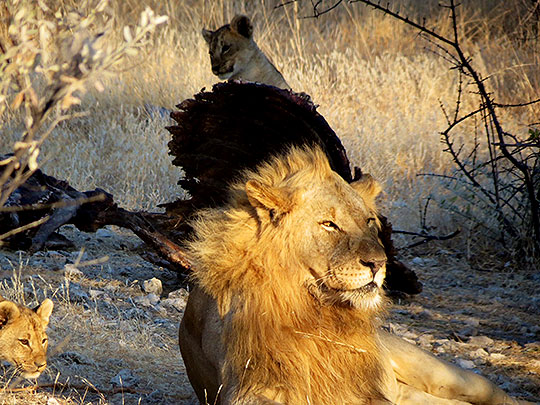 When the 5 a.m. alarm rang on Saturday morning I don't think any of us realized how indescribable the next 12 hours would be. It was the ever anticipated safari day and lucky was an understatement. We entered Etosha National Park, over 100 square miles of free range parkland, around 6:30 a.m. with all our hearts set on an animal to encounter on the journey. Within minutes of our bumpy ride, we came across a pride of lions! Six females were snacking on a giraffe while three lion cubs scampered alongside their mothers. They were all overseen by the one king of the jungle. It was a Mufasa moment. The whole scene was close enough for us to hear the lions roar and fight over the pecking order of the meat. What an unbelievable way to start our Saturday Safari.
We rumbled on and experienced a a few small jackals and springboks. We have heard the terrifying jackal calls at Arebbusch Lodge in the mornings. If you can imagine the sound of an alien abduction, you've nailed it. We could at least put a face to sound after seeing them safari-side. Now, springbok, Afrikaans for "jumping goat" invaded every open area of Etosha National Park. They are the national animal of South Africa so no wonder they are visible by the hundreds, if not thousands. Springbok are as common to South Africans as deer are to Midwesterners.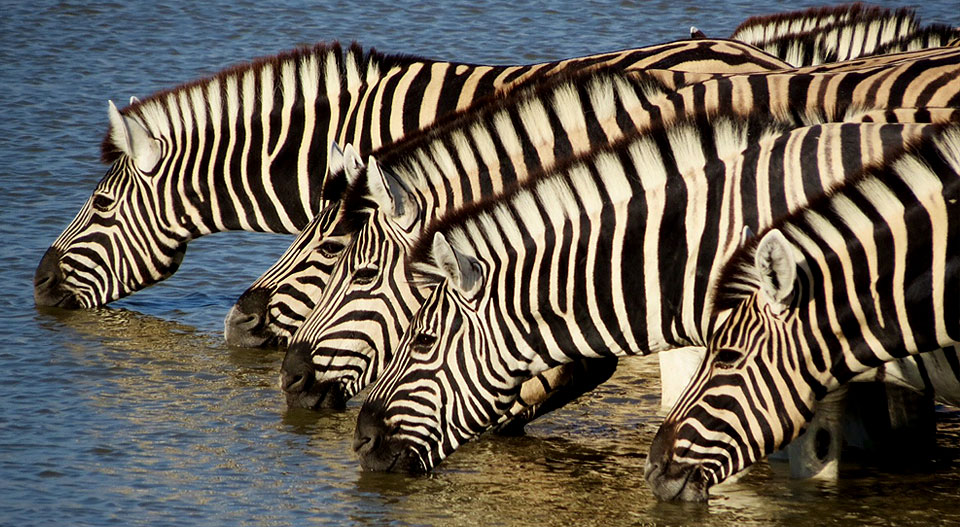 We stopped at one of the luxury resorts in Etosha National Park to view one of many watering holes. Hundreds of beautiful zebra inhabited the area in addition to a blue wildebeest. As you may have guessed, it was impossible to see where one zebra started and one ended. Their stripes are not only purposeful but also gorgeous, as if they were painted with such care. We saw thousands of zebras during our adventure in Etosha and even witnessed a zebra stampede when they were frightened!
After leaving the resort, we continued through the mundane grassland and rocky terrain for quite some time, but something caught our back-of-the-bus eyes. We urged Gustav to reverse the bus only to see an enormous rhino!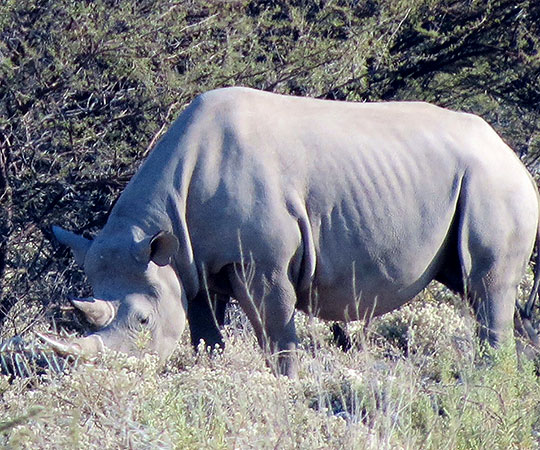 We were told that it was unlikely that we would see a rhino on the safari as it's a rarity. They are not the easiest to spot, but we ended up seeing six in total that day! Three, including a baby, crossed the dirt path right in front of our bus.
As Safari Saturday continued we saw many unique and amazing animals such as oryx, an ostrich, the rare impala, warthogs, a duiker and kudu. Kudu are the second largest antelope and the spirals one thier horns indicate age, one spiral for each year of life. We saw two more female lions accompanied by the carcass of an oryx. They lay protecting their prey camoflauge in the tall grass. Lion count: 12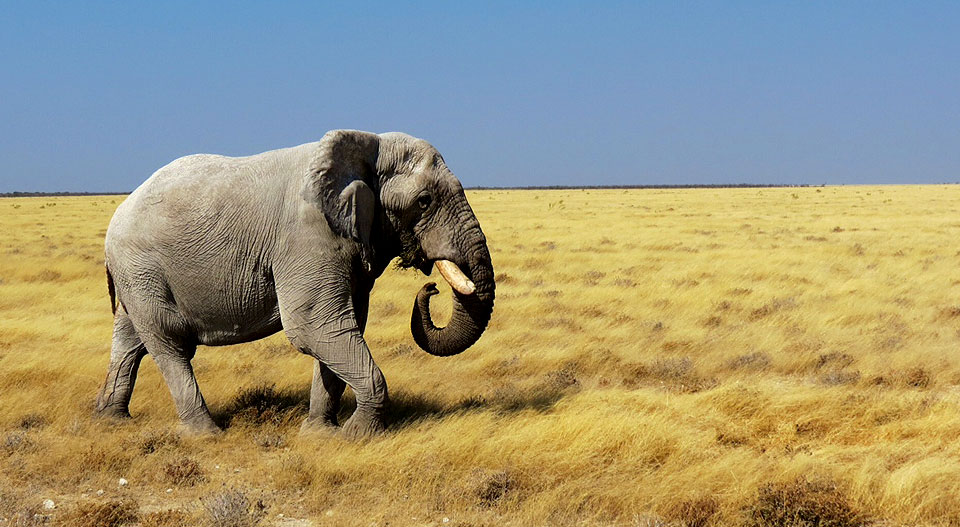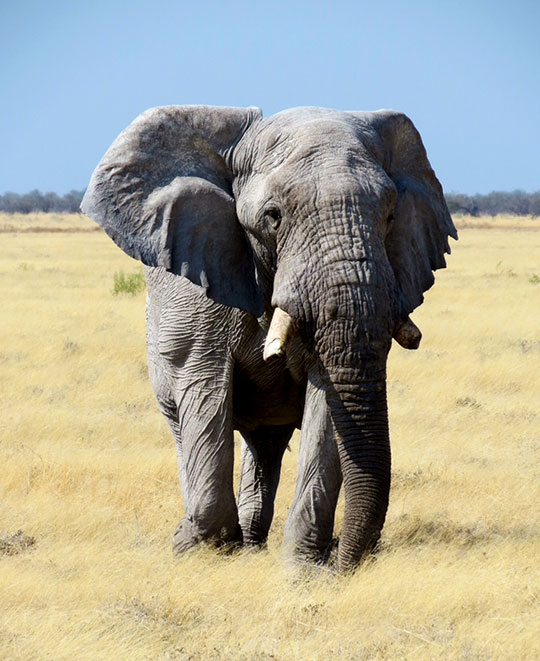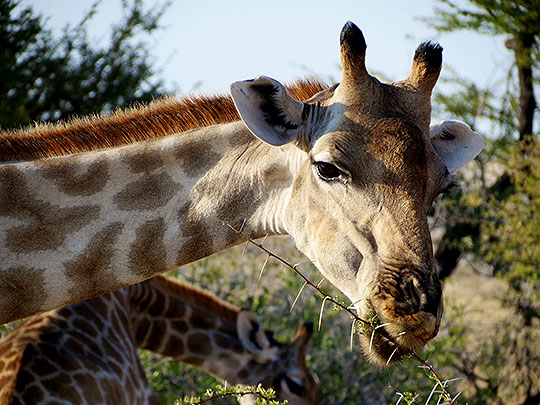 One of our closest and most intimate encounters occurred when we came within 20 feet from an African elephants the side of the off-road path! He was so close, I felt I could reach out and touch his wrinkly gray skin. He thought nothing of our bus as he sauntered off into the vast abyss. We had been so lucky thus far … but wait, it gets better.
We stopped for lunch around 1 p.m. at another resort within the parkland, stretched our legs and took an ice cream break. We wandered up to another watering hole to find more impala, take a group photo, and enjoy some of the only time we were allowed off the bus. Etosha has strict rules regarding vehicle etiquette. We ended up driving through a group of eight giraffes grazing on the nearby trees. What graceful and tranquil animals! Their unique pattern is one of my favorites. That brought our giraffe total to 44. (not including the lion's morning treat…)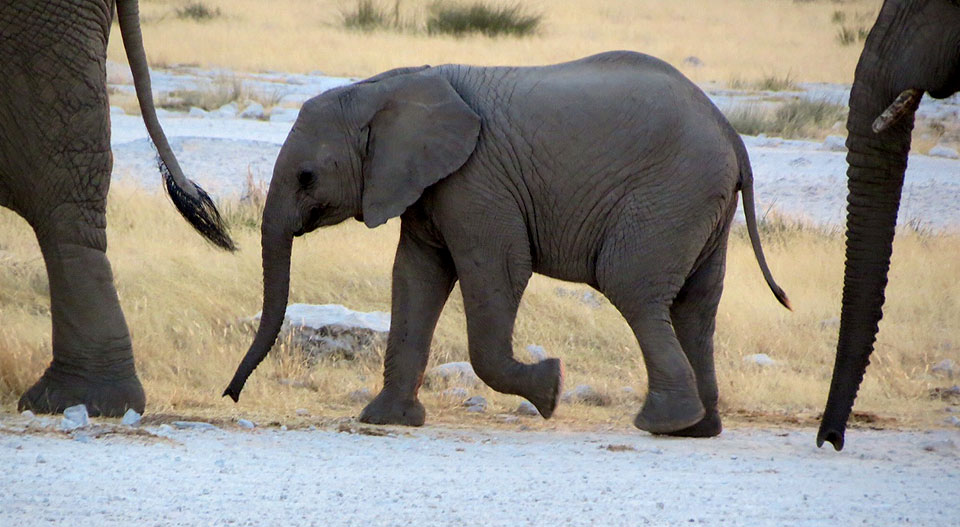 We saw bathing elephants at watering holes and even a hyena (cue "Mufasa Mufasa Mufasa"), but I think everyone's favorite parts of the trip came at the very end of our adventure. We were on our way out of the Etosha gates when a large group of elephants made us stop in our bus tracks. We followed the group only to realize 42 elephants were parading in front of a beautiful sunset. Babies and adults alike followed trunk to tail as a herd. I have never seen anything that magical. Elephant tally: 57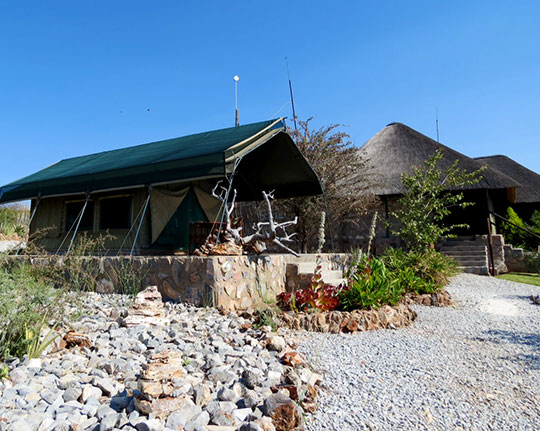 It is important to note that Etosha National Park is a protected area but is very much so a natural environment in which the animals live and thrive. The only human interaction within the park in regards to the animals is the protection of the national park borders to prevent poaching and the assurance of water in an extreme drought. Namibia is the driest place after the Sahara Desert, so man-made watering holes keep some consistency between the wet and dry season.
As if the safari wasn't astounding enough, we stayed at Mondgila Safari Camp. This accommodation had some of the best food, hospitality and views we have seen thus far in Namibia. The word "Mondgila" is borrowed from the Oshiwambo language and means "to be on your way to somewhere/to be on the road."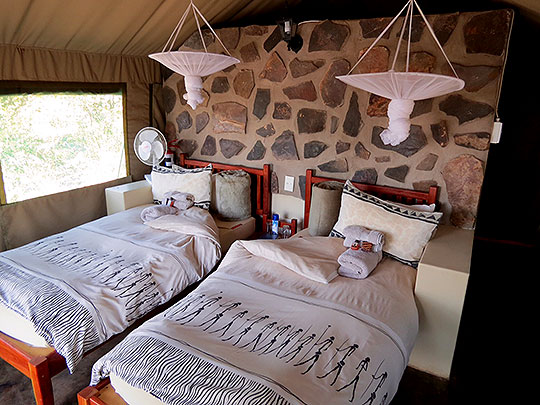 Eleven permanent luxury tents are situated over the Mopani landscape and are complete with two twin beds, a simple bathroom and bug nets. We saw not one mosquito but took precautionary measures against malaria anyway. As Etosha is further north, they are at higher risk for the malaria disease than Windhoek. We ate homemade meals each night from the hospitable staff. We tried kudu steak, pumpkin bites/dumplings (which you better believe I got the recipe for), fish, vegetables they grow in their own garden and carrot soup. We ended the nights by campfire under the most breathtaking sky full of stars. Part of the Milky Way was visible splashed across the sky. We also located the Southern Cross. Breakfast was delicious assortment of toast, eggs, sausage, bacon, fruit and cereal. Upon our goodbye, they made us sing the Wisconsin MILK Song form them (again) and they treated us to a wonderful traditional African song. They waved us off on our seven-hour trip back to Windhoek.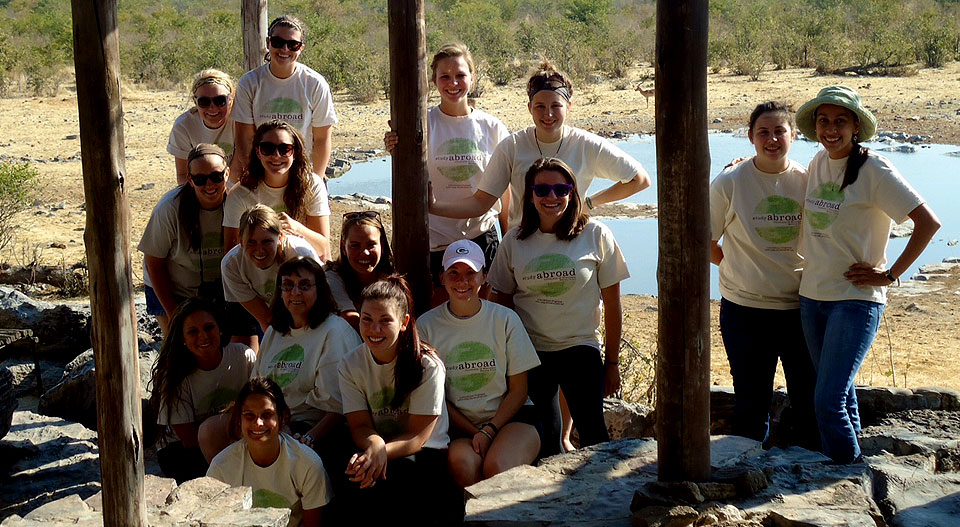 I cannot say enough about our experiences this weekend. We were so lucky to have seen all of those animals at as close of a range as we did! It truly was amazing and I am still awestruck just looking through pictures to share with you. I am, once again, so thankful to have this kind of bucket list experience, but even more thankful to be sharing it with some of the funniest, most genuine, most interesting, most adventurous women of UW-Stevens Point. They truly are an incredible bunch who put others' needs before their own, have hearts of gold, and are the epitomes of passion. I am so glad we could check safari off our lists together.
This week, the coaches, Professor Caro, and I will be administering more testing, observing more students, and writing more detailed reports of our findings … a busy week! The other university students will be switching to different classrooms at NISE to ensure that all the classrooms are included and to give them a different age group experience. We are looking forward to our open jeep game ride on Tuesday, a weekend exploring Windhoek, and a full week of school with our favorite learners! Definitely more to come … but for now it's time for a large cat (lion) nap.
"If you want to go fast, go alone. If you want to go far, go together." -African Proverb
-Taylor
Taylor Buresch, a senior special education major with minors in cognitive disabilities and Spanish, is blogging about her study abroad experience in Namibia, Africa.