Goodbye Learners!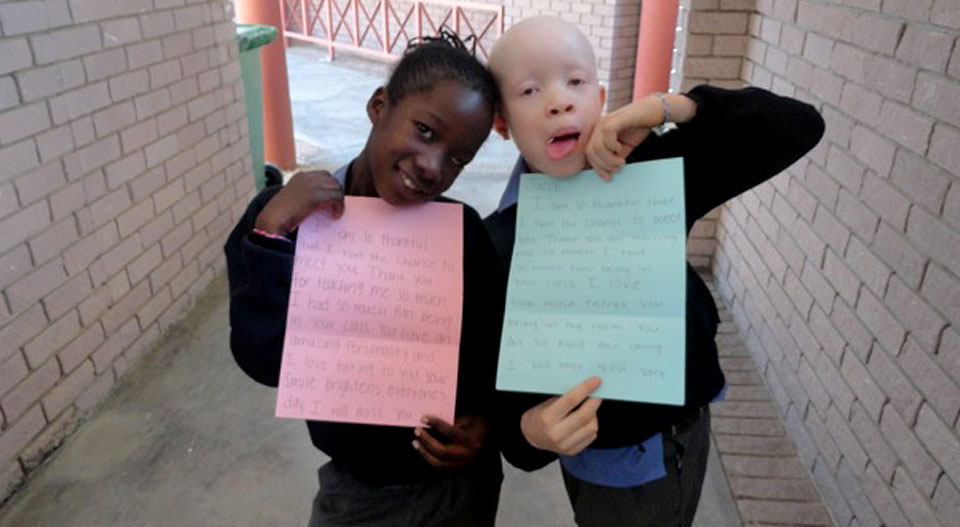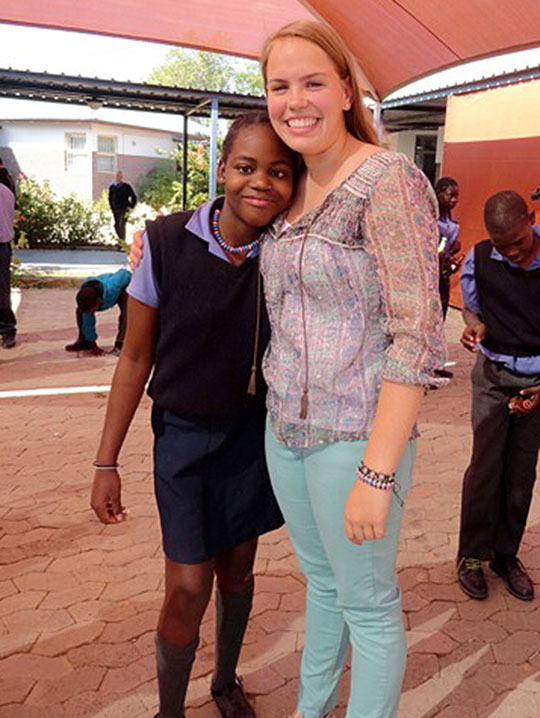 On Wednesday we said our goodbyes to the learners and teachers at The School For the Visually Impaired. It was bittersweet. I have no idea where the last three and a half weeks went, but I enjoyed every second of it. The day started very quiet, as the students knew later on they would have to say goodbye to us all. As much as the learners were taught by us, we were taught by them too. Many simple life lessons were shared just by the learners' actions. Their selflessness to help each other and positive attitudes never seemed to stop shining. They are some very special children! Life was put into perspective.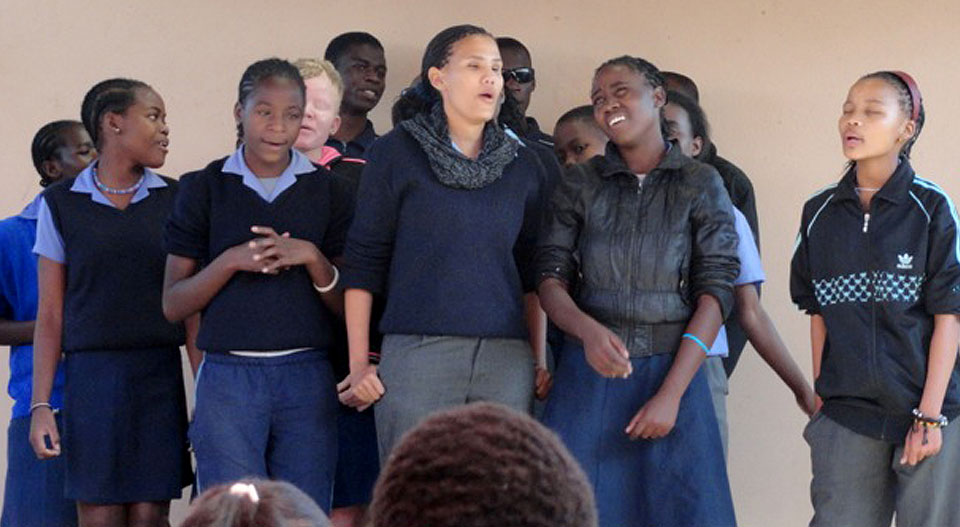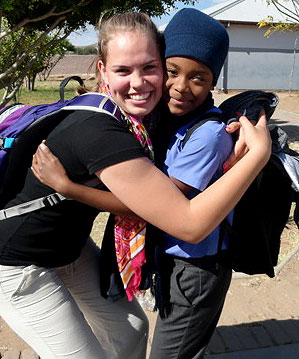 We ended school early for an assembly. The learners were so excited because of the performances they put together for us. The choir sang two songs in Africaans. They sound amazing and there's no instrumental music for them to follow. A group of younger girls performed two short dances for us. A couple older girls did two tribal dances. The learners continued to amaze us at their arts abilities. And then it was our turn… For the last couple bus rides, we practiced singing twice on the way to school. We performed for the school the song "You'll Be In My Heart" from Tarzan. It was touching.
Next were the tough goodbyes. As crying, sobbing learners came up to hug you, we held it together. They deserved a day to be all about them. I was asked, "Do you have to go?" "Will you be back next year?" "Do you already have your ticket to go back to America?" Their precious thoughts were always a joy to hear. I know I left an everlasting impression on the learners because they sure did for me. I  have a special place in my heart for them forever!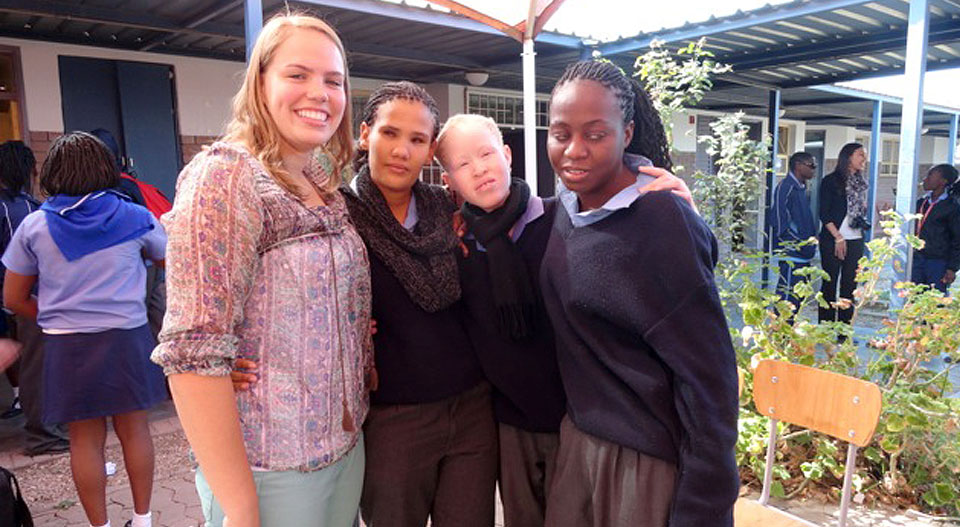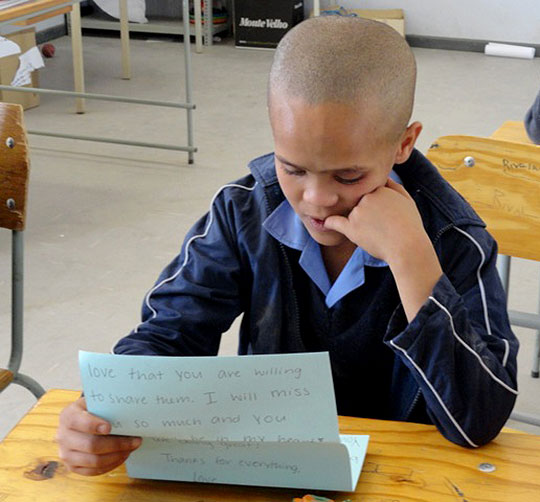 Throughout the day, we received personal letters from the learners. The letters were very heartfelt just like the learners. Although I have never seen my name spelled so many different ways, it was cute to see their imagination. Megan wrote letters for our grade 2 and grade 6 classes. I added a yarn bracelet to them that we helped tied onto each little wrist. They loved receiving something personal! The learners took their letters and posed for pictures with them.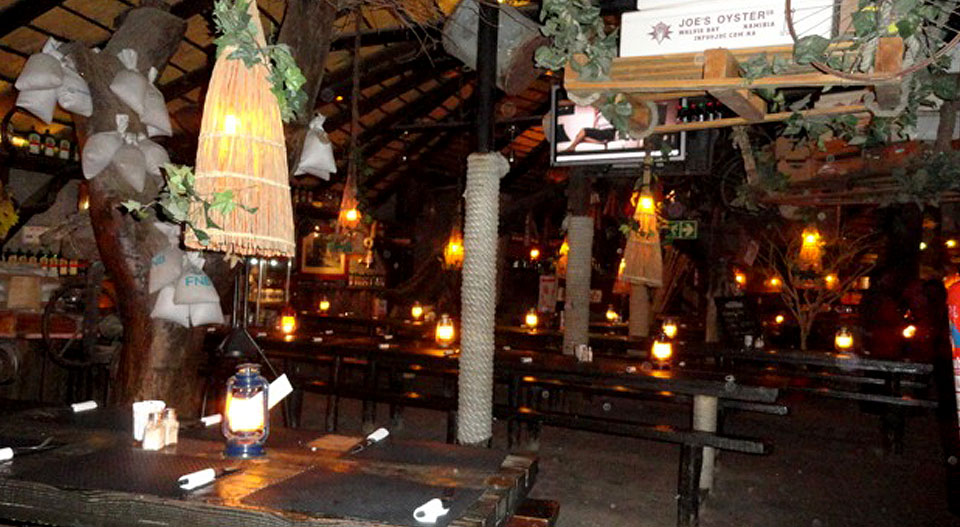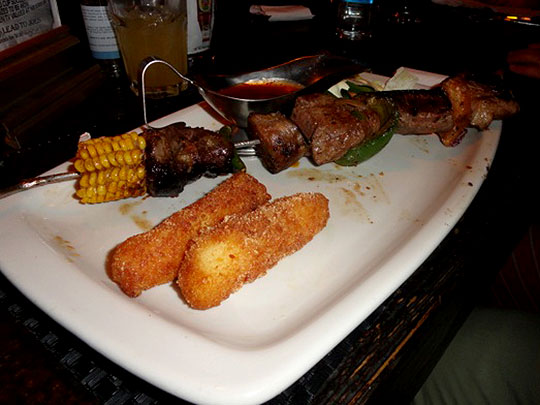 We made it back to Arebbusch where most of us finished packing before we had to leave for dinner. Our last dinner was at Joe'e Beerhouse. The genuine African game restaurant was embellished with ponds, large tents, and long picnic like tables. Everyone ordered something adventurous. Sarah and I only wanted a single bite of game meat so we shared a kabob. The kabob was full of oryx, kudu, zebra, crocodile and ostrich meat. I think my favorite was the kudu and zebra! It was a delicious, African way to end our journey. I was able to celebrate my birthday with a lion paw brownie and the singing of "Happy Birthday." It was nice to have a little celebration since I could not be home with my family.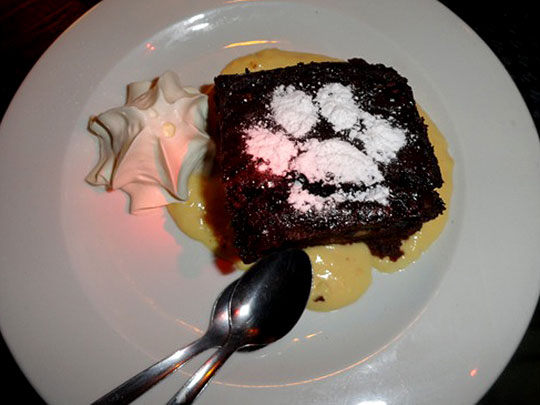 We left Thursday morning at 10 am for the airport. Even leaving Gustav was bittersweet for us. We had stops in Johannesburg and London before reaching Chicago. It was a long two days of travel because all of us just wanted to get home but we all arrived safely. I cannot wait to share my experiences and hundreds of pictures with my family and friends.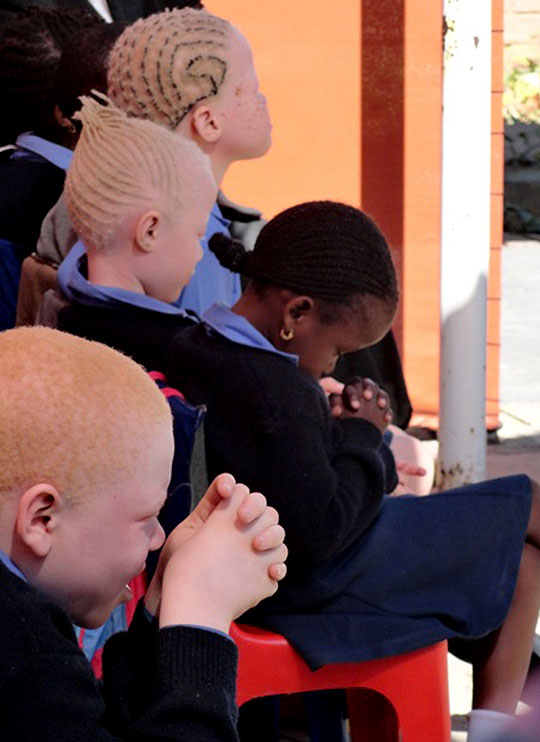 Thank you to Professo Caro and International Programs for allowing us to have the time of our lives! We all left Namibia speechless from the impact we left on the learners and all the information we learned. The possibilities are endless! Watch for one more post to come later…
"If you want to go quickly, go alone. If you want to go far, go together." -African Proverb
-Brittany
Brittany Busscher, a junior majoring in early childhood education at UW-Stevens Point, is blogging about her study abroad experience in Namibia, Africa.