Being a CPS Student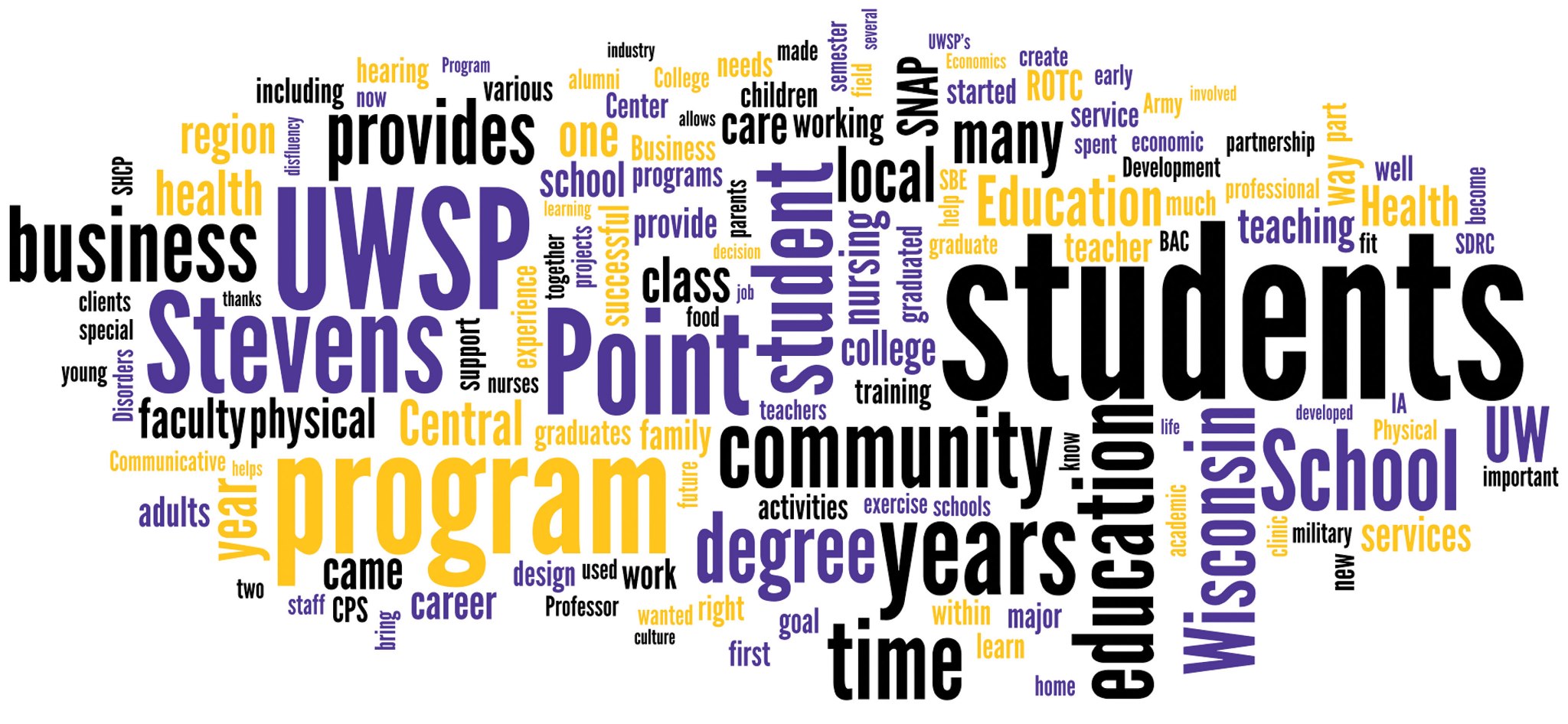 Hola chicos,
I love being a student at University of Wisconsin-Stevens Point. I know I've said that before and I've described countless times what it is like to be a student here at this wonderful university. However I don't often talk about specifically what it is like to be a part of the College of Professional Studies. Being a triple major and dealing with two different colleges at this university, I tend to view my experience here in a broader sense and I don't often view myself as just a student of economics or one specific trait about myself. With that being said, I still am an economics major and part of the College of Professional Studies and I couldn't be more grateful. Every time I am doing anything in relations to the College of Professional Studies I feel confident that they will help me accomplish my goals and I feel proud to represent them as a student blogger. So what is it like to be a student in the College of Professional Studies? What should every CPS strive to be like? What does being a part of the CPS teach us? Let me answer by using the four parts of the CPS tagline: Proactive • Resourceful • Connected • Caring.
Proactive
It's pretty hard to come across a CPS student who isn't proactive. I feel that most students, whether they are from the School of Business & Economics or a different school such as the School of Education or the School of Health Promotion & Human Development, are motivated people who strive to get the most they can out of their time at UWSP. I know I am always trying to think several steps ahead in just about everything I do. I try to have my classes planned out several semesters in advance, I join clubs that I think will benefit me by adding to my education and experiences. Even when looking for a job while in college I looked for jobs that are fitted in my skills that I have learned in college. I feel that coming out of college with real experience is incredibly important and will prepare me for whatever lies ahead. I think that CPS students really understand what their goals are for after college and what they need to do to achieve those goals. I know some people who go to college just to get a degree, but I don't think any CPS student is here just to graduate; we all are motivated to become professionals once we leave UW-Stevens Point.
Resourceful
One of my favorite aspects of the CPS is how many resources I have to go to for help when I need it. Not only are my professors more than willing to help in and outside of the class, the whole CPS faculty is incredibly helpful. I feel that I could ask anyone, whether it been someone from the dean's office or someone upstairs in the School of Business & Economics, for help if need be. And being a CPS student I feel confident to figure out which resources to use when I need them. Being a part of the CPS you learn to take responsibility for your own education and use what you are given to your advantage. Not only are the people at the CPS a resource, they are able to connect you with other resources. For example, they can assist you with finding an internship in your field. I am incredibly excited to become a part of their resource team this fall when I become a peer mentor for the School of Business & Economics. I will be a resource for younger students in the School of Business & Economics by helping them figure out how to achieve their goals and how to be not only a successful SBE student, but also a successful member of the College of Professional Studies.
Connected
I think feeling connected to your college is incredibly important and I know I feel a strong connection with the College of Professional Studies. In my experience writing and reading the CPS blog posts has been a great resource for me to feel connected to my school. When I was across the world in Europe, miles upon miles from Stevens Point, I still felt that I was a apart of UWSP and the CPS. I was able to share my experiences and know that people could see what I was doing, and I was able to read what other CPS students were doing back on campus. Aside from the blog I love the social media and web presence that the CPS maintains. It's fun and interesting to see what happens in and around the CPS on a daily basis. It a way it makes the CPS seem more relatable and not just some building on campus.
Caring
I think I've made is clear that I care about the CPS and I feel that the faculty who work for the CPS care about the students, too. But being a CPS student has taught me to care about my education and future career more than I could've imagined. I've always thought my education was important, but these last several years in the CPS have taught me the value of my education and created this passion for my future career. I have found my passion in economics which I never would have imagined I would love without the help of the CPS. I feel a strong desire to not only finish my degree, but use what I have learned in a future career in help others.
So there you have it, that's what I feel and think about when think about what it's like to be a part of the CPS. I am grateful, and I feel that the CPS has made me not only a better student, but better person in general.
Hasta Luego,
Alexia
 Alexia Szabo is a senior majoring in economics, Spanish and international studies at UW-Stevens Point.