1 Month Later…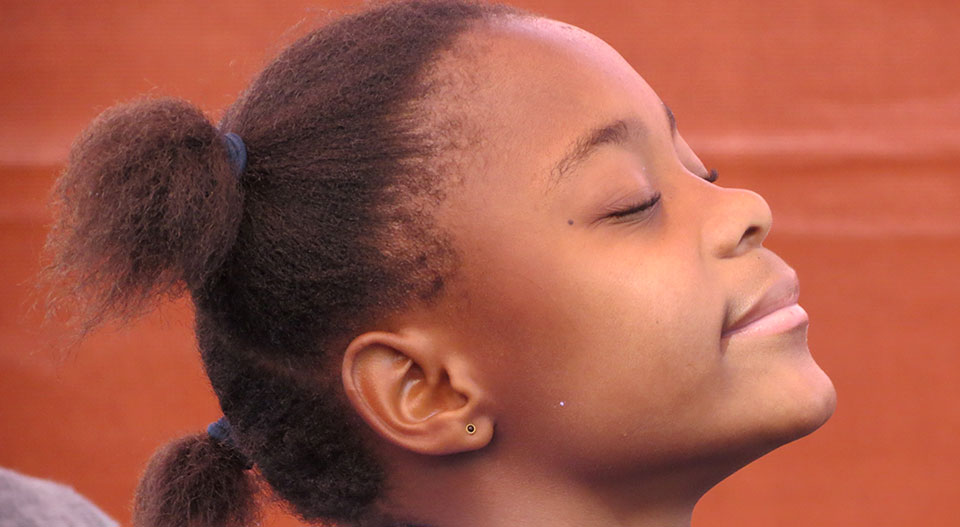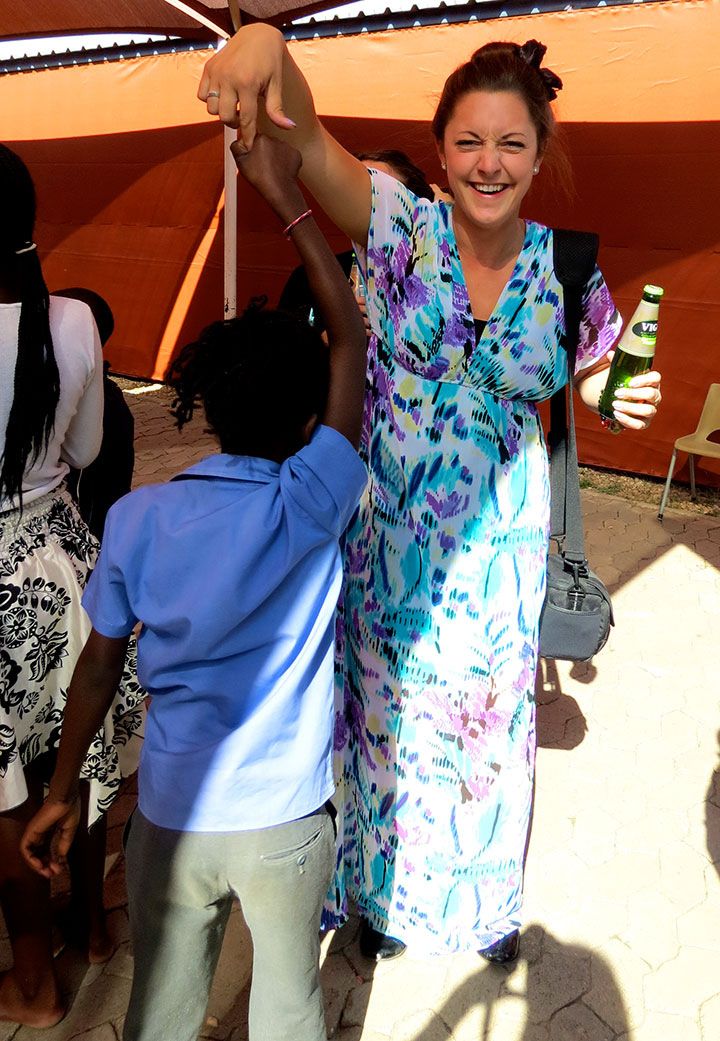 It is unbelievable to think that we arrived back from Namibia just over a month ago! Since "relaxation" doesn't exist in my vocabulary, I have seen just shy of four days at home since arriving stateside. Work  has me doing what I love and traveling all over to dance, giving me little to no time to even consider jet lag or time changes. Minimal relaxation, however, doesn't mean minimal reflection. Not a day goes by where I don't think about the learners and their endless love. I carry them with me each and every day.
Looking back, I realize that this trip was more than 3 credits or another just stamp in the passport. It was a chance to change lives and in turn, have our lives changed. It was a first-hand experience to the kind of impact we can have on students but also revealed that we are still learners ourselves.
Looking ahead at the next semester, next year, next chapter in my life, there will not be a day that I don't think about all the learners and all they have taught me. They are forever ingrained in my heart. As student teaching approaches and then the reality of life after college sets in, I will continually draw on this experience, but not as a resume enhancer or as a sash to sport on graduation day. Rather, this month in Namibia, Africa, is in reference to a life altering collision of two worlds and a change of heart. I aspire to make a dent in the world of others as they have all made in mine.
We learned to cherish the little things in life and not take anything for granted. Who knew that a No. 2 pencil could mean as much as it did. They truly embody the phrase, "Use it up. Wear it out. Make it do. Or do without." I aspire to live a more simplistic life with an attitude of gratitude, instead of one of materialistic "need" and greed.
Our adventure back to the US of A was quite eventful to say the least. From almost not being able to take off from Johannesburg due to an engine failure, to having two men almost fist fight each other in the aisle-way regarding overhead baggage placement, to having a women stop breathing while in flight … let's just say we all kissed the London ground on arrival.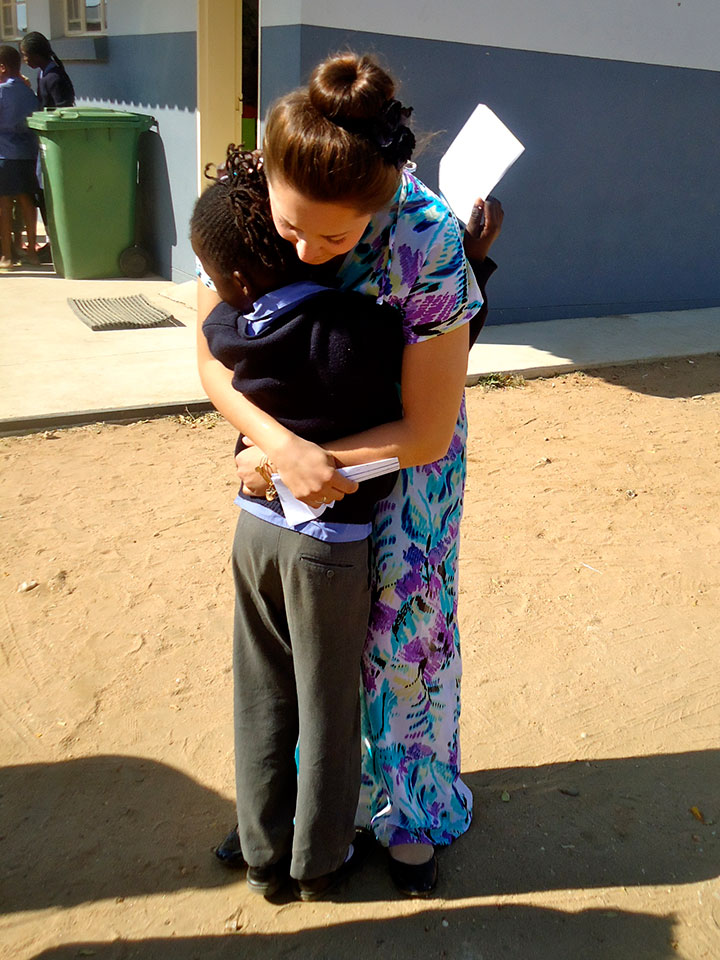 I have not yet found the right words to describe this trip (still). The only adjective I can freely give to anyone who inquires about my trip is indescribable. How do I put the feeling of reading all the letters given to me on the last day by the learners, even one in Braille, into words? How do I put the feeling of receiving a rare email from one of my 10th grade learners about the death of one of their beloved teachers into words? How do I put the feeling of giving my last round of hugs to the precious souls that changed my life into words? For now, indescribable will have to do.
I just wanted to give a "thank you" to the ever so generous and inspiring, Professor Patty Caro. The amount of love you put into your work in remarkable and I aspire to make even half the impact you have in life. Thank you to the College of Professional Studies and the School of Education for allowing me to share my adventures with a greater audience and help me to develop a love for teaching, writing and learning. Another big thank you to International Programs for making this trip possible and available. The amount of support and encouragement you give students to accomplish their, once far fetched, dreams of traveling the world is truly an asset to the Stevens Point legacy. I most definitely belong to the greatest of universities. A HUGE thank you to the 15 women who traveled hand-in-hand alongside me for a month. I would not trade in my experiences with you for anything and can't wait to share our stories, laughs, and tears for years to come. You are all irreplaceable in my life. Lastly, a thank you is not enough for the friends and family back home and at school who support my ventures and choices in life. You all push me to do great things and I am inspired by your wisdom and trust. Thank you kindly for not only believing in me but believing in the cause; believing there is more to travel than a stamp, a carry-on, and a dollar amount. Thank you to my Mom and Steve especially for showing me how to spread my wings and use them. If you're going to fly, fly far, right?
And with that, I leave you with three last quotes to close this journey … only because I can't choose just one.
"Travel far enough that you meet yourself."
 "We travel not to escape life, but for life not to escape us."
 "Travel is rebellion in its purist form:
We follow our heart.
We free ourselves of labels.
We lose control willingly.
We trade a role for reality.
We love the unfamiliar.
We trust strangers.
We only own what we can carry.
We search for better questions, not answers.
We truly graduate.
We, sometimes, choose never to come back."
Carpe Diem,
Taylor
Taylor Buresch, a senior special education major with minors in cognitive disabilities and Spanish, is blogging about her study abroad experience in Namibia, Africa.