HPW Internship: Mary Greeley Medical Center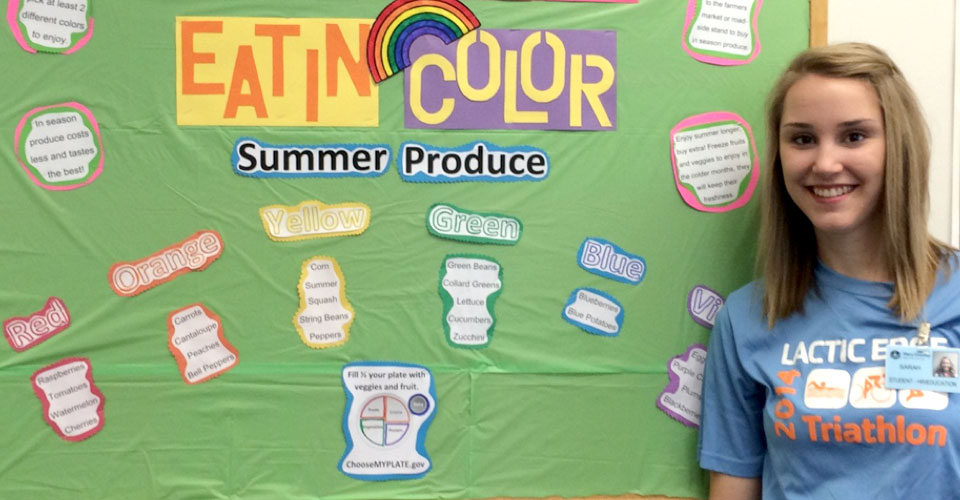 HPW Student Internship Experience – Sarah (Dugenske)Meier 15′
Interning at Mary Greeley Medical Center has provided me with a wide variety of experiences as I have jumped around to different departments. My first week was spent at my home base in the human resource/education department where I learned some background knowledge on the former employee wellness credit program. I went to the diabetes and nutrition education center for two weeks, then to a fitness center for two weeks and will be going to cardiac rehab for a couple days, but will be back in the HR office for the remaining of the summer. I have created many different handouts, a newsletter, a fitness challenge and a couple surveys for all employees at the hospital to assess their needs and desires as the wellness program is being revamped. It has been very interesting to see non patient and patient
care in the hospital as well as the community aspects of wellness at the fitness center. Sarah is shown to the right at the Story City
Lifetime Fitness Center where she created a bulletin board to encourage members to remember to eat a rainbow and in season along with exercising for a balanced healthy lifestyle. Along with this bulletin board she wrote an article for the newsletter about lifting weights, created a fitness challenge called "Fit to Climb" which challenges members to reach the peak of Mt. Everest, and created a 30 minute full body workout handout for members who are crunched for time.
Objectives
Behavior:

Prepare and present Lunch and Learn materials and presentations for employees according to needs found in HRA data.
Develop a survey for employees to assess their use and satisfaction of the fitness center.
Observe in the cardiac rehab center and Story City Fitness Center.
Observe and assist with the Diabetes and Nutrition Education Center.

Promotion and Marketing:

Develop a promotional campaign to encourage employees to take the HRA.
Promote and market the Sofa to So-Fit Challenge wrap-up at the Annual Hope Run June 20th.

Organizational Experiences:

Attend monthly wellness council meetings.
Learn about budget used for employee wellness programming and evaluate the use of incentives.
Attend a quarterly meeting with Wellmark Blue Cross Blue Shield about insurance claims and HRAs.
On-Site Supervisor
Betsy Schoeller
Director, HR/Education
Mary Greeley Medical Center
1111 Duff Ave.
Ames, IA 50010
schoeller@MGMC.com
515-239-2166
Hours
40 hours/week
Stipend
None
UW-Stevens Point Students Who Completed Internship
Sarah Dugenske, Summer 2015 (pictured above)