Students present at UW System Symposium for Undergraduate Research and Creative Activity
Research on interior architecture of a Veterans Home and nutritional intervention during resistance training highlighted the work of six College of Professional Studies students from the University of Wisconsin-Stevens Point who presented at the 14th Annual UW System Symposium for Undergraduate Research and Creative Activity on April 24 at the UW-Milwaukee Student Union.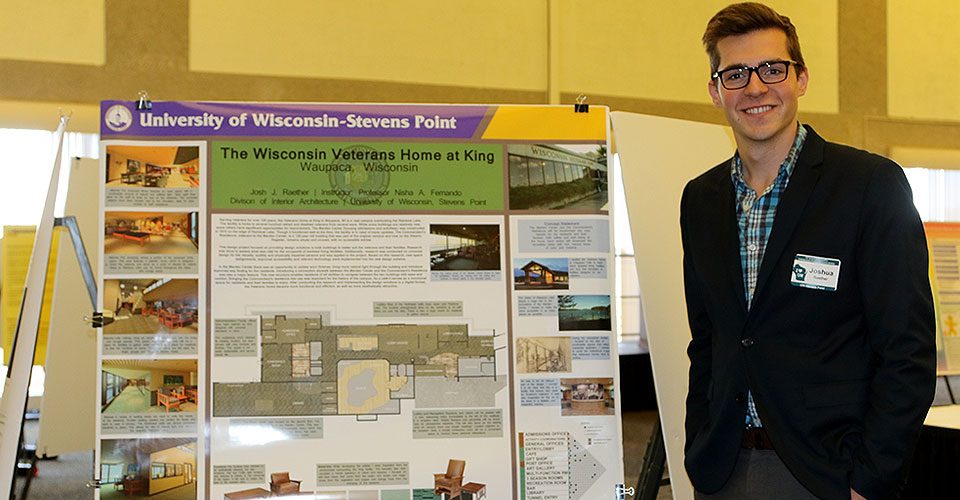 Joshua Raether: Revitalizing the Veterans Home at King
Mentor: Nisha A. Fernando, Interior Architecture
Serving veterans for over 125 years, the Veterans Home at King in Waupaca, Wis., is a vast campus overlooking the Rainbow Lake. The facility is home to several hundred retired and disabled veterans from several wars. While some buildings are relatively new, some others have significant opportunities for improvement. The Marden Center (housing admissions and activities),
was constructed in 1972 on the edge of Rainbow Lake. Though it functioned well at the time, the facility is in need of many updates. The Commandant's Residence, adjacent to the Marden Center, is a 125-year old building that was part of the original campus and now on the Historic Register, remains empty and unused, with no accessible entries.
This design project focused on providing design solutions to both buildings to better suit the veterans and their families. Research was done to assess what was vital for the occupants of assisted living facilities. Additionally, research was conducted on universal design for the visually, audibly and physically impaired persons and was applied to the project. Based on this research, new space assignments, improved accessibility and relevant technology were implemented into the new design scheme. In the Marden Center there was an opportunity to update worn finishes, bring more natural light through the building and introduce improved way finding for the residents. Introducing a connection skywalk between the Marden Center and the Commandant's Residence was also a major feature. This new structure enables residents of all abilities to navigate between the two buildings with ease and comfort. Bringing the Commandant's residence into use was important for the history of the campus. As a cafe, it serves as a communal space for residents and their families to enjoy. After conducting the research and implementing the design solutions in a digital format, the Veterans Home became more functional and efficient, as well as more aesthetically attractive.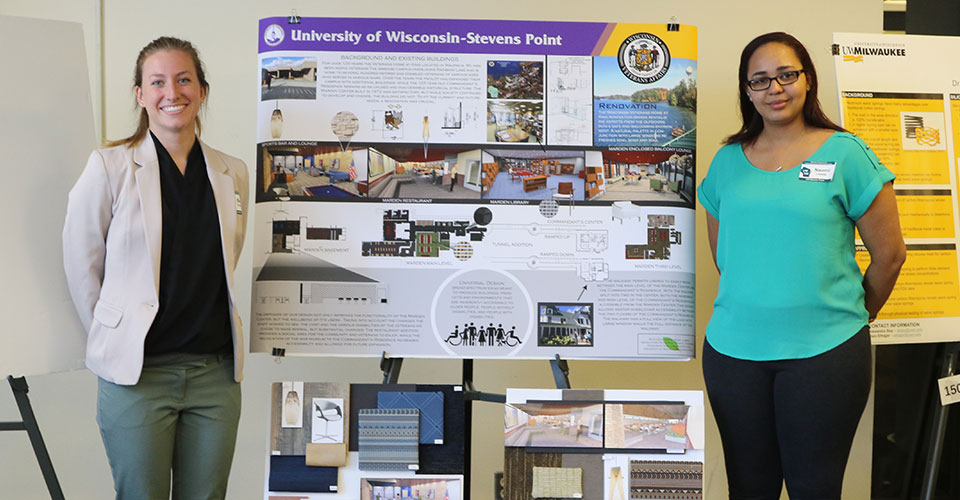 Beth Schaffer and Naomi Loabile: Applying Universal Design to the Wisconsin's Veterans Home at King
Mentor: Nisha A. Fernando, Interior Architecture
The challenge of this design project was to renovate the Wisconsin's Veterans Home at King in Waupaca, Wis., by improving accessibility and comfort for all users. Creating an environment that reflected the serene and natural landscape was an important concept. The project included extensive research, case studies and hands-on experiments to produce a final design for the
remodel of the two buildings. The multi-use building was redesigned to improve circulation and aesthetic quality. Incorporating Braille railings, non-slip flooring, wide-open areas and adjustable table heights created a healthier space for all users. A ramped tunnel was designed to connect the Commandant's center with the Marden center, allowing safe and convenient mobility between the two. Using environmentally-friendly materials from a minimal range of companies lowered the buildings carbon footprint and toxic indoor emissions.
Much of the existing quality furniture was incorporated throughout the design. The renovation included a new color palette to eliminate the institutional impression it previously conveyed. Along with universal design, this project used a low budget and resources, which in turn, produced much safer environment and considerably happier clients. Interiors can have incredible influence on people, so giving each user sufficient access is vital. Failing to do so could be considered discrimination, which is a very important social consideration in the 21st century. Universal design is an important aspect that needs to be implemented in every building.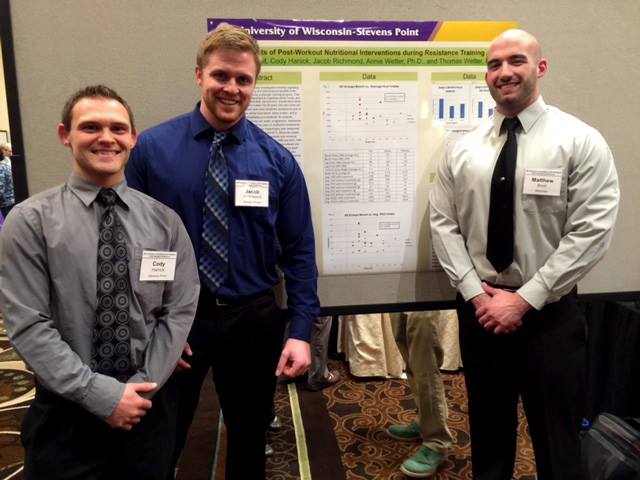 Matthew Breit, Jacob Richmond andlh Cody Hanick: Effects of Post-Workout Nutritional Intervention during Resistance Training
Mentor: Thomas Wetter, Health Promotion and Human Development
Mentor: Annie Wetter, Health Promotion and Human Development
Using finite element modeling with ANSYS we studied the mechanical response of clamped square membranes made from polycrystalline silicon and silicon nitride. We used different loading conditions, in order to study the elastic properties of the membranes. These results are compared with experimental data collected by collaborators to determine elastic constants that are used as input materials parameters in the simulations. The extremely high aspect ratio of these thin membranes makes it difficult to achieve an efficient meshing of models. We discuss these challenges and the results of our simulations as well as comparisons with experimental data.