Preparing for an adventure of a lifetime
Namibia, Africa, is not a destination on many people's traveling bucket lists, but to me this was a place I have wanted to travel to for over three years. As a freshman at the University of Wisconsin-Stevens Point, I met a young lady that was majoring in special and elementary education, just like me while working at the Student Involvement and Employment Office. I helped her carry bags filled with humanitarian aid that consisted of products for hygiene that were excess in the Cupboard student food pantry. During the walk to her car the student informed me of where the items were going, which was to children in Namibia. After talking about the trip for 20 minutes, I knew I had to go on a once-in-a-lifetime trip to a country in the south of Africa. Since that day, I began saving money and not-so-patiently awaiting the day that I would be able to travel to Namibia myself.
Unexpectedly, last year this amazing trip was offered but I knew my time was not then. Many of my friends went on the trip which made me even more excited to work with some exceptional students from the university along with fantastic students. Finally, another few months went by and it was my turn to fill out my application to study abroad to the International Programs office! A few months after being accepted into the program I was thrilled to meet the team of students I would get to spend lots of quality time with in Namibia! Instantly the group meshed, and before we knew it all of us set out to compile humanitarian aid to bring with us to Namibia, as the school does not get additional funding for school items.
During this process, one student contacted the phenomenal group Little Dresses for Africa. Through this organization, a group of women in Portage, Wisconsin, became involved and sewed more than 80 dresses for the team to bring to Namibia for the little girls at the school. Callie is a student at UWSP, and her mother was one sewer in the group of women that spent an entire weekend making the adorable dresses made out of pillow cases and various linens found at thrift stores. Because of the hard work and dedication of these individuals, the following quote will truly become a reality, which is, "Changing lives one dress at a time …" I am looking forward to the day when the little girls receive a dress and wear it around the hostile. Each little girl, no matter what country it may be deserves to feel beautiful, and a new dress will help accomplish this.
For additional information on Little Dresses for Africa, feel free to check out this link!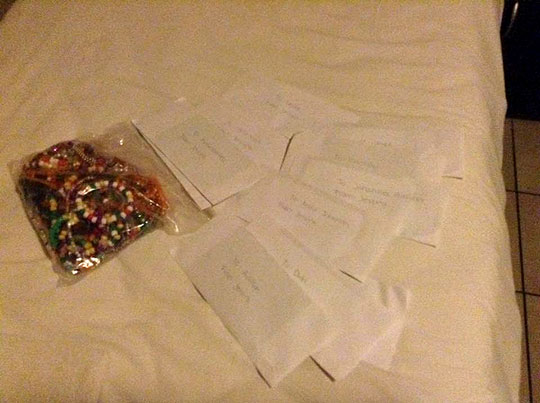 Jessica is a UW-Stevens Point student who traveled to Namibia last year. She sent letters, bracelets and much love with the team to give to the wonderful children she worked closely with last year, and bracelets for the children at the school. The students in Namibia look forward to when the "Americas" come each year as they do not get to leave school grounds much and know students from our school continuously come back to visit.
The Knitting and Crocheting Club of UWSP heard about the trip and decided to participate in the cause as well. This group knit blankets, hats, scarves and mittens for the students, as many students have Albinism and use each day to protect themselves from the fierce sunlight. Many children at the school also live at the hostile located next to the school and do not receive new bedding often, therefore these items will be an absolute blessing to the students.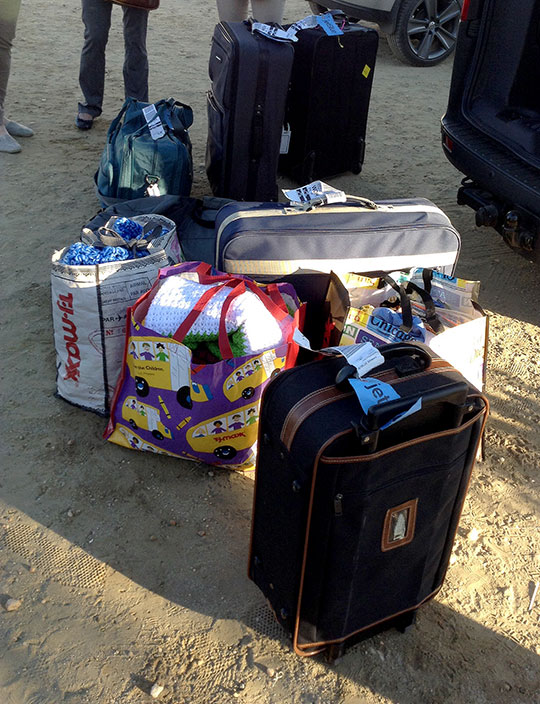 One final office on campus that assisted in finding donations was the Student Involvement and Employment Office (SIEO). Pens, lunch boxes, backpacks, writing utensils and paper were just a few of the many items provided by the office that will benefit the National Institute of Special Education for the Visually Impaired in Namibia.
Other team members from the university compiled books, school supplies and other relief items from local schools, teachers and some even purchased goods with their own money. Our team could not have compiled all of these items without the support of our wonderful learning community in Stevens Point, and with the support from family friends across Wisconsin, Illinois and a few other states!
From the entire team and the students in Namibia, thank you very much for the support and encouragement through this entire process and we are looking forward to working with the deserving students and sharing our stories with you all!
Opreg,
Katie
Katie Morici, an elementary education and special education major, is blogging about her study abroad experience in Namibia, Africa.