First days in Italy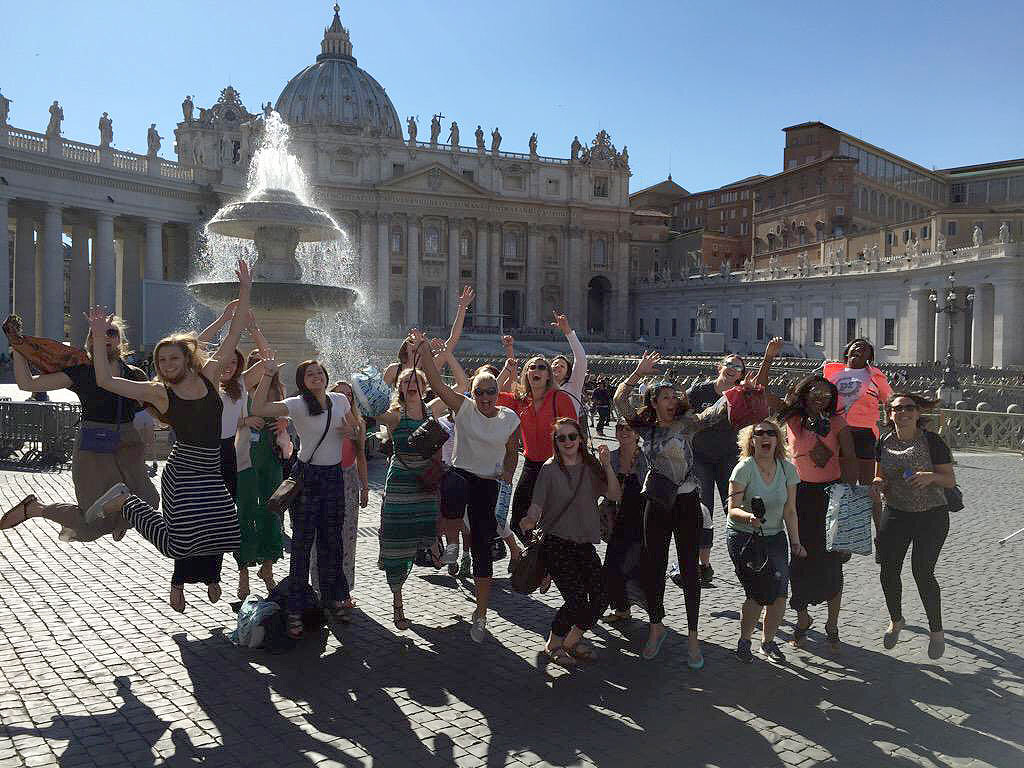 Arrival in Rome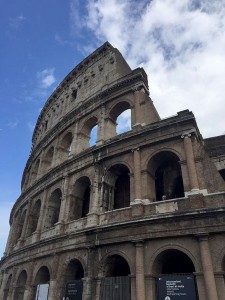 First sign that it was going to be a great trip: no luggage lost!
The group boarded the charter bus and headed straight to Rome for some free time and following with a tour of the city. We were introduced to Elena, our Italian guide who will be with us for the entire trip. She is a fantastic resource and her translating skills are very much appreciated. Elena is originally from Lake Como, where we will be wrapping up our time for our AIST Italy Tour.
The basketball and volleyball groups were dropped off in Piazza Novana to get lunch, exchange money and experience a taste of the city. Many people in the group chose to get pizza as their first meal in Italy, and there didn't seem to be any disappointments. There are cafes on every single corner with pizza, pasta, gelato, espresso and signature Italian dishes.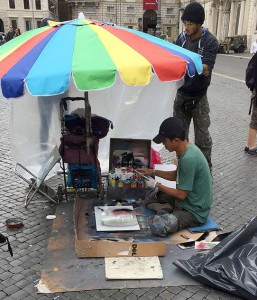 Piazza Novana is full of street vendors and artists selling their work. It was fascinating to watch the artists who used only spray paint to create beautiful pictures of the different famous landscapes of Rome. It takes them less than 10 minutes to create their "masterpieces" to sell for about 10 Euros.
The group worked to power through their jet lag on a guided tour of the city. Everyone most definitely got in their 10,000 steps. We started at the Pantheon, passed the massive government building known as the Wedding Cake, went through the Forum Romanum and ended at the Great Square of the Colosseum. The Great Square was packed with people as Rome is on a typical day. By the end of the tour, everyone was offered to purchase a "selfie stick" probably close to 20 times. Selfie sticks are all the craze in Rome.
Vatican City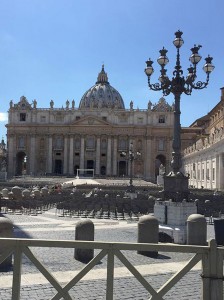 I'm not sure of the exact stats, but I was told that 25,000 people go through the Vatican Museum on a daily basis. The historic place is packed with people. Thankfully, our groups did not have to wait in line as AIST arranged another guided tour. After passing through security, we "left Italy" and entered Vatican City. The group toured through the immaculate museum and ended with the Sistine Chapel, where no pictures are allowed to be taken of Michelangelo's masterpiece. The chapel is also supposed to be silent since it is a House of God, but it was a difficult task for the Vatican officers to enforce because of the crowd.
The group went on their own through St. Peter's Basilica and ended their tour looking over Vatican Square, where chairs were set up for the Pope's weekly speeches that typically occur on Wednesdays. They had the rest of the afternoon to shop for souvenirs, eat more delicious food and finish their time in Rome.
Follow University of Wisconsin-Stevens Point volleyball head coach Abbey Sutherland as she travels to Italy to coach a team of collegiate all-stars with the American International Sports Teams program. Sutherland is in her third season as the head coach at UW-Stevens Point and has led the Pointers to back-to-back national semifinal appearances in her first two seasons.