First exhibition match for Team Stars and Team Stripes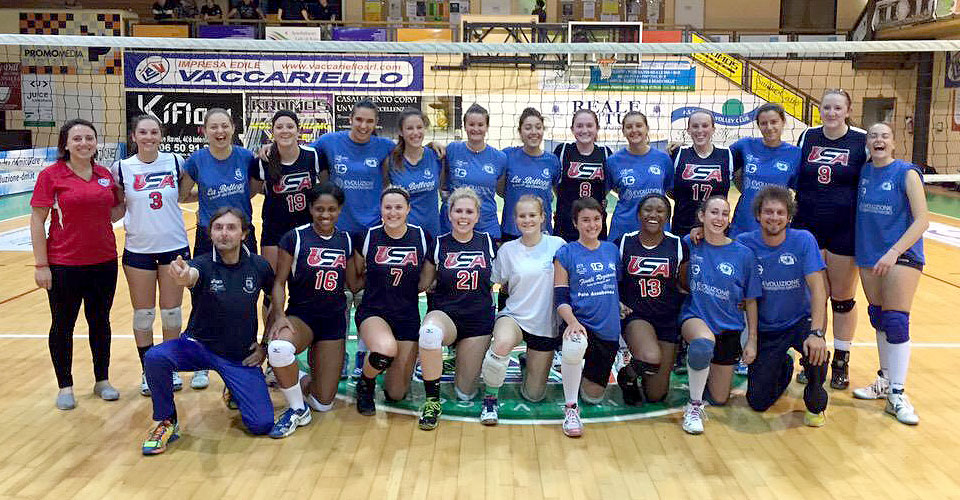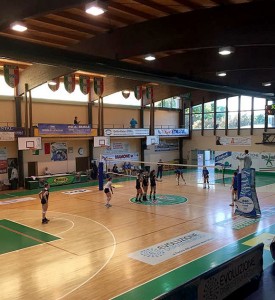 The volleyball squads boarded the bus and headed toward the Mar Terrerian Coast for their first exhibition matches against Italian squads. There was a lot of traffic as we headed out of Rome, which is typical, but we found out later that there was a very important soccer match being played during that time, which made the traffic more congested.
As Team Stripes ate their delicious pre-game meal at a local pizzeria, they heard loud shouts of "GOOOAALLLL" in the background down the street, which was evidence of that important soccer match being played.
Team Stars played the first match at 7 p.m. against Ostia Volley. They went 1-2 and played against a competitive, experienced Italian squad. Coach Matt Darling (Gannon University) was pleased with the play of his team. They worked out nerves and improved throughout the match. Their team is clearly representing the PSAC Division II conference overseas.
Team Stripes took the floor at 9 p.m. to play Volley Roma. They had never played together as a group before, so it was a game for them to get to know each other and learn how to play together. Setter Sophie Hackett (Hope College) ran a balanced offense as she began to learn how to make her hitters successful. Their third-set win was an encouraging sign for their future matches and they bonded on the bus ride home by playing Ellen Degeneres' game called "Heads Up."
Follow University of Wisconsin-Stevens Point volleyball head coach Abbey Sutherland as she travels to Italy to coach a team of collegiate all-stars with the American International Sports Teams program. Sutherland is in her third season as the head coach at UW-Stevens Point and has led the Pointers to back-to-back national semifinal appearances in her first two seasons.