New adventures in the UK
Hola Chicos!
I have officially been in London for more than two weeks now and I have loved every second of it. Now that I've settled down in my new home I feel more comfortable exploring new things in and around the city. Also I've been working for a couple weeks so I have begun to find my groove at work. I feel right at home and couldn't be happier.
To begin, I am still falling in love with my job at Movimientos everyday. My main focus at work has been to help promote the various music shows and record releases that our company puts out. However, each day I learn something new and am trusted with a new responsibility. I have learned so many new tools to assist with promoting events on social media, and I have learned a lot about working in a different environment than I am used to. For example, in London many companies are much less hierarchical than those in the U.S. I work right next to my boss, as in we sit at the very same table everyday. Although I am technically an intern, I am treated like a normal employee and they don't expect me to go on coffee or tea runs for them all day. Our company has recently moved into a co-working space as our new office. There spaces are very popular in London and I love them so far. It's basically a large office that you or your company can rent out space/hours at to work. It's usually cheaper than having your own office and you are then surrounded by other people working on their businesses and you are able to share and spread ideas around much easier. This week is especially exciting at work because we are announcing a new album and an album launch party. I have been working on writing tweets, creating newsletters, and posting the events on various websites online. I love seeing all the little pieces line up and then when the shows and parties happen you can see why it was so important to do the things you did and it makes it all worth it. So far I have been to a couple of shows that we have promoted, and they are beyond fun. I get to meet a lot of people who all love the same things that I do and appreciate the work that I put in to helping with the events. I am beyond happy with my internship placement.
In addition to enjoying everyday I work, I have been doing a lot of adventures around the city and beyond. Last week I went to Shakespeare's Globe Theatre to see a play.
After buying our tickets and waiting in several lines, we got to go into the Globe. I was in awe from the second we walked into the globe and for hours after the play was finished. The theatre is much larger than I had imagined, with three levels of seating and a giant stage that juts right out into the center. We were in the standing section but got a good spot where were could rest our elbows on the stage. Every time an actor walked past I would almost get hit with their cape, I was that close to the action. From my experience it was the best way to watch Shakespeare plays and the way they were meant to be seen.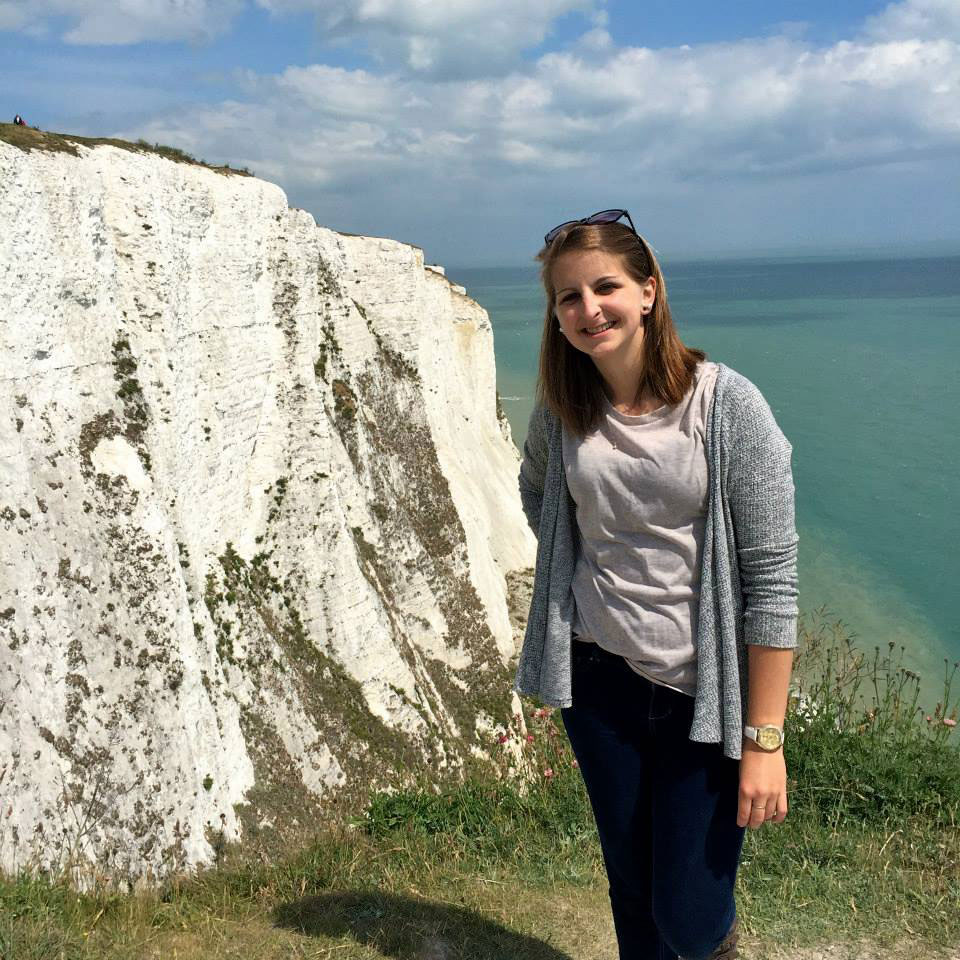 Then this weekend I went to Dover to see the white cliffs. I had seen pictures but when I saw them in real life it took my breath away. They were magnificent and enormous white cliffs towering over the English Channel. We were able to walk on the edge of the cliffs and pear over the sides to the water below. I had the same feeling being there that I did when I was in Spain at the cliffs at 'el fin del mundo.' We were able to walk all the way down to the lighthouse at the end and often times there was just a small path or we would have to hike straight up a steep hill, but it was worth it. I loved being there and would recommend the White Cliffs of Dover to anyone.
I hope everyone is having a good time in Stevens Point! Even though I am very happy in London I still miss Wisconsin everyday. I can't wait to continue to update everyone throughout the summer on my internship and adventures, thanks for reading!
Hasta Luego,
Alexia
P.S. I saw the Queen at her birthday parade, too!
Alexia Szabo, a senior majoring in economics, Spanish and international studies at UW-Stevens Point, is blogging about her study abroad experience in London.