On the road …
To Chicago!
I recently had the opportunity to travel with the UW-Stevens Point women's basketball team to the U-Chicago Classic, where the Pointers played against UAA teams Washington University–St. Louis and University of Chicago. This gave me a sense of what exactly an athletic trainer does on road trips. We are continuing to take trips over the next few weekends, one being to Kenosha to play Carthage College and again to Bloomington, Ill., to play Illinois Wesleyan. Traveling with the team has given me a lot of perspective that I previously did not have.
The amount of preparation for games can be overwhelming to some people. To me, it's just another work day. Away games are less overwhelming because we only need to remember two important things: our medical kit and the players' water bottles. Thankfully, most universities that we travel to provide us with ice and water so we do not have to load heavy coolers onto the bus. This is helpful because we are able to get our athletes ready with taping, stretching and other pre-game treatments. Traveling is also an amazing opportunity to pick my certified athletic trainer's brain about what he learned in his undergraduate program. It is not the best for my motion sickness however.  Not only is traveling beneficial for my professional development, it is also benefiting my development as a person.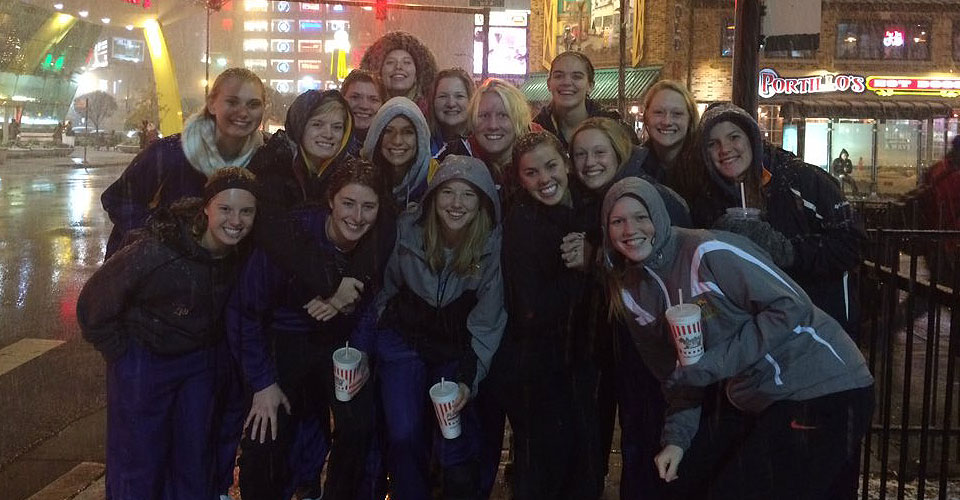 This team has included me in so many ways, and I could not be happier. I have grown more as an individual these past two months than I thought that I would. Being included with the team has given me that team feeling that I was always used to when I was younger. I have already been told my multiple people how I seem so much more comfortable with who I am through this season than I was over the past few years. I am looking forward to what comes next with this team.
-Sarah
Sarah Pettit is a senior majoring in athletic training at the University of Wisconsin-Stevens Point.