Teaching Partners faculty present pedagogy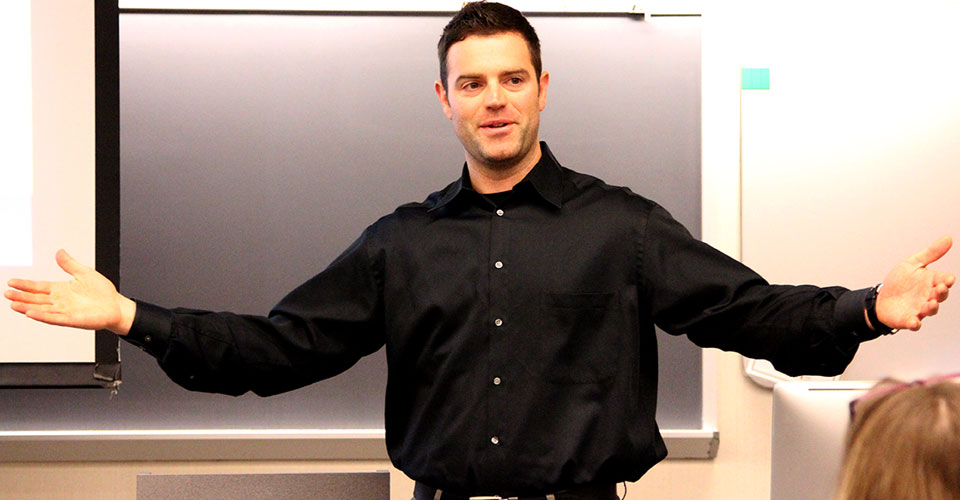 From experiential learning with stroke survivors to using data collection technology for monitoring Schmeeckle Reserve in forestry classes to providing an opportunity for your students to stay on schedule, faculty members from various disciplines presented their pedagogy for the 2015 Teaching Partners program at the University of Wisconsin-Stevens Point. [Photo Gallery]
Teaching Partners at UW-Stevens Point are faculty and teaching academic staff who are paired and asked to begin a discussion about teaching and learning. With the assistance of their partner, they learn a process to help begin critically evaluating their own teaching practices. Partners are paired across disciplines to give them an opportunity to meet colleagues in a field outside of their own and to be exposed to new teaching perspectives.
The following are the resultant projects or publications that were created by the 2015 teaching partners:
Experiential Learning, Undergraduate Research Project with Stroke Survivors – Corey Huck, Health Promotion/Wellness
Student-Instructor Course Collaboration – Pam Terrell, Communication Sciences and Disorders
Using technology in the field for data collection and long-term monitoring in forestry classes – Holly Petrillo, Forestry
To Grade or Not To Grade: A Dilemma in Education – Nisha A. Fernando, Interior Architecture
Encouraging On-Line Student Interaction and Content Generation with the PeerWise System – Erin Speetzen, Chemistry
Providing an Opportunity for your Students to Stay on Schedule – Paul Haas, Physical Education
Empowering Students using Basecamp as a Project Management Tool – Diana Hoover, Art
Incorporating social media campaigns in curriculum – Susan Turgeson, Family and Consumer Sciences
Peer Review in COMM 365: Screenwriting – Cary Elza, Communication
Integrating Peer Review into Assessment: Strategies for Engagement – Mary Jae Kleckner – Business Administration
Integrating Statistical Software into a Fisheries Course – Joshua Raabe, Fisheries
Exploring Learning Assessment Options in an Interdisciplinary Course – Melinda Vokoun, Forestry
Incorporating Excel in Designing Pumps & Pipes in a Fluid Mechanics and Hydraulics Course – Tapas Das, Paper Science and Engineering
Completing its 21st year but first year as a universitywide initiative, the Teaching Partners program is led by co-directors of the Focus on Teaching and Learning program Donna Zimmerman and Kristi Roth. The 2016 participants recently completed orientation and are beginning with their projects which they will present in 2017.