Evan Dixon: Champion on and off the ice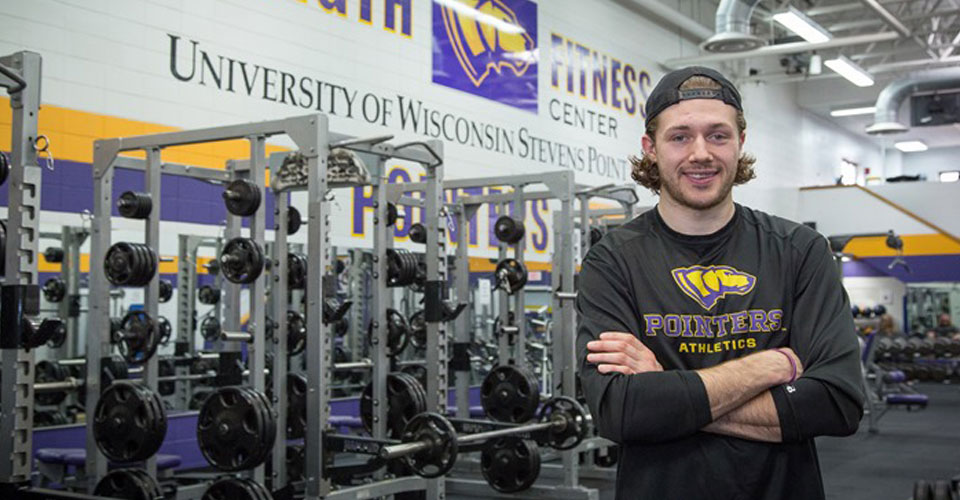 As an exceptional University of Wisconsin-Stevens Point student-athlete, Evan Dixon has a lot to celebrate.
Dixon, a senior captain on the Pointers men's hockey team from Novi, Mich., near Detroit, helped his squad earn a Division III national championship March 26. The Pointers defeated St. Norbert College, 5-1, for their fifth title after consecutive runner-up finishes.
"It's been an unbelievable feeling to win a championship," Dixon said with a smile. "I think it's finally starting to set in. It took a while to believe because it's been such a big goal for us."
Yet that's just part of his success. He's also achieved high academic benchmarks and received several accolades in his time at UW-Stevens Point including:
a 3.97 grade-point average. He is a business administration major with a double emphasis in marketing, and finance, insurance and real estate (FIRE). He hopes to stay involved with hockey as a coach or player after graduating in May and start a career in real estate investing, possibly in Michigan, where he already owns a real estate license;
the Max Sparger Scholar-Athlete Award, given to a Wisconsin Interscholastic Athletic Conference (WIAC) men's hockey competitor who has at least two years of athletics experience and is in his last year of competition; and
the national Elite 90 award, which is presented to the student-athlete with the highest cumulative GPA participating at the finals site for each of the NCAA's national championships.
Time management has been vital to that success between academics, practices, volunteering as a youth hockey coach, time spent as a Student Athletic Advisory Committee member, and training in the Strength Fitness Center. UW-Stevens Point men's hockey coach Chris Brooks has been an important mentor to Dixon in learning those skills.
"He has taught me valuable lessons about leadership and accountability," Dixon said of his coach. "I'm extremely lucky to have had him for four years. Not everyone can have the same coach throughout college and I'm grateful he's been mine. He challenges everyone to be their best."
Dixon looked at other schools, although UW-Stevens Point immediately felt like home for its academics, athletics and just-right size when Brooks encouraged him to visit in 2012. In encouraging other young hockey players choosing schools to select UW-Stevens Point, Dixon said, "It's a culture you want to be a part of because it will make you better as a person and as a hockey player. Right now we have the best hockey team in the country. I don't know why anyone wouldn't want to be a part of it."
Dixon identified Associate Professor David Schalow and Assistant Professor Lyna Matesi from the School of Business and Economics as two of his favorite instructors at UW-Stevens Point. He said Schalow has been instrumental in helping him see how he can become a real estate investor, and Matesi "really gets to know her students. She offers real-life situations in her classes and puts everything in a way so that we can understand it. It's easy for us to see how it fits into life after college."
Learn more about the UW-Stevens Point men's hockey program at athletics.uwsp.edu and business administration at www.uwsp.edu/busadmin.
Courtesy of UW-Stevens University Relations and Communication.