HPW Internship: Vaiola Hospital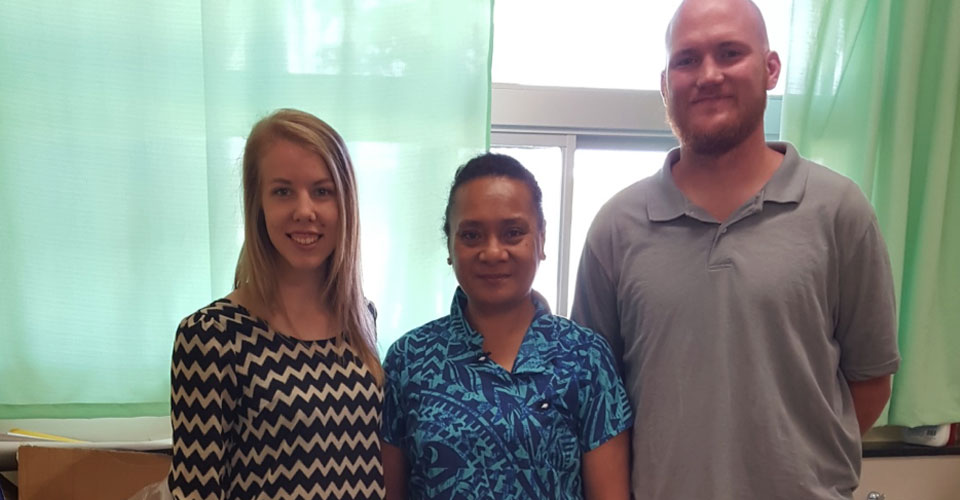 HPW Student Perspective of Internship- Caitlin Ahlberg
Interning at Viaola Hospital in Tonga has by far been the most exciting challenge that I've experienced in Health Promotion. My time here has been a continual learning experience, full of amazing people, big ideas, and so much positivity. Much of what I have done at the hospital so far centers on researching and creating educational materials for the Diabetes Center on various topics, including Gestational Diabetes,
nutrition, and exercise. In addition to creating materials, I have been able to participate in the planning and execution of the annual Diabetes Awareness Week program. As apart of this program, I was able to visit local primary schools participating in an awareness competition. The students performed skits, songs, and poems, and presented their essays and artwork. All of these were created under the theme of
diabetes awareness and healthy eating, to get the students involved in their education on these topics. Other opportunities that I have had during my internship include working with mothers diagnosed with Gestational Diabetes, attending a staff retreat, observing and participating in meetings, and working with the graphics and marketing team in the hospital's Health Promotion Unit.
To anyone considering an internship abroad, I would highly recommend it! This has been the experience of a lifetime, and has given me many opportunities for both professional and personal growth that I will be forever grateful for. As pictured, one of the opportunities that I had during my internship was to present on stress management during a retreat for hospital staff working with the Diabetes Center. Facing both a shocking lack of resources and an extremely high demand for services, the staff are constantly under immense stress. However, they
make the most of what they have and face each new challenge with a positive mindset. As part of this program I lead a short yoga session, which was full of the laughter and\ encouragement that I have come to recognize as staples of the hospital atmosphere here.
Objectives
Behavior:

Educate clients on nutrition and exercise.
Offer nutrition logs for participants to follow.
Provide Health Coaching for all interested clients.

Promotion and Marketing:

Create handouts/flyers on diabetes awareness.
Promote the importance of proper diet and exercise.

Organizational Experiences:

Attend any relevant department or staff meetings.
Observe and assist supervisor in meetings, if necessary.
Assist in any relevant event planning.
On-Site Supervisor
Dr. Veisinia Matoto
Vaiola Rd
Nuku'alofa, Tonga
matotov@gmail.com
+676-23200
Hours
40 hours/week, daily hours flexible
Stipend
None
UW-Stevens Point Students Who Completed Internship
Caitlin Ahlberg, Fall 2015 (pictured above)
Analese Grimm, Fall 2015
Zachery Banser, Fall 2015