HPW Internship: Aspirus-Wausau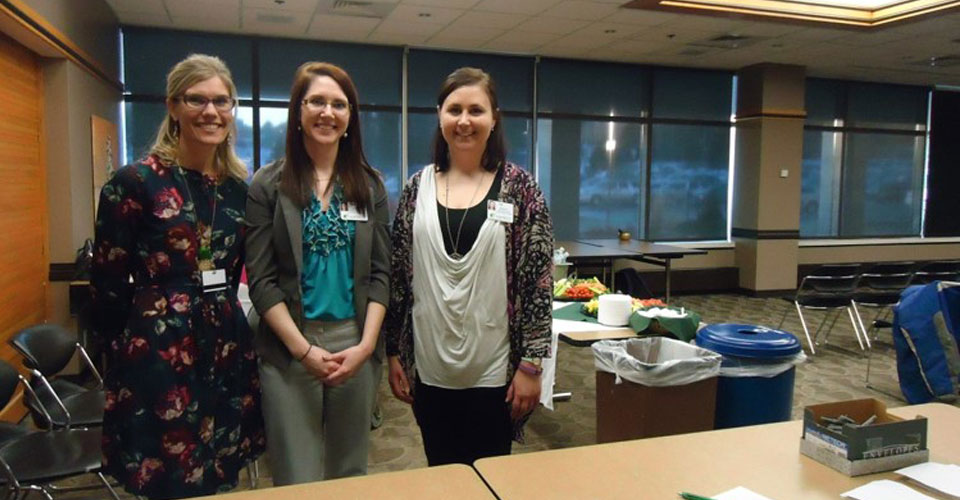 HPW Student Internship Experience – Hillary Drake 16′
Interning at the Aspirus Wausau Hospital has been an amazing experience that I am very thankful for! While interning at the hospital, I had the opportunity to work in multiple areas of wellness, some of which included: community wellness, employee wellness, business health and cardiac rehabilitation. My typical schedule interning involved me being in many places, which included: cardiac rehabilitation at the
hospital twice a week, off-site wellness programming in both Wood County and Associated Bank, along with helping to organize the weekly Farmer's Market at the Aspirus Wausau Hospital. I loved being in multiple locations because I was able to learn and see how many
different wellness programs are implemented. I am also very appreciative that I was able to gain experience clinically in cardiac rehabilitation because prior to my internship I thought the clinical route was the path I wanted to take in the future. However, after my internship at
Asprius I truly found out where my passions lie and which direction my future is headed, which I am very grateful for! In regards to my responsibilities for my internship, in cardiac rehab I was in charge of monitoring the patient's blood pressures, heart rates, oxygen saturation, and exercise prescription. My main responsibilities in Wood County were to create a smoking cessation toolkit for the employees, create educational flyers, along with monthly activity lists for the surrounding areas. At Associated Bank, I was in charge of creating the August Meet-and-Greet program, the Beat Your Boss Wellness Challenge, a resource guide for the Stevens Point area, and a stress management lunch-and-learn with two of my fellow interns. At the farmer's market I helped two interns with the fruit and veggie prescription program! Lastly, I also had the opportunity to shadow two cardiac stent procedures, along with an echo test and a Cardiovert procedure! Needless to say, I have had a fantastic experience at Aspirus!
Objectives
Behavior:

Assist with onsite screenings that take place including Blood Pressure and BMI checks.
Observe health coaching and potentially assist with providing.
Observe and assist with Weigh to Go: Aspirus Community Weight Challenge.
Create and develop future Code Lavender Events.

Promotion and Marketing:

Prepare wellness articles.
Promote stress management utilizing Code Lavender.
Promote Weigh to Go: Aspirus Community Weight Challenge.
Market the 2016 Wellness Program Education.

Organizational Experiences:

Assist with quarterly lunch n' learns.
Organize behavior change tracking results.
Help organize timeline for various behavior change programs.
Attend staff meetings.
Assist with budgeting program incentive.
On-Site Supervisor
Ashley Popp
Health Promotion & Wellness Coordinator
333 Pine Ridge Blvd
Wausau, WI 54401
Ashley.popp@aspirus.org
715-847-2000 ext. 52280
Hours
25-30 hours per week; minimum of 400 total hours
Stipend
None
UW-Stevens Point Students Who Completed Internship
Brooke Goehring, Spring 2017
Emma Loeck, Spring 2016 (pictured above)
Hillary Drake, Summer 2016
Renee Schessler, Summer 2016
Jennifer Stubbe, Summer 2016
Lori Engelmeier, Spring 2013
Ashley Bruger, Summer 2013
Benjamin Koenig, Spring 2014
Brittany Peterson, Spring 2018
Dominick Meyer, 2009
Erica Fanta, 2009
Cody LeBlanc, 2009
April Tremmel, 2009
Nick Thielke, Spring 2010
Kelly Krueger, Spring 2010
Tracy Denton, Spring 2010
Carmen Brueggen, Summer 2010
Corie Bottemiller, Fall 2011
Sarah Gauger, Summer 2012
Sheila Brock, Summer 2012