HPW Internship: School Specialty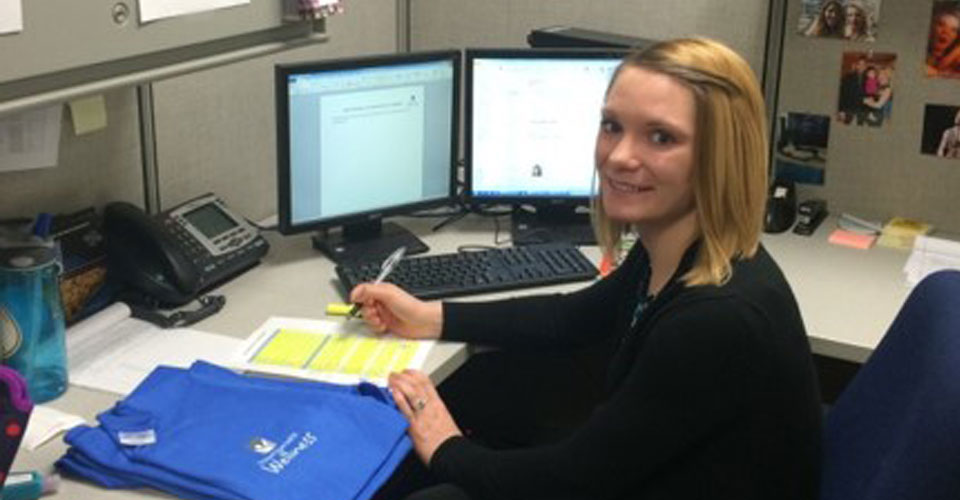 HPW Student Internship Experience – Mariah Shilts 16′
Interning at School Specialty is a vast skill gaining experience. I interacted with all level of the organization and worked with the
wellness and safety committee. My main responsibility was to find an employee health challenge to facilitate in March and April. I decided to create a new challenge called, "Winter Crush Challenge". I created all promotional materials and designs for the
challenge and proposed the challenge to the wellness committee, which approved it. During the challenge I communicated with the wellness committee and participants, ordered prizes, tracked participation data, and distributed prizes. When I was not busy with the challenge, I created a variety of wellness materials for the company wellness website. I am fortunate for the opportunity to facilitate a program I created and strengthen my promotional skills. Mariah is shown (above) reviewing the list of the Winter Crush Challenge participants that did not pick up their prize for completing the challenge.
Objectives
Behavior:

Create an interest survey to develop health challenge.
Develop a health challenge program for employees.

Promotion and Marketing:

Create posters/flyers to advertise health programs and health challenge around facility.
Coordinate vendors for on-site health fair.

Organizational Experiences:

Attend wellness committee meeting once a month.
Communicate ideas to wellness committee.
Design posters to propose health challenge program to wellness committee.
On-Site Supervisor
Nancy Sobieski
Director of Human Resources
School Specialty
W6316 Design Drive
Greenville, WI 54942
Nancy.Sobieski@schoolspecialty.com
920-882-5763
920-202-4042
Hours
34 hours per week (12 weeks)
Stipend
None
UW-Stevens Point Students Who Completed Internship
Mariah Shilts, Spring 2016 (pictured above)
Aaron Dodson, Fall 2015
Reegan Cheslock, Spring 2014
Mandi Hartshorn, Summer 2014
Jayna Vanden Heuvel, Summer 2012