HPW Internship: St. Mary's and St. Vincent Hospitals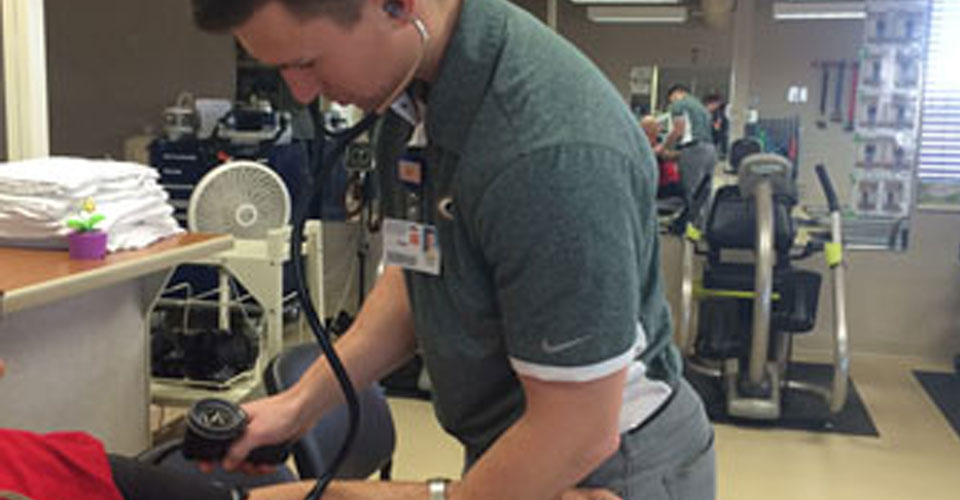 HPW Student Internship Experience – Peter Feldkamp 16′
Interning at HSHS (Hospital Sister Health System) St. Mary's and St. Vincent's Hospitals has provided me with great professional tools and experience going forward. I was able to participate in every aspect of cardiac rehab in Phase 1 (St. Vincent's) and Phase II (St. Mary's). I learned what cardiac patients will experience from the start of surgery up to their return to activities of daily living. I was fortunate enough to watch a handful of heart catheterizations and was even able to be in the operating room for
open heart surgery. On a daily basis I would work with one to two individuals per class where I would monitor blood pressures before, during, and after exercise. I would also make sure heart rates and heart rhythms were looking normal. My favorite part of the internship was
being able to teach educational classes on Exercise and Risk Factors associated with Coronary Artery Disease. My experience here will help me no matter the health field I choose to enter and I am grateful for this opportunity
Objectives
Behavior:

Participate in all aspects of patient care including exercise prescription, exercise leadership, nutrition counseling, stress management and patient education.
Observe cardiac procedures including cardiac catheterization, heart surgery, and nuclear stress testing and imaging.
Obtain practical experience and testing on reading ECG's.
Lead educational classes on the Seven Dimensions of Wellness.
Assist with making an individual cardiac/pulmonary rehabilitation plan.
Take blood pressures, monitor patients, and enter data.

Promotion and Marketing:

Work with rehab staff to create specific promotional and marketing material.
Create a Cardiac/Pulmonary Rehab pamphlet based on the Seven Dimensions of Wellness.

Organizational Experiences:

Work with supervisor to develop strength-training exercises for exercise component of cardiac rehab classes.
Attend staff meetings, learn about budgeting, insurance billing, and the referral system.
Work with supervisor to analyze programs and patients progress.
On-Site Supervisor
Donna Tilot
Cardiac and Pulmonary Rehabilitation
1727 Shawano Avenue
Green Bay, WI 54303
donna.tilot@hshs.org1727
920-498-3519
920-498-3521
Hours
8:00-4:30 M-F (Minimum of 400 hours total)
Stipend
None
UW-Stevens Point Students Who Completed Internship
Peter Feldkamp, Spring 2016 (pictured above)