Red, Bite and Blue!
Like most holidays, the 4th of July is spent with friends or family and usually that means everyone wakes up with empty bellies and by noon they are already full! Enlist to bring an appetizer because I have three ideas that are sure to sit well with the enemy (and by enemy, I mean the holiday weight gain).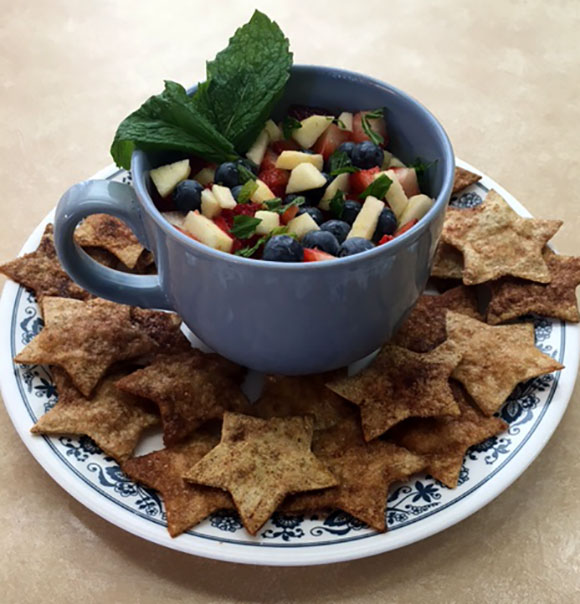 Red White and Blueberry Salsa
Ingredients:
Mint Leaves or Cilantro
1 Apple
2 Cups of Strawberries
1 Cup of Blueberries
Lemon or Lemon Juice
Preparation:
Wash and slice your fruit to the desired size. Mix evenly along with the lemon juice to prevent oxidation/browning. Chop up the mint leaves and add a garnish to the top. Serve chilled.
For an even sweeter snack, try homemade star-spangled cinnamon and sugar tortilla chips.
Ingredients:
Whole Wheat Wraps
Olive Oil
Cinnamon
Sugar
Preparation:
Preheat oven to 350 degrees. Use a star shaped cookie cutter to cut out the chips from the wrap. Brush the stars in olive oil then sprinkle cinnamon and sugar on both sides. Bake for 10 to 12 mins.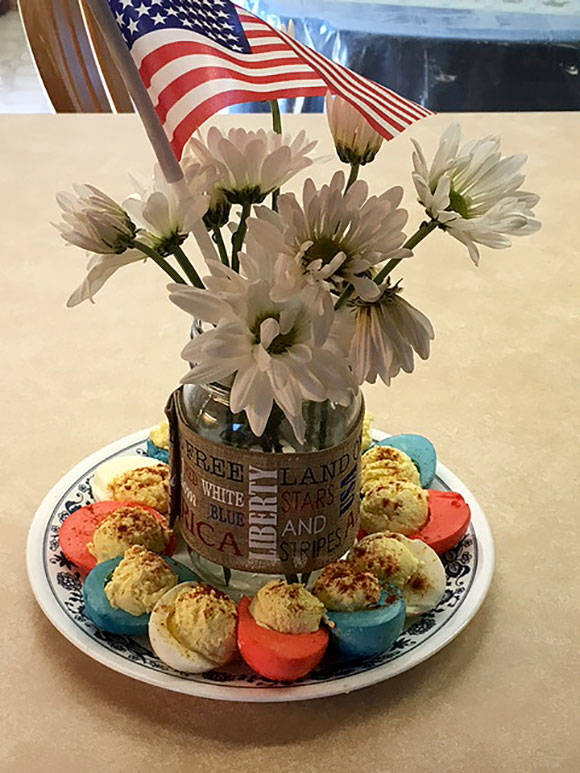 Colored Deviled Eggs
Ingredients:
Eggs
Food Dye
2 Tablespoons of Distilled Vinegar
2 Cups of Hot Water
Hard Yolks
Plain Greek Yogurt
Mayonnaise
Paprika
Preparation:
Boil the eggs with whichever method you prefer. Once cooled, peel carefully. Slice the eggs in half and remove the yolks; place in separate bowl. Combine 1 tablespoon of distilled vinegar, red or blue food coloring, and one cup of hot water. Repeat for other color. Add eggs whites to both bowls, keeping in mind that some need to stay white. Let those sit in the vinegar solution for 5 mins.
Use a fork to crumble the egg yolks. Add the Greek yogurt and mayonnaise until the mixture is creamy. I like to do half and half for the ratio. Optional add ins: mustard, onion, salt, pepper. Use a small muffin scoop or spoon to set yolks back in egg white. Finish by adding a dash of paprika to the tops of the deviled eggs.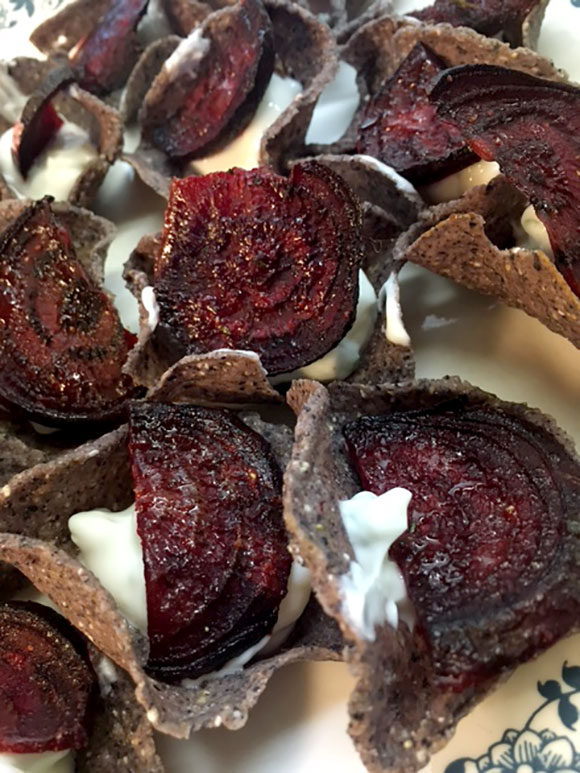 Beet Chips
Ingredients:
Bag of Blue Corn Tortilla Chips
Plain Greek Yogurt
Bundle of Green-Top Onions
Garlic Clove
Red Vegetable (beets, red pepper, tomato, etc)
Preparation:
Wash and roast your vegetable of choice. Mince the garlic and chop the onions, add to Greek yogurt. Scoop the dip onto the tortilla chip and top with roasted veggie.
How fun are all these appetizers! My personal favorite are the beet chips but I have a love for the crunch effect. There are so many fun and patriotic food ideas out there and I have to say Pinterest did inspire me in some of these dishes. Think outside the box when it comes to finding those blue items.
One last thing before I sign off for the weekend … I have to salute my wonderful mother for giving birth to my twin brother and I 20 years ago on Monday. You are quite the soldier for putting up with us! Happy 4th of July everyone!
~Emily
Emily Tauschek '19 is a dietetics and Spanish double major at the University of Wisconsin-Stevens Point.