My first delivery
This past week the Havenetts decided that it would be a great idea to bring both us interns along on a delivery. I was beyond excited to go and after that day I was not only grateful but even more in love with interior architecture. Being able to see a project go on first hand, to see the interaction between the designers and the client and see all the work and decisions it takes to put on the finishing touches was remarkable.
The client's house was about an hour drive away so we were all able to talk. Donna and Jane, two of the designers whom have worked together for 20 years, asked Taylor and me about school and what our thoughts were on the design field. It was great to hear about all their different experiences, trips and great clients that they have had the pleasure of working with. Talking to them opened up my view on residential design, showing me that not only commercial design gem the glamours life. One of our designers had just gotten back from a trip to New York where some of their clients live and offered her a place to stay while she was in town to attend the Tony Awards after-party with another client … AMAZING, RIGHT???? They both have been to an array of  locations and have made memories to last them a lifetime. The drives was not only fun but also very informational, being able to discuss their experiences made me excited for my future and once we got to the client's house that excitement only increased.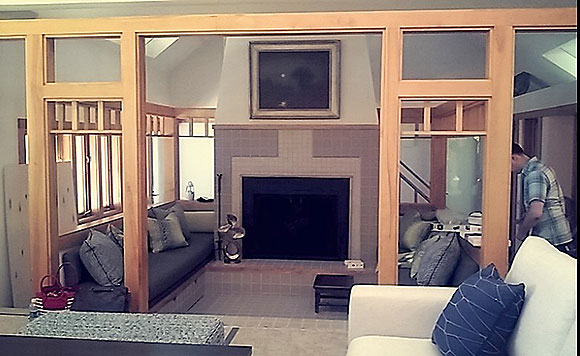 Arriving to the house I was blown away. Outside alone was breathtaking, this house was right on the lake, the landscape was like the rain forest and inside was gorgeous, even before the furniture was delivered. We were greeted by the client, she was very sweet and welcomed us in.
The moving guys had ran into a problem with the size of their moving truck and the height of the electric cables. The driveway was pretty long so the guys had to bring everything into the house on the two carts they had available or carry the furniture in, so it took longer than a usual delivery. We didn't mind though because every minute we spent there was great.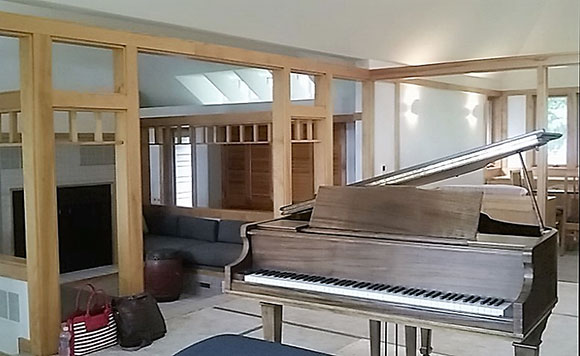 We started putting together the different rooms–the family room, living room, lowered fireplace space, dinning room and guest bedroom. Since the house was on the water, a lot of the fabrics carried in blues and greens to reflect the lake and vegetation. Red was also seen throughout the space among some of the client's own Asian-inspired artwork and pillow fabrics, this accent of red created some contrast within the spaces.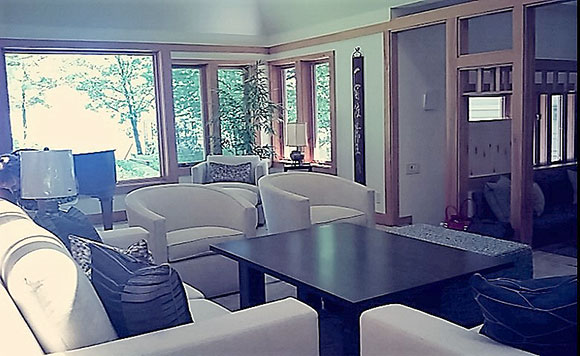 Once the furniture was in its place, it all came together to create an extremely cozy space with a welcoming atmosphere. The living room was still missing carpeting, but we were told that it would all be in before her big party next week and she will be able to show off her new decor.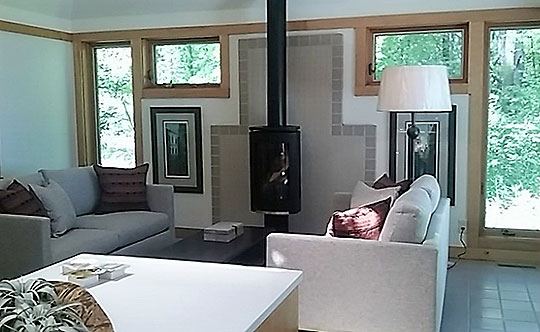 Being able to be a part of this delivery was a dream come true, I got to give my own opinions and contribute to the final outcome. We got to put out accessories and ask the client her opinions on them, we set up the furniture and helped the designers finish this project.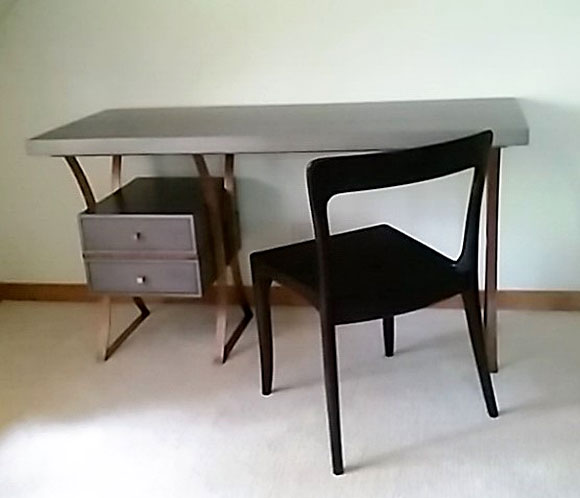 This was all such a great experience, but what I think made me the happiest–and love my career choice even more–was the smile and excitement that was on our client's face. Her thanking us and telling us how much she loved everything was one of the best feeling I have ever had, and that is the moment that will push me to always do my best and provide the best for my future clients.
After years of explaining to people what an interior architect does and how important we are to society, it was an amazing feeling to see the gratitude firsthand and have this experience along side of such inspiring and talented designers.
Until next time,
Monica
Monica Castillo is a junior at the University of Wisconsin-Stevens Point majoring in interior architecture major with an international studies minor.