Herr earns state camp award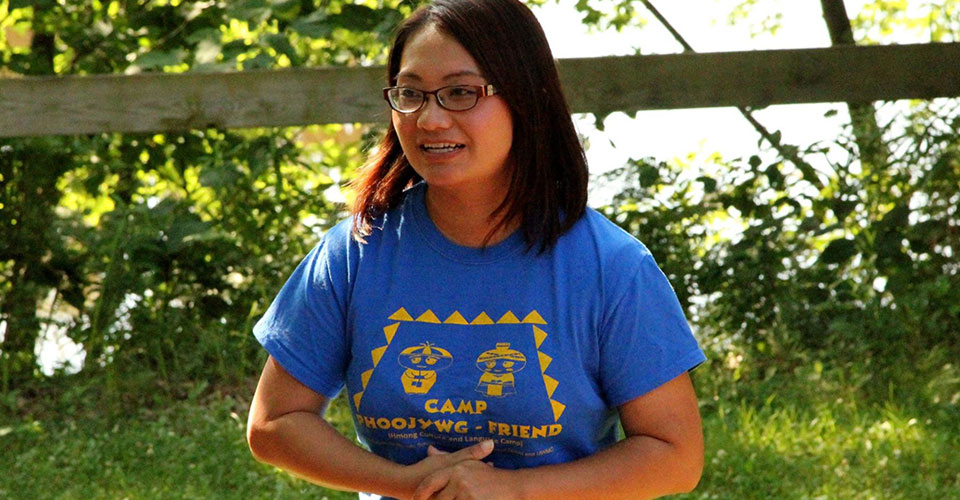 A camp organized by UW-Stevens Point Associate Professor of Education Maysee Yang Herr and alum Yauo Yang '08 has been selected for a state award. The American Camp Association Wisconsin Local Council of Leaders has selected Camp Phuoojywg-Friend to receive the Excellence in Program Recognition award.
Camp Phoojywg-Friend is a two-week camp that offers basic Hmong cultural lessons focusing on the ethnic group's history, music, folklore, art and language in Wausau.
"Camp Phoojywg-Friend exemplifies the program innovation and excellence we strive for in a long-standing history of organized camp in Wisconsin," said Catherine Scheder, Ed.D., ACA WI LCOL program co-chair.
The camp began with 60 campers and has steadily increased over the past four years to double at 120 this past summer. The program is funded locally through UW-Marathon County, the Wausau School District, D.C. Everest School District, and other local sponsors. Campers do not pay to attend and there is strong diversity and inclusion with both campers and staff.
"I can't express enough gratitude for the local community leaders and organizations, school districts, program teachers, and especially the families who have believed in and have helped to make the program increasingly successful with each year," said Herr.
The award will be presented at the ACA Wisconsin Fall Conference at Camp Manito-Wish YMCA in Boulder Junction on Nov. 3.
Camp Phoojywg-Friend is now eligible for consideration for the Eleanor Eells Program Award at the American Camp Association National Conference in Albuquerque in February 2017. Eleanor Eells was a longtime leader in the field of camp and youth development. This award in her name recognizes effective and creative responses to the needs of people and societal problems using the camp environment, which Camp Phoojywg-Friend certainly embodies.
Related: