Joan North Place opening at UW-Stevens Point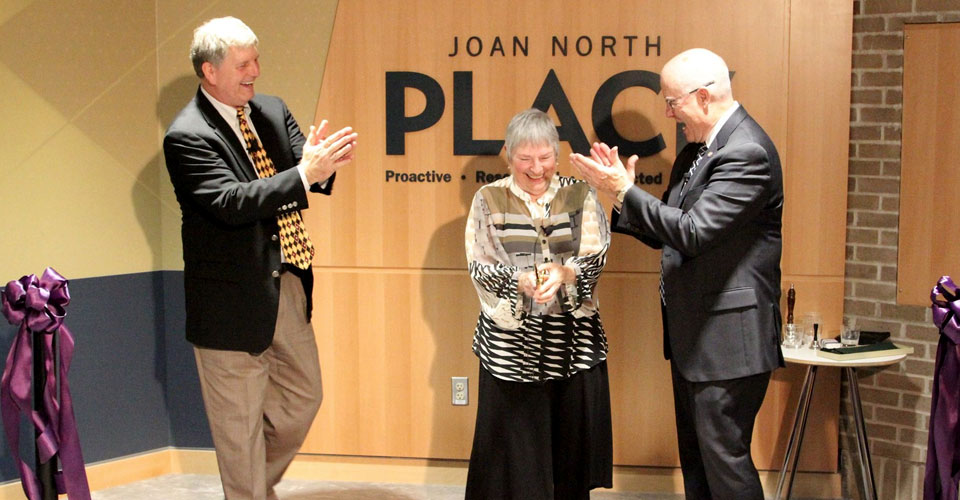 Emeritus Dean Joan North, who served as a dean of the College of Professional Studies at the University of Wisconsin-Stevens Point for 25 years, was honored with a new space on campus that celebrates the college's alumni, students and history.
The Joan North Place grand opening was held on Nov. 3 in the CPS Building. Located on the first floor of the building, Joan North Place features an interactive media wall with live social media, distinguished alumni features, historical moments and campus events. This project was supported by donor funds.
"We envision Joan North Place being the center of our college — providing opportunities for future and current students, faculty, alumni and community members to learn about the college and stay attune to current events," said Marty Loy, CPS dean.
North led the College of Professional Studies from 1985 until her retirement in 2010. During that time, the School of Health Promotion and Human Development was formed and the School of Business and Economics relocated. North was instrumental in creating majors in health promotion/wellness, health science, nursing, athletic training, special education and the Clinical Doctorate of Audiology.
She grew up in Fairhope, Ala., and received her Ph.D. in educational administration with concentrations in business and law from the University of Alabama.
In recent years, North has pursued her passion of Joan North Designs jewelry. She has remained active in the community, serving on the board and as president of the Women's Fund of Portage County and supporting several nonprofit groups and various UW-Stevens Point programs.
Related Articles