HPW Internship: Bounce Fitness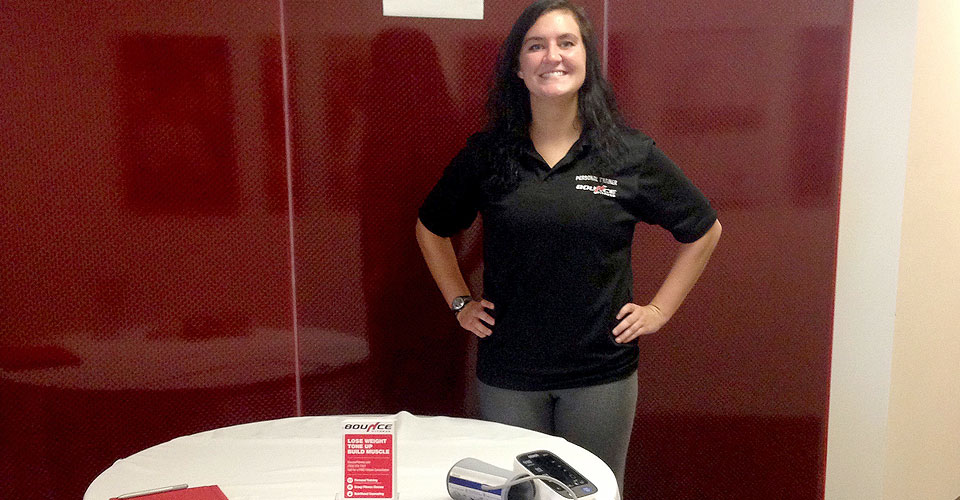 HPW Student Internship Experience – Carly Falk 15′
During the summer, Bounce did a lot of events with local businesses or apartment complexes where we were responsible for building relations with the business and employees/residents. At the events, I would run the Tanita scale which measures body weight, BMI, body fat percentage and mass, muscle mass and percentage, BMR and body water percent. With the Tanita, it also shows the person interested where they are at with not only numbers, but pictures if they are in the "green, yellow or red". I also was responsible for maintaining a lot of the social media relations, primarily Facebook for Bounce Fitness. Mainly, I was in charge of just maintaining the social media presence, so I would comment on other statuses and like other people's posts/pages etc. Pictured above are two events that Bounce was invited to give free health assessments; we always brought the Tanita scale, handgrip  test and blood pressure monitor. We conducted health assessments for the local television station. The left, we had a lot of people interested in what their health assessment showed, and it ended up being about 2 hours longer than what we had planned.
Objectives
Physical Fitness:

Observe overall group exercise classes, physical trainers and in-home training
Conduct group exercise class, one on one personal training and in home training.
Develop an exercise regimen for a group exercise class.
Creating/having an exercise plan for the varying age groups (seniors-mid age adults) for in home personal training.
Discuss, create and implement a behavior change program with a client.

Promotion and Marketing:

Develop an effective Social Media outreach with the DC community.
Develop and add to Bounce Fitness's monthly newsletter creation with healthy meals, new workouts, what Bounce Fitness has coming up that month.
Creating an interest survey with clients to see what they'd like to see more/less of in Social Media and Newsletter outreaches.
Attending events through Bounce Fitness to create a positive rapport with the community and increase the knowledge of Bounce Fitness within the DC area.

Organizational Experiences:

Create a weekly schedule with in home personal training, group exercise, and weekly meetings with both clients and staff of Bounce Fitness.
Create and integrate a corporate wellness plan for specific business needs.
Implement health fitness testing's to include blood testing, biometric screenings and heart rate monitoring.
Planning and running a Health Booth for local events in the DC area.
Learn how Bounce Fitness is a successful business; what they do differently from the Midwest, client outreach, administrative techniques.
On-Site Supervisor
Christina LiMura
Bounce Fitness
Wellness Director
402 Maple Drive
Vienna, VA
Christina@bouncefitness.com
(703)-310-7327
Hours
40 hrs. /week (11 weeks total= 440 hours)
Stipend
$100/week
UW-Stevens Point Students Who Completed Internship
Carly Falk, Summer 2015 (pictured above)