CPS Students Sweep WiSys Quick Pitch Competition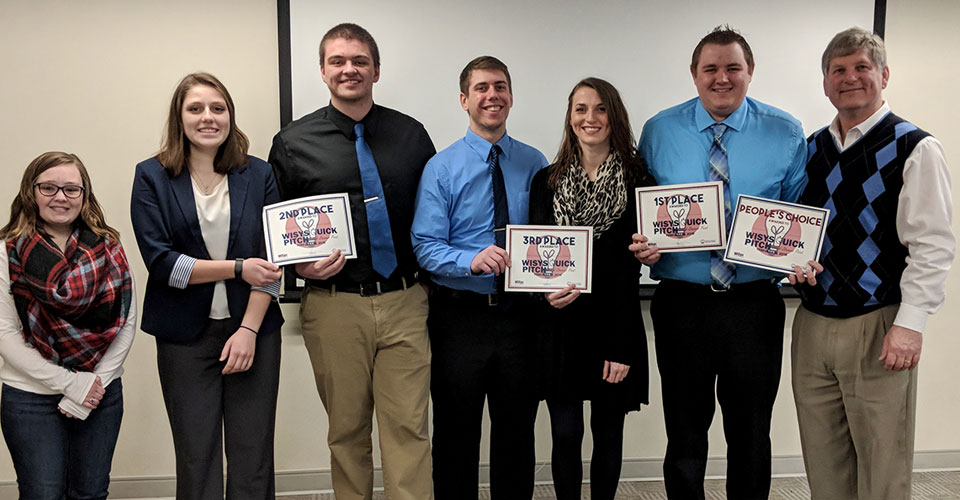 With jargon specific to certain professions and industries, explaining academic research can be cumbersome. But in a three-minute presentation at the WiSys Quick Pitch Competition on Feb. 16, students at the University of Wisconsin-Stevens Point created a persuasive and compelling quick pitch of their research and/or innovative idea. Cash prizes were handed out to the top three places–all of which were students from the College of Professional Studies.
Jarret Byrnes '18, an athletic training senior, won the UW-Stevens Point competition and the People's Choice award for his presentation on "Effects of virtual reality therapy on balance." He is now eligible for the state competition.
Second place was awarded to athletic training seniors Kevin Cropsey '18, Kasi Bardouche '18 and Payton Goetz '18 for their research on "A comparison of the validity and reliability between three concussion baseline tests."
There was tie for third place between interior architecture student Taylor Thur '22 ("Road rage on the highways") and athletic training students Bethany Anderson '18 and Brady Schrauth '18 ("The effect of cool down methods on functional mobility in collegiate hockey players").
A panel of judges, including CPS Dean Marty Loy, Rob Manzke and Prof. Jim O'Connell decided the winners.
The WiSys Quick Pitch competition aims to encourage innovative and entrepreneurial thinking at UW comprehensive campuses by inspiring students to consider the impact of the research they are currently undertaking or other innovative ideas they may have and how such ideas could ultimately benefit the local economy (e.g. development of a new product, technology or service) and/or society (e.g. changes in public policy and/or benefits to the environment).
Beyond the opportunity to compete for a cash prize and increase exposure for their research and/or innovative idea, students also learn to communicate their findings in a way that is easy to understand, sharpening important communication and presentation skills. The Quick Pitch training and competition teaches students to make their projects accessible for all audiences and across disciplines, which can facilitate collaborations or prepare them for large research symposiums like Posters in the Rotunda.
Winners of WiSys Quick Pitch competitions on each campus will be invited to pitch in the WiSys Quick Pitch State Final during WSTS 2018 at UW-Parkside, where they will have a statewide audience of more than 200 UW System faculty, staff, administrators, students and community members. An additional cash prize is available for the WiSys Quick Pitch State Champion.