IA Student Portfolios Featured in Design Textbook
Creating a professional portfolio is one of the final aspects of the interior architecture (IA) program at UW-Stevens Point. The senior portfolio, which is completed just before graduation, prepares students to present their best work to prospective employers.
Portfolio work by six IA students from the class of 2014–Courtney MacDonald '14, Rachel Eggert '14, Kalie Hendricks '14, Kelsie Lally '14, Melissa Tennant '14 and Sarah Vogel '14–is featured in Portfolio Design for Interiors, a textbook by Harold Linton and William Engel. Assistant Professor Aaron Kadoch, who submitted student portfolios from his interior architecture capstone class, is also quoted in the textbook.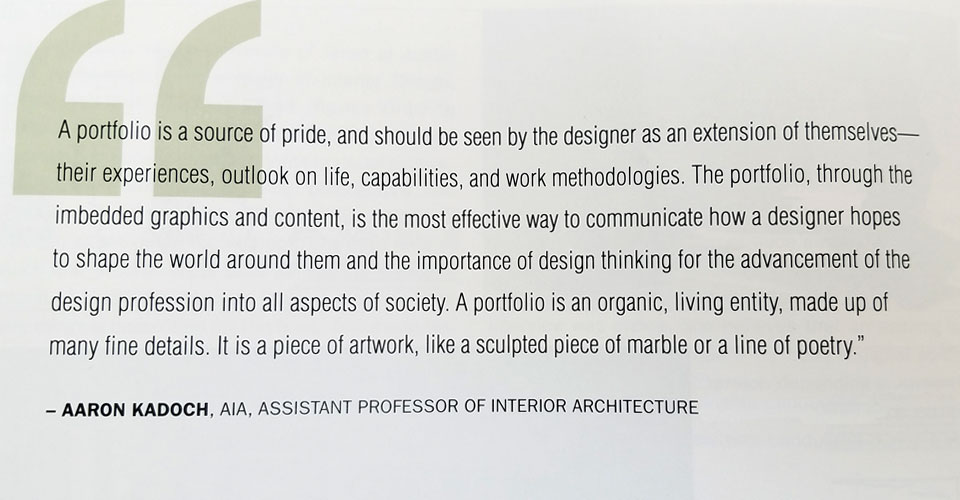 Portfolio Design for Interiors teaches the aspiring interior designer how to create a professional quality portfolio. Using real examples of outstanding student portfolios, authors Harold Linton and William Engel demonstrate how to analyze, organize, problem-solve and convey diverse types of visual and text information in various forms of historic, contemporary and innovative styles. The text features a robust art program and examples of various presentation applications, including graduate study, employment, scholarships, grants, competitions and fellowships. This is an accessible and comprehensive resource for students learning professional portfolio design.
View their work on the following pages: