Research in the Rotunda: Understanding Employability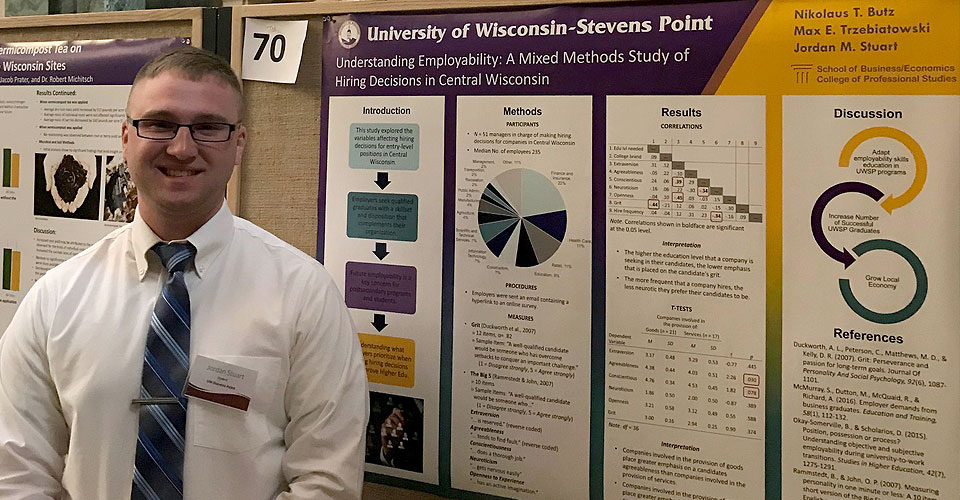 Central Wisconsin employers want the right fit for their organization and students are looking make themselves marketable in the workforce. UW-Stevens Point business administration senior Jordan Stuart presented his research on "Understanding Employability: A Mixed Methods Study of Hiring Decisions in Central Wisconsin" at the 15th annual Research in the Rotunda event Wednesday, April 11, at the State Capitol in Madison. [View Photos]
Stuart, who was advised by Prof. Nik Butz during his research, shared his findings with other students and faculty from across UW System as well as legislators, including State Representative Rob Swearingen who is from Stuart's hometown of Rhinelander.
Stuart also presented at the Minnesota Conference of Undergraduate Scholarly and Creative Activity in March.
Abstract: "Understanding Employability: A Mixed Methods Study of Hiring Decisions in Central Wisconsin"
Future employability is a key concern for postsecondary programs and the students enrolled in them. Likewise, employers seek qualified graduates with a skill set and disposition that complements their organization. To this end, gaining a better understanding of the factors that employers consider or prioritize when making hiring decisions is the first step in increasing the economic value of higher education. The purpose of this study was to explore the variables affecting hiring decisions for postsecondary entry-level positions in Central Wisconsin. This study used a convergent parallel mixed methods approached. Data were collected from regional employers using a mix of multi-item scales and open-ended survey questions.
---
Each year, Research in the Rotunda (formerly called Posters in the Rotunda) is a wonderful opportunity to learn about the exciting research going on throughout the state and to support Wisconsin students and faculty members who contribute to the state's strong economic future. The students also got to share their research findings on a variety of important topics with legislators, state leaders, UW alumni and other supporters.
The University of Wisconsin System is a national leader in undergraduate research, which contributes to the state's priorities, including retention, graduate rates, workforce and economic development.