Fernholz named chair of School of Education at UW-Stevens Point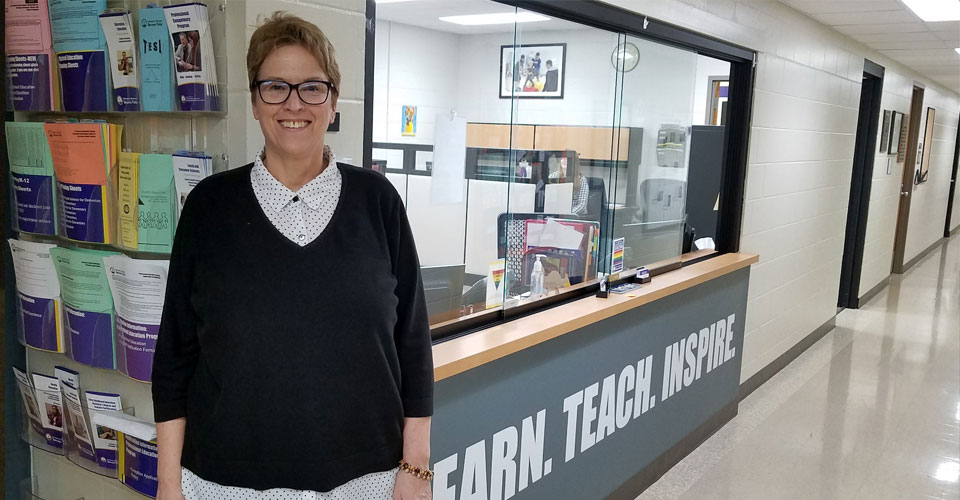 Assistant Professor Lynda D. Fernholz, Ph.D., has been named the associate dean of the College of Professional Studies and department chair of the School of Education, announced CPS Dean Marty Loy.
As associate dean and department chair, Fernholz will lead the faculty, staff and students in the School of Education (SOE) under its mission to develop highly qualified professional educators who honor the uniqueness of all learners and actively demonstrate the knowledge, skills and dispositions of effective teachers positively impacting our diverse world.
Fernholz joined the UW-Stevens Point School of Education faculty in fall 2016 and teaches Methods and Materials for Teaching Reading I (EDUC 302), Methods and Materials for Teaching Language Arts (EDUC 310) and is part of the Elementary Methods Block faculty. She serves as the Reading Coordinator for School of Education graduate add-on licenses. Fernholz also has been faculty co-adviser for the Aspiring Educators student organization since the fall 2017 and served for the 2017 and 2018 Wisconsin State Reading Association (WSRA) Conventions.
Additionally, Fernholz is an active member of Wisconsin/Nicaragua Partners non-profit organization. She has been involved in several Nicaraguan Literacy Projects and is an active philanthropist for several charitable organizations to promote sustainable literacy practices for all children worldwide. Her research interests include sustainable literacy education and global experiences for pre-service teachers to meet the needs of culturally and linguistically diverse learners in today's classrooms.
Fernholz earned her Ph.D. in Language and Literacy in 2014 from Cardinal Stritch University and her master's degree in reading education and bachelor's degree in education from Viterbo University. Her previous experiences include teaching at Viterbo University for eight years and at the middle school level for 18 years.
Fernholz replaces Prof. Kym Buchanan, Ph.D., who will return to teaching in the spring semester.
Contact:
lynda.fernholz@uwsp.edu
Phone: 715-346-3223
Office: 472 CPS