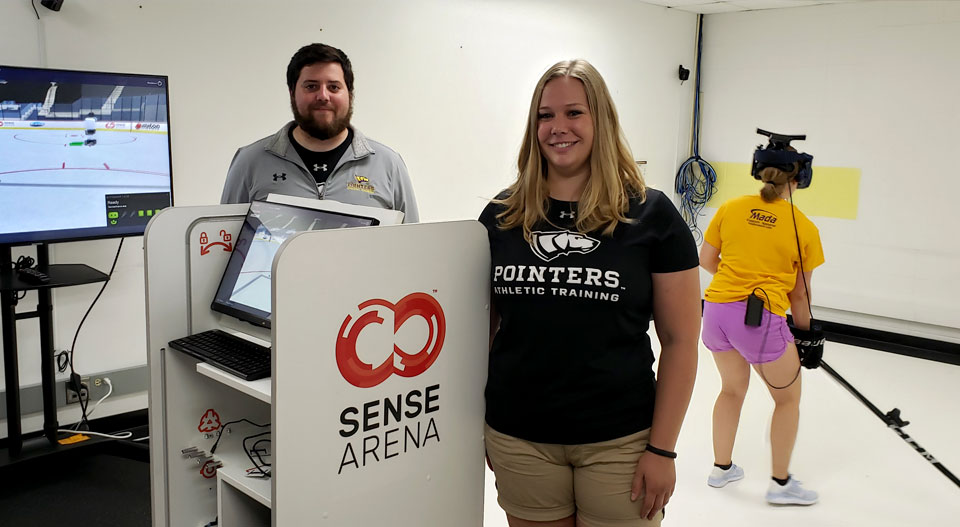 When graduate students Jon Koth '20 and Emily Miller '20 from the University of Wisconsin-Stevens Point athletic training program were exploring topics for their research project, they both knew they wanted to probe in the world of virtual reality.
Koth and Miller previously worked with the Pointers hockey teams and were interested in concussion-related research. A Google search and email to half-way around the world later, the pair secured technology and a partnership that is like no other in the world.
The students corresponded with Sense Arena, a hockey virtual reality training program from the Czech Republic, along with researchers at Charles University in Prague to establish a research project that will test UW-Stevens Point men's and women's hockey players for 11 weeks. After conducting baseline tests for all 34 participants, half of the players will continue using the Sense Arena VR system in a control group, then all will be retested at the end of the season to see if improvements in training the brain were made.
Sense Arena units can be found in five countries, but the students at UW-Stevens Point are the first in the country–and the second in the world besides partner Charles University–to use the system for research.
Faculty members Holly Schmies and Beth Kinslow are working with the students and have numerous project ideas for the future with Sense Arena, especially developing a precise return to play protocol for student-athletes after concussions.
Related News: