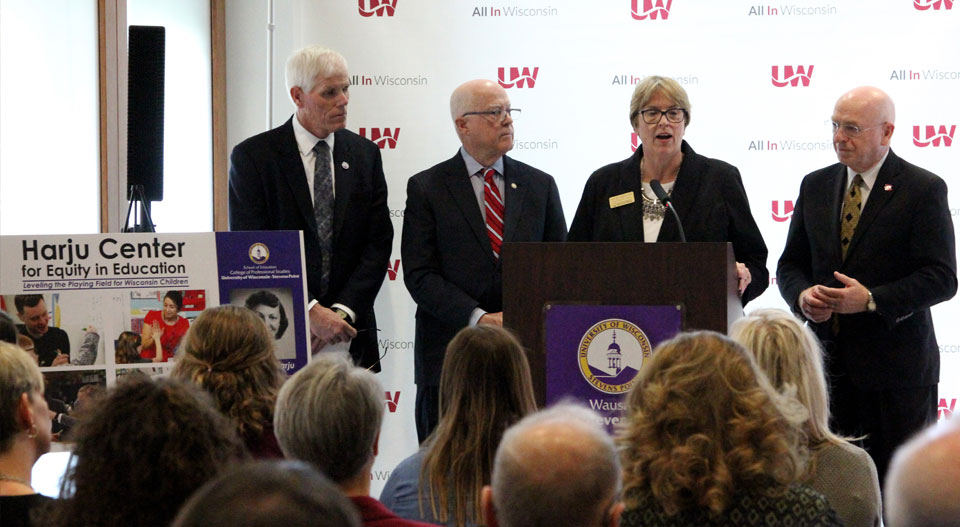 A woman who devoted her career to helping children read has provided the University of Wisconsin-Stevens Point with the largest individual gift in its 125-year history. A gift of $4.3 million from the estate of Dorothea Harju, an alumna, has been made to the UWSP Foundation for the School of Education.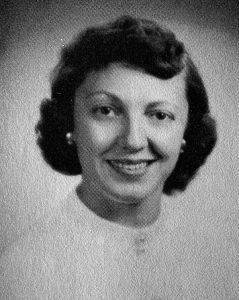 This generous gift will create the Harju Center for Equity in Education at UW-Stevens Point, focused on addressing educational inequities in Wisconsin. By supporting diverse and first-generation elementary education teachers, the center will help level the education playing field for Wisconsin children.
"Our impact helps shape the lives of thousands of children across Wisconsin. The Harju gift will allow our School of Education to make an even greater impact, reach more children, especially the underserved, and train more teachers," Chancellor Bernie Patterson said in announcing the gift today.
The Harju Center for Equity in Education, which will be located in the College of Professional Studies Building, will support rural education and prepare elementary education teachers. This includes 20 scholarships, which will first be available for students enrolling for fall 2020, and those at branch campuses in Wausau and Marshfield who major in elementary education at the main UW-Stevens Point campus.
Dorothea Harju grew up in Redgranite and received her bachelor's degree in education in 1943 and her master's degree in 1966, both from UW-Stevens Point. She taught in various Wisconsin schools and served as a reading specialist in the Port Edwards School District for 25 years, retiring in 1977. Before her marriage to Onni Harju, Dorothea Berndt worked for the FBI in Washington, D.C. The couple lived in Wisconsin Rapids where Onni worked for Consolidated Papers, retiring as treasurer. She enjoyed golfing, traveling, flying airplanes and being civically engaged. Dorothea died in 2017 at age 98.
Her gift was a surprise to UW-Stevens Point. Dorothea Harju previously established a scholarship at her alma mater for Wisconsin students who pursued elementary education. Since 1999, 22 students benefited from the scholarship she created. She requested this gift also be used to assist Wisconsin students studying at UW-Stevens Point who plan to teach.
The Harju Center for Equity in Education will help supply more teachers to rural school districts and prepare them for the special needs of those areas. It will also help UW-Stevens Point serve underrepresented minority students in metropolitan areas.
More than 200 high schools are in rural communities in Wisconsin, noted Lynda Fernholz, associate dean, School of Education head. "Our hope is to recruit students from rural communities who will return to those areas to teach after they graduate from UW-Stevens Point."
The Harju Center will support rural education by:
Creating a literacy program to serve children of Central Wisconsin, giving UW-Stevens Point education students hands-on learning experiences.
Providing fellowships for rural district teachers who want to start an Educators Rising Club and mentor students for the teaching profession.
Hosting summer camps for high school students interested in becoming teachers.
Providing grants to purchase teaching materials and professional development opportunities for K-12 teachers, UW-Stevens Point students and faculty.
Providing renewable scholarships and mentoring for UW-Stevens Point students.
"The decision for high school students to join the teaching profession is as much a decision of passion as it is a financial decision. That is why scholarships are crucial in helping us recruit new teachers into the profession," Fernholz said. "This gift will provide needed resources and scholarships to students interested in teaching."
UW-Stevens Point was founded as a teacher's college in 1894. Today, the School of Education has more than 1,200 students and is recognized as a leading school for educators in the country.
"We know that this gift will transform the educational experience for thousands of students in Wisconsin and for hundreds of future teachers in our state. Whether you are educators who benefit from more resources or training, school administrators who benefit from more experienced educators, or businesspeople who benefit from improved literacy and a better-educated workforce, you'll all be touched by Dorothea Harju's gift," Patterson said.
The gift helped UW-Stevens Point surpass the $40 million mark in successfully completing its first capital campaign.
Related News: