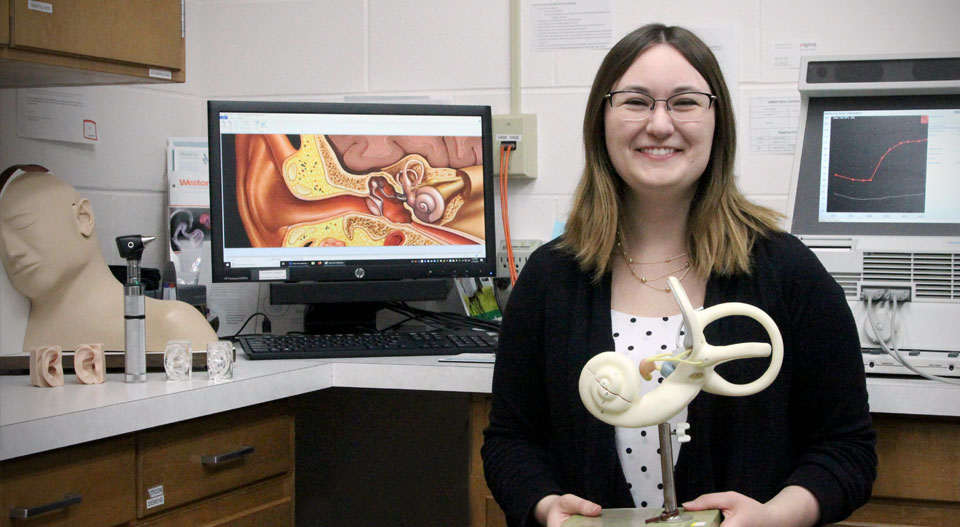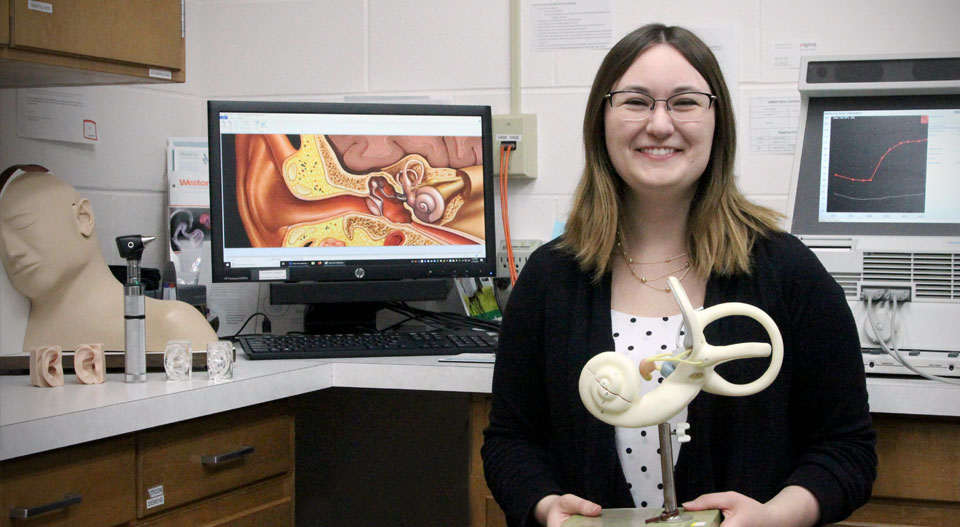 For the first time ever, a University of Wisconsin-Stevens Point junior is among 10 students in the country to receive a national scholarship for students pursuing a degree in communication sciences and disorders.
Emily Kopperud has been awarded a National Student Speech Language Hearing Association (NSSLHA) 2019-20 undergraduate scholarship. She is one of just six juniors to earn the $1,000 scholarship.
Kopperud, a Green Bay native and De Pere High School graduate, is majoring in communication sciences and disorders-teaching with minors in psychology and communication. She plans to continue on to graduate school and pursue a degree in audiology with a career aspiration of working in a clinic or with the geriatric population.
Kopperud also is in the inaugural cohort of the UW-Stevens Point Health Scholars program, sponsored by Marshfield Clinic Health System. The Health Scholars program creates the next generation of health care leaders by training students in relevant clinical experiences, pivotal community service opportunities, and significant professional development at UW-Stevens Point. Through the Health Scholars program, Kopperud dedicates two to three hours a week to volunteering at the Marshfield Clinic Stevens Point Center as a member of their Community Connections Team.
When it comes to on-campus involvement, Kopperud is a member of the Student Academy of Audiology, Sign Language Club, Miles of Smiles, National Student Speech Language and Hearing Association and Wisconsin Speech-Language Pathology and Audiology Association. She is also a tutor for Physics, Psychology Statistics and Biology in the Tutor-Learning Center, as well as a building manager in the Dreyfus University Center.
To be eligible for one of the NSSLHA undergraduate scholarships, students must be a current National NSSLHA member, be a sophomore or junior in a CSD program, and hold a 3.25 cumulative GPA (minimum). All applications are reviewed by the National NSSLHA office to confirm eligibility. The NSSLHA Executive Council selects 10 recipients from eligible applicants.
"The review team was keenly impressed with your leadership qualities, involvement and collaboration with others. Our hope is that this scholarship promotes continued involvement with both the UW-Stevens Point NSSLHA Chapter and National NSSLHA, and that you continue to collaborate and develop even stronger leadership skills throughout your undergraduate career."