Business and Society Lecture features journalist Bethany McLean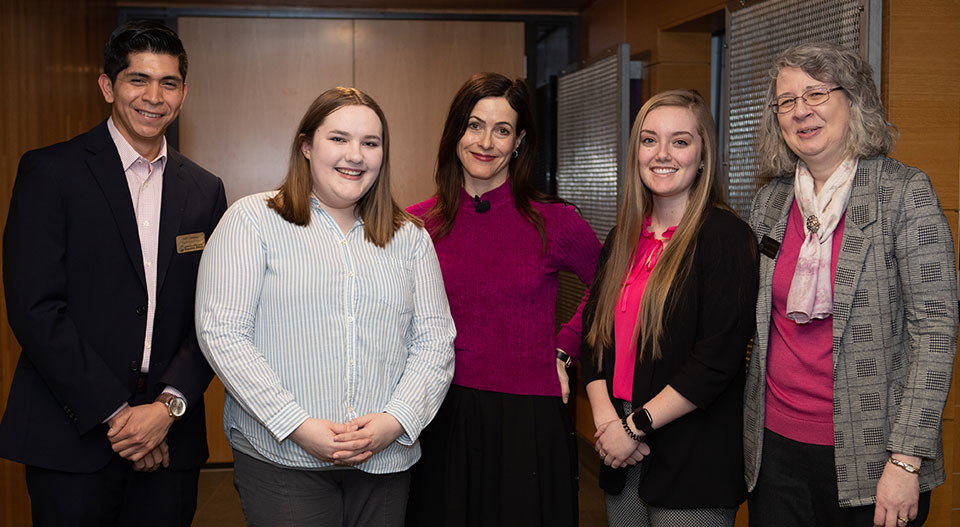 The University of Wisconsin-Stevens Point School of Business and Economics presented its inaugural Business and Society Lecture featuring Bethany McLean, journalist at Vanity Fair and CNBC, on Tuesday, March 3, in a sold-out Dreyfus University Center Theater. [View Photos]
McLean presented "Why Business Goes Bad: Lessons from 20 years of covering frauds, scams and other disasters." McLean is credited with exposing the Enron scandal and has covered stories about Valeant, Wells Fargo, Fannie Mae and the energy revolution.
Earlier in the day, McLean met with MBA and undergrad students, including ACCT 450 – Auditing where she shared stories about her career along with advice, encouraging students to take what they learn early in a career into their future positions.
Previous to her current roles, McLean was an editor-at-large at Fortune Magazine. She is the co-author of the 2003 book, "The Smartest Guys in the Room: The Amazing Rise and Scandalous Fall of Enron," which was the basis for the Academy Award-nominated documentary of the same name. In 2010, she co-authored "All the Devils Are Here: The Hidden History of the Financial Crisis." She has also written two mini-books about Fannie Mae and Freddie Mac and the financial underpinnings of the fracking boom.

McLean hosts of the "Making a Killing" podcast. Her 2016 Vanity Fair piece on disgraced pharmaceutical company Valeant was used as the basis for Netflix's "Dirty Money" episode about the drugmaker. She has also contributed to the Atlantic, the New Republic and the New York Times op-ed page. She worked as an investment banking analyst at Goldman Sachs before joining Fortune.
The Business and Society Lecture is part of the School of Business and Economics Smiley Professional Events series in which students attend a variety of career-related presentations and workshops throughout the school year.