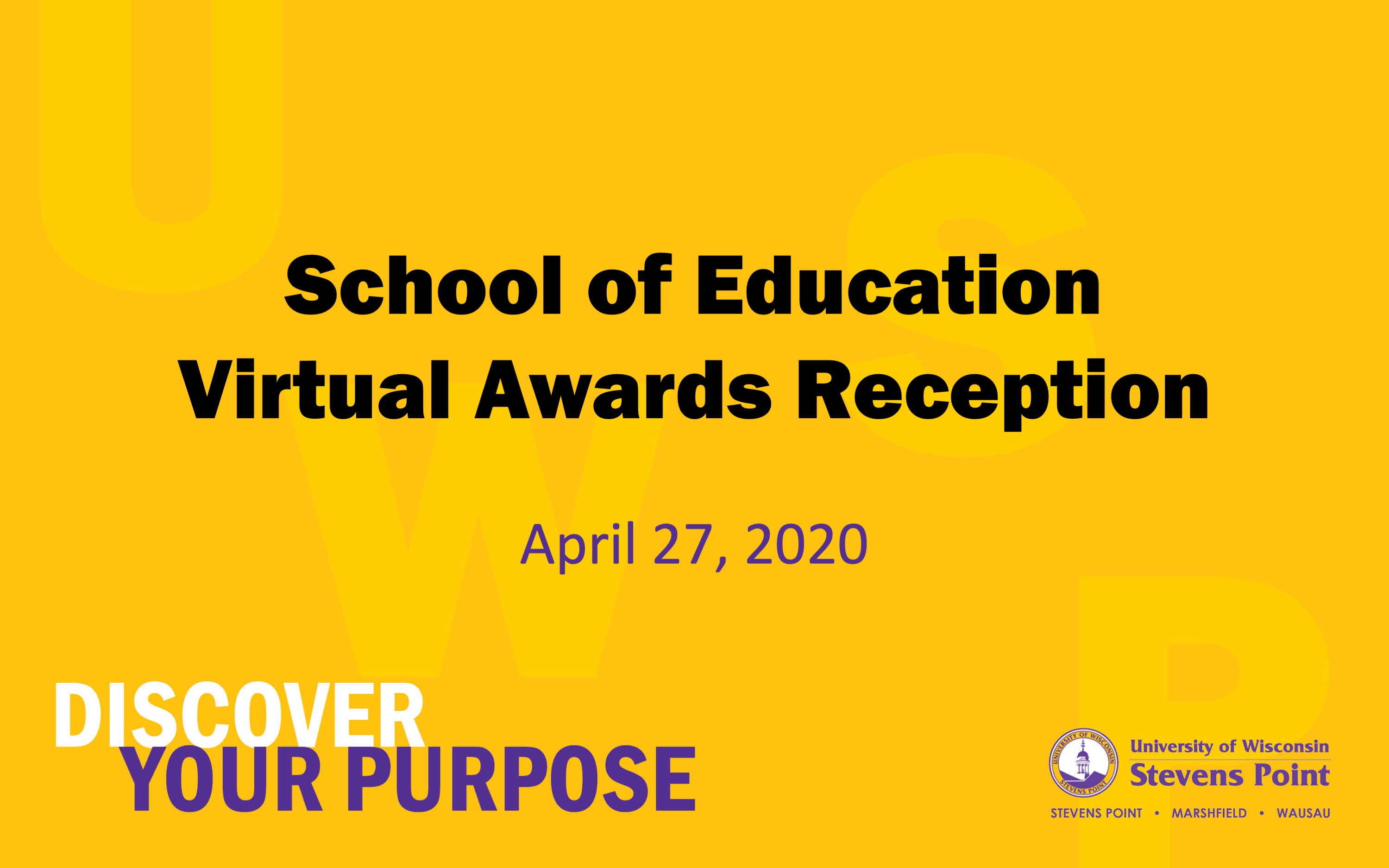 The University of Wisconsin-Stevens Point School of Education celebrated teachers and future educators in a virtual awards ceremony on Monday, April 27. [Photo Gallery]
The School of Education awarded 66 awards totaling $98,330 as student award winners, alumni teachers, donors and cooperating teachers were recognized in a video presentation.
Partners & Alumni Awards
Oscar W. Neale Fellowship Presentation
Amy Wiza (Wisconsin/Nicaragua Partners of the Americas, Inc.)
Wisconsin Association of Colleges for Teacher Education (WACTE) 2020 Early Career Educator Award
Elizabeth O'Leary (2nd Grade Special Education Teacher at Frank Allis Elementary in Madison)
Student Awards
Jerry E. Baird Memorial Scholarship
Emilie Van Sluys (Natural Science, Spanish; Green Bay, Wis.)
Margaret and Henry (Tiny) Bannach Scholarship
Kristin Jenks (Elementary Education; Wild Rose, Wis.)
Belongia Family Scholarship
Hannah Jackson (Elementary Education; Plover, Wis.
John Bernd Scholarship
Emily Rahn (Instrumental Music; Oshkosh, Wis.)
Dick Berndt Scholarship
Jayci Blume (Physical Education; Marathon, Wis.)
Esther L. Berndt Reading Specialist Scholarship
Nicole Sauter (Master's in Education; West Salem, Wis.)
Ambrose and Evelyn Budzynski Scholarship
Hayden Juneau (Natural Science; Weston, Wis.)
Central Wisconsin Educators Scholarship
Carson Laffin (Physical Education; Stevens Point, Wis.)
Nancy Carol Cook Memorial Scholarship
Cierra Page (Elementary Education; Stevens Point, Wis.)
Margaret Daffinson Memorial Scholarship
Courtney Huddleston (Early Childhood Education; Roscoe, Ill.
Harriet Coey Dickmann Future Teacher Memorial Scholarship
Rachel Ostrowski (Elementary Education; Custer, Wis.)
Karen Engelhard Alumni Scholarship
Jacqueline Kimball (Elementary Education; Appleton, Wis.)
Ken and Sandy Falkinham Scholarship
Haley Dunn (Early Childhood Education; River Falls, Wis.)
Halee Fritsch (Elementary Education, Spanish; Appleton, Wis.)
John Gach Future Teacher Memorial Scholarship
Emily Gurtner (Mathematics; Colby, Wis.)
Rachel Jacobson (Choral Music, General Music, Instrumental Music; Red Wing, Minn.)
Bridget Kauzlaric (Physical Education; Coal City, Ill.)
Gabrielle Machtan (Elementary Education, Special Education; Marshfield, Wis.)
Habeck Family Scholarship
Breanne Cipriano (Family and Consumer Sciences Education; Littlefork, Minn.)
Erma Haferbecker Scholarship
Jill Weyers (Early Childhood; Stevens Point, Wis.)
Dorothea Berndt-Harju Scholarship
Deanta Saunders (Elementary Education, Choral Music; Gleason, Wis.)
Esther Gavin Hegg and Erling Hegg Memorial Scholarship
Jane Kubisiak (Elementary Education; Rhinelander, Wis.)
Bailey Piepenburg (Elementary Education; Weston, Wis.)
Carol Huettig Memorial Scholarship
Alexander Zenil (Physical Education; Porterfield, Wis.)
Janet Ruth Jensen "It was a Dream Come True" Scholarship
Lucas Luedtke (Physical Education; River Falls, Wis.)
Eddie Kotal Scholarship Award
Kellie Morgan (Physical Education; Bruce, Wis.)
Larsen Family Scholarship
Megan Soukup (Elementary Education; Wausau, Wis.)
Robert S. and Ruth L. Lewis Scholarship
Isaac Buntrock (Special Education; Merrill, Wis.)
Craig and Carol LoCascio Scholarship
Jade Graebel (Physical Education, Special Education; Wautoma, Wis.)
Sean Maher Scholarship
Carolyn Volkman (Elementary Education, Special Education; Black Creek, Wis.)
Betty W. Martini Memorial Scholarship
Juliet Champion (Elementary Education, Special Education; Stevens Point, Wis.)
Thomas McCaig Future Teacher Scholarship
Sadie Hooker (Family and Consumer Sciences Education; Wauzeka, Wis.)
Oscar W. Neale Memorial Scholarship in Elementary Education
Frances Slezak (Elementary Education; Wausau, Wis.)
Colonel N. and Phyllis Nemec Scholarship
Danielle Heitsman (Physical Education; Janesville, Wis.)
Chase Latvala (Physical Education; Solon Springs, Wis.)
Derek Marquardt (Physical Education; Coleman, Wis.)
Emily Shipman (Physical Education; Medford, Wis.)
Alexander Zenil (Physical Education; Porterfield, Wis.)
Patricia A. Okray Scholarship
Heidi Propson (English; Reedsville, Wis.)
Kiana Thompson (Elementary Education, Spanish; Amherst Junction, Wis.)
Nancy Page Physical Education Scholarship
Brooke Wellhausen (Physical Education; Williams Bay, Wis.)
Franklin H. Pearson Memorial Scholarship
Shauna Slaby (Elementary Education, Special Education; Algoma, Wis.)
Rose "Lee" Petersen Memorial Scholarship
Brooklyn Podgorny (Early Childhood Education; Iola, Wis.)
Mackenzie Glodowski (Early Childhood Education; Custer, Wis.)
Dustin Proefrock Memorial Scholarship
Kala Jensen (English; Baraboo, Wis.)
Hale Quandt Memorial Award
Emily Carlson (Physical Education; Kimberly, Wis.)
Marjorie and Orland Radke Memorial Scholarship
Kaitlyn Schulz (Elementary Education, Special Education; Weston, Wis.)
Phyllis Ravey Scholarship for Early Childhood Education
Francis Wysocki (Early Childhood Education; Mosinee, Wis.)
Rohloff, Roesler & Wolter Memorial Future Teacher Scholarship
Kerri Olig (Elementary Education, Special Education; Mayville, Wis.)
Mary Shorey Samter Memorial Endowment Scholarship
Lindsey Casper (Elementary Education; Merrill, Wis.)
Rebecca Ives (Elementary Education, Special Education; Pardeeville, Wis.)
Ludia E. Sanders Health Education Scholarship
Paige Polzin (Physical Education; Marion, Wis.)
Mildred K. Schiller Endowment Scholarship
Samantha Becker (Elementary Education; Markesan, Wis.)
Xufang Guo (Elementary Education; Taiyuan, Shanxi, China)
Kelsey Newman (Family and Consumer Sciences Education; Kingsford, Mich.)
Macey Wirkus (Elementary Education; Edgar, Wis.)
School of Education Alumni Scholarship
Urbain Boudjou (Biology, Natural Science; Oak Creek, Wis.)
Sieglinde A. Sheahan Memorial Scholarship
Ellen Hodny (Elementary Education; Campbellsport, Wis.)
Dr. Marjorie J. Spring Adapted Physical Education Scholarship
Derek Marquardt (Physical Education; Coleman, Wis.)
Paul J. Staddler Physical Education Scholarship
Kathleen Reilly (Physical Education; Edgerton, Wis.)
Teacher Education Program Excellence Scholarship
Joshua Greenwood (Broad Field Social Science; Mosinee, Wis.)
Arlene W. Thoyre Education Scholarship
Regina Tepp (Elementary Education; Stevens Point, Wis.)
Vance Family Memorial Scholarship
Cassidy Ferguson (Early Childhood Education; Fitchburg, Wis.)
Van Dreser Family Scholarship
Alexis Grunwald (Elementary Education; Suamico, Wis.)
Dale H. and Eldora I. (Reineking) Vollrath Physical Education Scholarship
Emily Shipman (Physical Education; Medford, Wis.)
Roger Wood Memorial Scholarship
Kaylee Bukolt (Elementary Education; Mattoon, Wis.)
Yulga Family Future Teacher Memorial Scholarship
Zoe Bartishofski (Natural Science; Wausau, Wis.)
Cooperating Teachers
Abroad-Iribo School (Costa Rica)
Karen Hoepker
Adams-Friendship
Sherril Frieders
Almond-Bancroft
Brad Baumgartner
Cort Halbur
Antigo
Jesse Knetter
Appleton Area
Alexander Allinger
Kelly Camber
Andrew Cross
Brian Dimmer
Lori Goudreau
Heather Hutchison
Patricia Merrifield
Autumn Meyers
Kelly Peebles
Joelene Raleigh
Scott Stepanski
Nikki Streck
Pam Vande Hei
Brianna Weyers
Ashwaubenon
Allison Averbeck
Marc Jimos
Crissy Kumhala
Stephanie Skinkis
Athens
Korey Rottscheit
Auburndale
Debbie Heidmann
Kirsten Sebold
Baraboo-Community Christian School
Christy Hawkins
Kim Hilario
Cedarburg
Lisa Coert
Ann Montguire
Heidi Silverthorn
Karen Tiffany
Colby
Jessica Bohl
Michele Stewart
Crandon
Amy Marvin
Stephanie Wrobleski
D.C. Everest
Scott Atkinson
Lynn Burzinski
Jennifer Cucchiarelli
CJ Hansen
Ben Hoenisch
Lisa Jacobson
Heather Johnson
Julie Klinner
Andrew Natzke
Brenda Neitzel
Susan Rainville
Brad Seeley
Erin Stoffel
Theresa Sybeldon
Katherine Wochinski
Kate Wollersheim
De Pere
Angela Blum
James Brooks
Lindsey Mocco
Franklin
Linda Krause
Freedom
Heather Arndt
Samantha Puckett
Amanda Williams
Gillett
Rachel Miklaszewicz
Green Bay
Emily DeVillers
Kay Erickson
Hamilton
Marie Pilo
Hortonville
Ceci Besaw
Amanda VanEyck
Hudson
Lisa Wasson
Hurley
Monica Kolpin
Iola-Scandinavia
Jon Berg
Amy Wiersma
Janesville
Janice Verhulst
Kaukauna
Tara Dakins
Carrie Haven
Andrea Huss
Joy Paffenroth
Kettle Moraine
Todd Jaeger
Kewaskum
Julie Wenzlaff
Kimberly Area
Jon Geyman
Lindsey Heinz
Mike Heling
Lindsay Niggemann
Megan Schommer
Stephanie Twombly
Julie Williams
Mary Wydeven
Little Chute
Tiffany Scheeler
Lower Kuskokwim-Alaska-Kipnuk
Allen Hutson
Madison Metropolitan
Tammy Grady
Tanya Gruter
Becca Schmitz
Scott Swanson
Marshfield
Amy Beil-Larson
Robin Diaz
Lara Endries
Jeff Fischer
Stan Gerszewski
Amber Kropidlowski
Travis Kundinger
Greg Reierson
Menasha
Amanda Werfal
Merrill
Lisa Handlin
Donna Hoeppner
Shawn Schultz
Brian Suchocki
Rich Twomey
Amy Van Alstine
Janet Wardall
Milwaukee
Jeremy Nichols
Zach Setum
MN ISD 750
Bonnie White
Montello
Amanda Bolan
Mosinee
Curt Campbell
Jen Carlson
Stacy Jacobs
Anna Kaiser
Ann Kedrowski
Tessa Knetter
Megan Koroch
Katie Maier
Jodi Merchant
Deidre Yirkovsky
Crystal Zastrow
Necedah
Tracy Saylor
Nekoosa
Abbe Bredl
Cheryl Esser
Heidi Hartman
Sarah Jones
Erika Moore
Kristen Sprehn
Wanda Stensberg
Northland Pines
Don Anderson
Oregon
Diane Frey
Alison Gill
Oshkosh Area
Kristin Kasper
Andrea VenRooy
Pacelli
Rebecca Flaker
Pardeeville
Mary Roberts
Peshtigo
Rebecca Cording
Jodi Schultz
Pewaukee
Robin Apold
Pittsville
Alyssa Anderson
Randolph
Melanie Emmerich
Laura Kohn
Rhinelander
Mindy Paszek
Jesse Richter
Neil Rumney
Rib Lake
Tanya Wiitala
Dena Dobbs
Richland
Michelle Keller
Chad Martin
Rio Community
Tammy Black
Jennifer Prochnow
Rosendale-Brandon
Eric Bartelme
Amy Slonecker
Rosholt
Jamie Fuge
Shane Larson
Dani Schmidt
Shawano
Michelle Oesterreich
Sheboygan Area
Andrea Jones
Khanphan Neuaone
Ruth Stenz
Silver Lake J1
Anna Molloy
Somerset
Melissa Terbeest
Spencer
Tammi Miller
Stevens Point
Katherine Abundiz
Jerra Adams
Scott Ahern
Scott Anderson
Terrie Aschenbrenner
Allison Bancker
Kim Barden
Laura Beckman
Cheryl Behnke
Jackie Beversdorf
Michelle Blohm
Brittany Borowski
Patty Bushey
Holly Busse
Kelly Caufield
Colleen Demarco
Mike Feltz
Lori Ferguson-Borton
Kari Fink
Sara Fischer
Kurt Freund
Cassie Frost
Karrie Fugina
Rachel Gottlieb
Jennifer Grezenski
Laura Gunderson
Ben Hall
Josh Hames
David Hauser
Angela Hintz
Dean Hodsdon
Tanya Hoffman
Dan Hoppe
Ken Jensen
Brenda Jones
Kelly Jung
Emily Kiefer
Donnetta Kiifner
Rob King
Tammy Konczal
Joe Korb
Cathy Krayecki
Leanne Krutza
Daniela Kurzynski
Chao Lao
Heidi Leahy
Laura Leahy
Mark Lesinski
Anne Leton
Jean Luetschwager
Sarah Lynch
Ryan Marnocha
Lynelle Martens
Lindsey Mesalk
Stephanie Munch
Katie Nack
Deb Neff
Christie Nystrom
Nate Olson
Lori Peeters
Natalie Pelkey
Paula Perron
Schuyler Pietz
Mackenzie Rady
Matt Ramlet
Maggie Reilly
Karen Salienko
Renee Schanck
Melissa Schleifer
Lisa Schmidt
Macy Schmidt
Suzy Schroeder
Nancy Schuster
Kelly Seefeldt
Randy Shirek
Kim Shuda
Krista Simkowski
Patrick Stevens
Melissa Stewart
Amanda Sweet
Brian Swenson
Jessica Swiontek
Kraig Terpstra
Laura Terpstra
Diane Tubbs
Lee Vang
Brooke Walsh
Katie Wanta
Beth Wojtalewicz
Kari Worzella
Kris Zasada
Shannon Zdroik
Stratford
Kathy Ballerstein
Tammy Folz
John Rickinger
Sun Prairie
Emily Clevenstine
Michelle Dargiewicz
Three Lakes
Terri Kroll
Tomorrow River
Kristin Ahrens
Vicki Blaha
Beth Borgen
Caitlin Douglas
Natalie Glaze
Kevin Vander Laan
Jolynn Wucherer
Union Grove UHS
Robert Kroes
Washburn
Matthew Larson
Waupaca
Lisa Ash
Claire Ellie
Kate Gile
Nancy Grams
Karen Nowak
Ann Schwalenberg
Wausau
George Adams
Elizabeth Channel
Michael Close
Taylor Frank
Channon Galligan
Melissa Gilbertson
Steve Heinrich
Nathan Lemmens
Matt Natzke
Emily Nelson
Wautoma Area
Seth Boersma
Hannah Williams
Wauwatosa
Tracy Loechler
West De Pere
Janine Balistrieri
Kari Besel
Andrea Brehm
Weyauwega-Fremont
Molly Suehs
Wild Rose
Chris Bahr
Jason Kirby
Wisconsin Rapids
Randy Duxbury
Isaac Holberg
David Keech
Ginger Marten
Tom Nolan
Lisa Sonnenberg
Julie Stoffel
Sheena Vitello
Danielle Weinhold