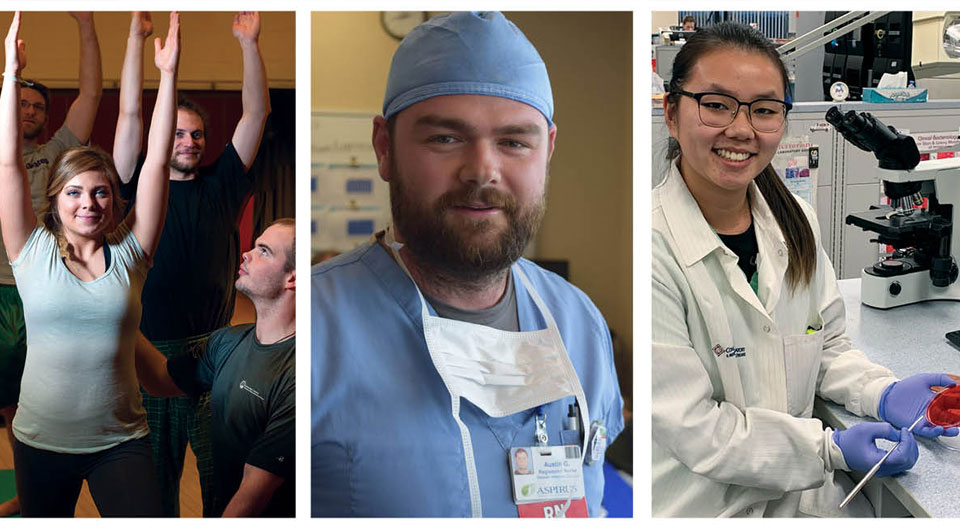 Students studying health-related fields at the University of Wisconsin-Stevens Point will now benefit from enhanced, enriched and expanded curriculum and out-of-the-classroom opportunities with the launch of the School of Health Sciences and Wellness, effective July 1, 2020.
The School of Health Sciences and Wellness brings together 10 undergraduate majors and 12 graduate programs under one roof from three former schools–Communication Sciences and Disorders; Health Care Professions; and Health Promotion and Human Development.
As health professionals begin taking an integrative approach to focus on addressing the whole person, this powerhouse school allows for integrated curriculum and weaves a unique wellness thread throughout that UW-Stevens Point as the birthplace of wellness is known for around the world.
"The new school will promote personal wellness in our students to prepare them for the often high-stress careers in health care and community health," said Rebecca Sommer, Ph.D., who was named the school's first assistant dean. "We will focus on the strengths of our individual disciplines and teach those skills and concepts more broadly in order to benefit all health students."
Whether students know exactly what their future health care career plans are, or they want to explore all the options to help people, the School of Health Sciences and Wellness is set up to share introductory courses and allow students to more seamlessly transition between health-related majors as they discover their purpose and refine their career aspirations.
"Skills like motivational interviewing, family budget management, or engaging children in play as part of treatment are examples of ways we will better prepare all of our students through this model which increases synergies and collaboration," said Sommer.
Communities–especially rural areas in Central and Northern Wisconsin–will also feel a positive impact of the new school as graduates will put their newly honed skills to work in clinical settings, nonprofit organizations, schools and community settings.
"Our graduates will learn how to integrate prevention with treatment. They will infuse components that support health equity, social determinants of health, and mental health," said Sommer. "This is never more important than in today's world!"
The school will hold classes and have offices throughout the College of Professional Studies Building, Marshfield Clinic Health System Champions Hall and the Science Building where the main office will be located.
Undergraduate Majors:
Graduate Programs:
Community and Centers:
Learn more about the School of Health Sciences and Wellness at uwsp.edu/health.

Related News: