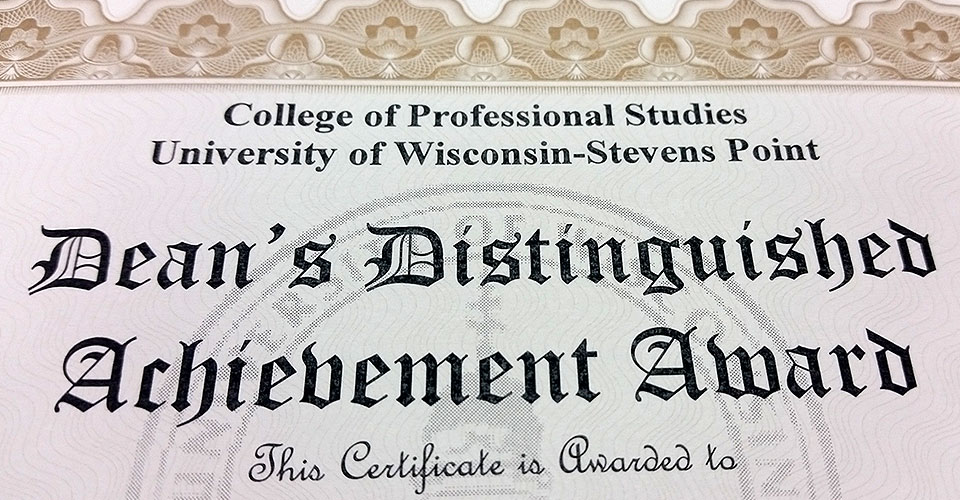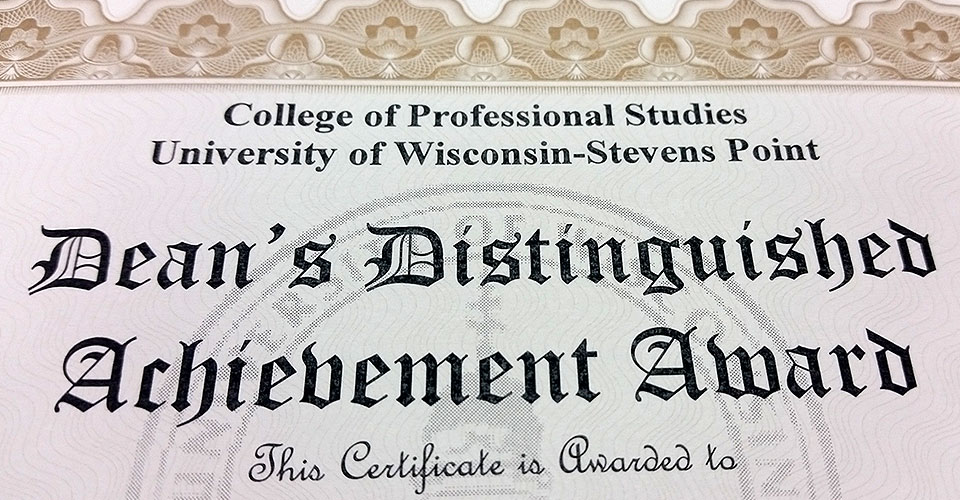 A record number of 596 students had a GPA over 3.75–including 274 with a perfect 4.0–to earn dean's list honors for the 2020 fall semester at the University of Wisconsin-Stevens Point College of Professional Studies. Congratulations to all!
CPS Dean's List by major (number of 4.0):
Accounting: 32 (15)
Business Administration: 57 (26)
Clinical Lab Science: 10 (6)
Communication Sciences and Disorders: 77 (45)
Data Analytics: 20 (8)
Dietetics: 18 (11)
Early Childhood Education: 48 (20)
Economics/Bus. Econ.: 3 (1)
Elementary Education: 151 (84)
Family and Consumer Sciences: 29 (8)
Finance: 23 (6)
Health and Wellness Management: 3 (2)
Health Promotion and Wellness: 22 (8)
Health Science: 53 (18)
Management: 21 (9)
Marketing: 30 (11)
Nursing/Pre-Nursing: 13 (3)
Physical Education: 26 (10)
Special Education: 61 (41)
Sustainable Food and Nutrition: 4 (1)

CPS Dean's List (* indicates 4.0):
Students must maintain full-time status and have GPA over 3.75 to earn honors.
Ellie Adams*
Bryn Aehlich
Elizabeth Affolter
Paige Allemann
Faith Anderson
Riley Anderson*
Karlie Antczak*
Nicholas Aromatario*
Madison Asbach
Wes Ashley*
Matt Baken
Molly Baker*
Andrea Bargender*
Colin Barker
Dakota Bartlett
Brennen Baseman
Matt Baumann
Olivia Baumgartner
Colin Beattie
Aurora Becher*
Joy Becker
Samantha Becker*
Lexi Behling*
Brenna Behreandt*
Kelsie Belfiori
Kaylee Benson
McKenna Berdal
Allison Berger*
Brooke Bernier
Caden Berry
Mariah Bethel*
Bethany Betro*
Maddie Bettinger
Kyle Beyersdorf
Kassidie Biefeld*
Katherine Bierhals
Kadie Biese*
Hayley Bird*
Brandon Birkhauser
Megan Bittner
Chris Blackmon*
Casandra Blake
Amy Blank*
Lauren Boeckman
Ali Bognar*
Devon Bonikowske*
Maddix Bonnell*
Leah Borchardt
Liliana Boyle
Cinnamon Bragg*
Rebecca Bratton
Emily Breit*
Ella Breitenfeldt*
Brooke Brewbaker*
Nelson Bricco
Skylar Bricco*
Morgan Briggs*
Margaret Broeren
Joseph Brognano
Eric Bromeisl
Joshua Brown*
Jewel Brunner
Natalee Brzack
Lauren Buchinger*
Amanda Buechel
Samantha Buerger*
Kaylee Bukolt*
Isaac Buntrock*
Brianna Burns
Meghan Bussiere*
Corah Buth
David Cantwell
Emily Carlson
Caity Carmody
Alix Cash
Sarah Casper*
Allison Ceranske
Maddie Chadwick
Juliet Champion*
Erin Charles*
Jared Chatterton
Caleigh Chisholm
Taylor Ciesielski*
Tayyib Ciftci
Baylee Clark*
Madi Clayton
Samantha Coates*
Danielle Cole*
Mikenzie Conrad
Emily Cook
Miranda Coonen
Ava Crary*
Ava Critelli
Angie Cuddeback
Morgan Cunningham*
Tierney Cutrell
Grant Czaikowski*
Becca Czajkowski
Justin Daly
Libby Dammen*
Hannah Danczyk*
Zack Daugherty
Katie Davis
Ryan Dayton
Ashlyn De Cleene
Olivia Decker*
Haley Dees
Reis Derousseau
Dikshya Dhital*
Jacob Dickman*
Aaron Dieckman*
Madison Dille
Allison Dombeck*
Rylyn Donahue*
Teanna Draeger
Connor Drath*
Sophia Drosdick*
Lexi Dutton
Kirstin Edens
Cameron Elfert
Morgan Elliott*
Jordyn Ellis
Natalie Englebert*
Conner Enright
Hayley Entzminger
Laney Erickson
Brittany Erickson*
Miguel Estrada*
Jordan Fader*
Jayden Falteisek
Aya Fares
Cassidy Ferguson
Jonah Field*
Kalen Fischer
Shauna Fischer
Lauren Fish*
Emma Fisher*
Katie Fix*
Torey Foemmel
Patrick Fogarty
Charlotte Fohner*
Kaitlyn Franklin*
Paige Franz*
Darian Frawley
Aidan Fredericks*
Makenna Fredrick*
Alyssa Freeman
Kaitlyn Frierdich*
Halee Fritsch*
Emmalina Froehlich
Alyssa Froh*
Taylor Fuerstenberg
Catie Gage*
Gretchen Gagnon*
Jenna Gajewski*
Alex Garcia
Olympia Garrigan
Riley Garski
Megan Gass*
Karli Gay
Morgan Geiger*
Vincent Giallombardo*
Kyle Gibson*
Tyler Glodowski
Mackenzie Glodowski*
Cassie Golke*
Crystal Golke*
Bryson Gosh*
Rebecca Goska
Alyssa Grant
Emily Gruber*
Alexis Grunwald*
Emma Guenther*
Maryssa Guenther*
Xufang Guo*
Hannah Gustafson*
Kiana Haenel*
Andrew Haffelder
Tori Hahner
Brittany Haker*
Brittany Handrich*
Ashley Hansen*
Rachel Hansen*
Zach Hanson
Georgia Harrison*
Haley Hartmann
Kalin Hassler
Haley Hauck
Joseph Hauser
Collin Hawkins
Veronica Hayes*
Alyssa Hedtke
Ambria Hegna
Brookelyn Heiss*
Emily Heitkamp
Danielle Heitsman
Kianna Heller*
Mackena Hendrikse*
Chayce Henry*
Anne Herdt*
Katelyn Herne
Leyna Herzog
Ashley Hodell
Emily Hodkiewicz*
Mya Hoernke*
Madison Hohn*
Jacob Hoier*
Dawson Holtan
April Hommerding*
Aaron Honish
Leah Hoogland*
Paige Hoover
Elizabeth Hren
Kaylee Huberty
Kari Hybben*
Christopher Isham
Natasja Iversen*
Rebecca Ives*
Lexi Iwanski
Hannah Jackson*
Cailin Jacobs*
Kylie Jacobson
Kayla Jacoby
Jackson Jahnke
Samantha James*
Madelyn Jamroz*
Kristin Jenks*
Dylan Jensen
Brandon Jilek
Micaela Jobke*
Robert Johannes
Meredith Johnson
Megan Jones
Alisia Jones*
Amy Jordan*
Collin Jorgensen
Fernando Juan*
Allyson Jungbluth
Jessica Kage
Rachel Kaminski
Kai Kanda*
Andrew Kane*
Samantha Kasprak*
Bridget Kauzlaric*
Lauren Keating*
Trystan Kempf
Emmalea Kenevan*
Emma Kennedy
Olivia Key
Chong Khang
Raven Killian
Jacqueline Kimball
Maya Kingsley
Madeleine Kinscher
Landry Kirsling
Carley Kisling
Adam Klawitter
Cassandra Klim*
Jordan Klotz*
Michael Kluck*
Matt Knick
Kacey Koch
Madeline Kocian
Gillian Kohl*
Abby Koopman
Kiley Kopf
Emily Kopperud*
Savannah Kostichka
Sarah Kozikowski*
Zachary Kozlowski
Kelsey Krahn*
Ross Kramer
Hailey Kranz
Caitlin Kravick
Katie Krayecki*
Hailey Kraynik
Taylor Krogwold
Katherine Krueger*
Baily Kruzan
Karley Kryzanski
Jack Kubek
Michael Kubicki
Jane Kubisiak*
Haley Kueffer
Noah Kupsch
Rebecca Kurszewski*
Carson Laffin*
Carson Landowski*
Jessica Lange*
McKenzie Lange
Nolan Large
Nevan Larson
Evan Laska
Teryn Lau
Megan Lau*
Maddie Lawson
Kat Leaf*
Sydney Lee
Sophia Lee*
Beth Lee*
Lily Lefebvre*
Ryan Lehman
Chloe Leithold
Emily Lelinski*
Branden Lentz
Jensynn Lesinski
Amanda Lettman
Anna Lewandowski
Adrienne Lewis
Xueqing Li
Sierra Litwaitis*
Sarah Loff
Devin Loomans
Molly Loy
Lauren Luedtke*
Jordyn Maas
Sierra Maatta
Gabbie Machtan*
Natalie Madson*
Autumn Magolski
Rhiley Maguire
Abigail Maliszewski*
Hallie Manville
Summer Manzke
Alexandra Markuson
Aaron Marth*
Ashley Martino*
Lyndsey Marvin
Mandy Mathews
Kaylee Matsche*
Phoebe Mauk*
Bryn Mayer
Kailey Mazzuca
Rebecca McEachen
Tyler McEachern
Kaitlin McNamara*
Brandon McReynolds
Samantha Merkel*
Mason Messner
Hope Meyer*
Noe Miller*
Gilbert Miller
Dylan Minch
Alex Mischka*
Mariah Moehn*
Eden Mokler
Olivia Molle*
Andrea Montalvo
Vincent Moore*
Dane Moore*
Emma Moore*
Zach Mootz
Bekah Mootz*
Kellie Morgan*
Shannon Motzko*
Eryn Murphy*
Maycie Navis*
Kayleigh Nesbitt
Nicole Neuberger*
Cassie Newcomer*
Syd Nicholls
Miranda Nieman
Lynzie Nightengale
Calista Nikolai
Megan Nolan*
Wilson Northey*
Hannah Nygaard*
Grace O'Brien*
Erin O'Connell*
Lindsay O'Loughlin
Caroline Ogden*
Kerri Olig*
Callie Olson
Carrie Olson*
Katelin Olson
Ryan Orgel*
Erin Osborne*
Adrian Ossmann
Zach Ostrowski
Rachel Ostrowski*
Megan Overfelt*
Emma Pagel
Hannah Pagel*
Emma Paravola*
Benjamin Parmeter
Ellora Patel*
Brandon Patoka*
Emma Pavletich*
Alexis Pawlowski*
Brandon Peckham
Cooper Peterson
Emmily Peterson
Megan Peterson
Kristin Petkovsek*
Caitlyn Phillips
Veronica Pieters
Anna Pistone
Brooklyn Podgorny*
Melissa Pohle

Madelyn Polich
Emma Polum*
Paige Polzin
Taylor Porter*
Neena Poulter
Emma Priebe
Alyssa Puccio*
Anna Pulvermacher*
Jessica Pyle
Breana Ramczyk*
Alyssa Rankin
Kimberly Ratajczak*
Cade Ravenscroft
Abbey Rebhan*
Sophia Reddan
Lexi Reeves
Kathleen Reilly*
Amber Reimer*
Lauren Reinke*
Morgan Reinwand
Dustin Richards
Matt Rinehart
Tara Roberts-Turner*
Ethan Roehm*
Jackson Rose*
Joshua Rottscheit
Emma Rozumalski
Stephanie Ruch
Nathaniel Rudnick
Cassie Rudolph
Tyler Rufenacht
Craig Rusch
Nathan Russell
Anna Ryder*
Hawkin Saeger
Gail Sanchez
Gabby Sanchez*
Andrew Saul*
Deanta Saunders
Morgan Schabo
Marnie Schecklman*
Tanner Schelvan*
Tia Schlagenhaft*
Elyssa Schleis*
Tanner Schlender
Megan Schmidt
Sarah Schmidt*
Kellan Schmidt*
Erin Schmitt
Anna Schneider
Rebecca Schneider
Samuel Schneider
Brenna Schoenebeck
Kaylyn Schreiner*
Megan Schroder
Makenzie Schroeder
Hailey Schroth*
Bailey Schubert*
Michael Schubring
Madison Schulz
Kaitlyn Schulz*
Mackenzie Seemann*
Ashley Seering
John Seidler*
Cora Selke
Madison Senso
Dustin Servais
Jacob Sherman
Megan Shields
Jarrett Shields*
Emily Shipman
Jenna Simacek*
Jarrett Simms
Melissa Simonar*
Dakota Singer
Mary Skorupa
Kendal Skrzeczkoski
Shauna Slaby*
Kailee Slinkman
Katelyn Slowik
Forrest Smart*
Brooke Smeltzly
Emily Smith
Cayleigh Smith
Sara Soukup*
Sallie Spencer
Alison Spindler
Chloie Spitzer*
Gabby Sroda
Emma St. Maurice
Noah Stary
Lily Stebor*
Hailey Stefanik
Megan Steffens*
Kassie Steger*
Keely Steger*
Paige Steinbrecher*
Nicole Steinmetz
Bailey Sternitske
Sally Stevens
Harrison Stewart
Natalie Stewart*
Cacey Stini*
Joe Strigel
Olivia Stroik
Angela Stroik
Alec Stuedemann
Katelyn Styka*
Carl Sulzer
Miranda Swaziek*
Aimee Swedlund
Rhiana Sweno*
Mikayla Swiecichowski
Miles Swiecichowski
Vina Sylvester
Yulong Tang
Brianna Tate
Gina Tepp*
Jake Theis*
Holly Thidemann*
Kiana Thompson*
Roy Thorson*
Brooke Thurber*
Yu Tian*
Brady Tikalsky
Allissa Tilleson
Amanda Timm
Prairie Tobul*
Elizabeth Tomashek
Lorena Torres
Maddi Triplett*
Bailey Tueting
Riley Ubinger
Madison Van Allen*
Megan Van Asten*
Grace Van Handel*
Brandi Van Pay
Joe Vance*
Peter Vande Hey*
Morgan Vande Hey*
Michael Vanden Heuvel*
Abigail Vander Heiden*
Kally VanLaanen*
Tatum Vannieuwenhoven*
Jesse Vaughan
Stephie Vaughan*
Alexis Verkruysse
Kyra Verkuilen
Carley Vissers
Carolyn Volkman*
Sofiah Von Drasek*
Blake Voss-Plutschack*
Faith Vosters
Cartoon Vue
Joshua Vue
Breanna Vyskocil*
Kellie Walsdorf
Gabrielle Warren
Gina Wasniewski*
Stephanie Watkins*
Amelia Wehner*
Kiera Weiler
Cooper Weinfurter
Gracie Weinke
Margaret Weiss
Carissa Welch*
Brooke Wellhausen*
Grace Wendels
Mak Werner
Robert Werner
Jenessa Werre*
Jill Weyers
Brenna Wiczek*
Allie Wiegand*
Morgan Wigman
Nicole Williams*
Elisha Wilson*
Jamie Winch
Whitley Winstanley*
Emily Wintrone
Jacob Wipfli*
Macey Wirkus*
Morgan Witt*
Breanna Wolter*
Kayley Wontor
Kassidy Wood
Elija Worley
Emily Worring
Hannah Worzella*
Elizabeth Wyngaard
Sufei Xia
Katrina Xiong
Vang Yang
Kelly Yeakey
Thomas Yelk
Emily Young
Treyton Zastrow
Emily Zellner
Maike Zipp


Students may major in multiple programs. Missing from this list? Contact cps@uwsp.edu.