UW-Stevens Point nursing students assist with COVID-19 vaccines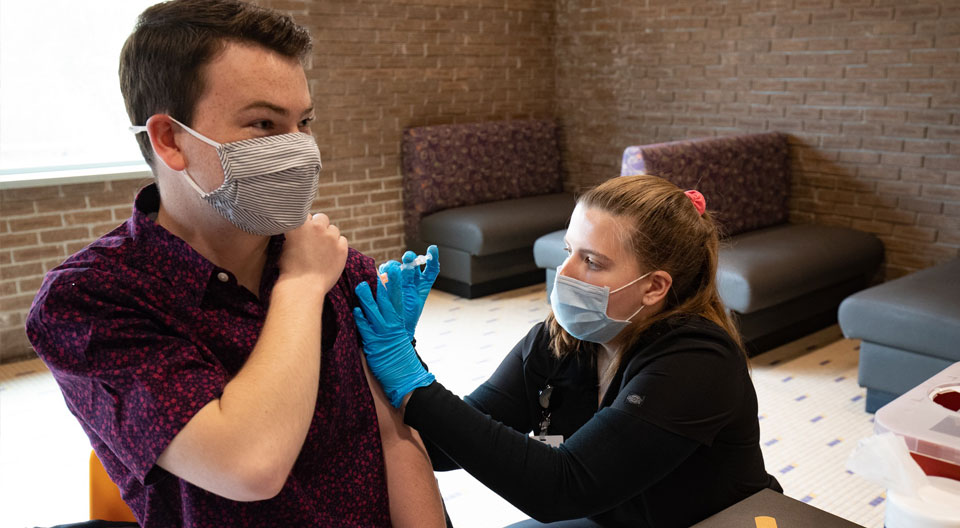 Real-world experience is essential to be prepared to enter a profession. That's especially true for nurses.
Several UW-Stevens Point students are getting both experience – and a financial incentive – for assisting with COVID-19 care, including vaccines.
"I want to help where I can," said Hadley Koula, a nursing student who assisted with the UW-Stevens Point Student Health Service vaccination clinic for students and employees. "That's rewarding in itself," said Koula, a senior from West Salem.

It's the first opportunity many of the 1+2+1 nursing students have had to participate in direct patient care, under supervision, said Hanna Christensen, a junior from Crivitz. Both students are in a nursing partnership program that pairs their education at UW-Stevens Point with a collaborative program, in this case, Mid-State Technical College, where they complete an associate degree in nursing, followed by a Bachelor of Science in nursing (BSN) at UW-Stevens Point.

"I absolutely love it," Christensen said of the collaborative program. She grew up in a family of health care professionals in a community where the nearest medical facility was 45 minutes away.

The volunteer experience gives these students a chance to refine their nursing skills, build confidence and interact with patients, Christensen said. The tuition credit is a bonus. "Every little bit helps," she said.

UW System nursing and pharmacy students enrolled in the spring semester who work at COVID-19 vaccination sites a minimum of 16 hours by May 22 are eligible for a tuition credit of $500. They are eligible for another $500 tuition credit for 16 hours of work as a COVID-19 vaccinator between May 23 and Aug. 31, 2021, through the UW System program.

Many of the 65 students in UW-Stevens Point's RN to BSN program volunteered to administer COVID-19 vaccines and provide educational outreach at five locations in Central Wisconsin.

Lorraine Zoromski, BSN nursing instructor at UW-Stevens Point, coordinated student volunteers, supervised students and provided vaccinations during the Student Health Service clinic. "It is important that BSN nursing students be engaged in helping vaccinate the population to reach herd immunity.  This is a great learning experience for the students in seeing how all parts of the community work together to protect the health of our citizens," she said.

For Kari Jacobs, R.N., the Student Health Service vaccination clinic is an opportunity to help patients in a different way than she does as a nursing supervisor at Marshfield Clinic, where she's worked 13 years. She is pursuing her bachelor's through the UW-Stevens Point BSN completion program, which includes online courses. The Auburndale resident initially wondered if she should take on tuition expense but hopes the degree will open opportunities for future advancement.

"I collaborate with patients," Jacobs said. She asks and answers questions to help patients make informed choices about their health.  "It gives me affirmation I'm right where I need to be."