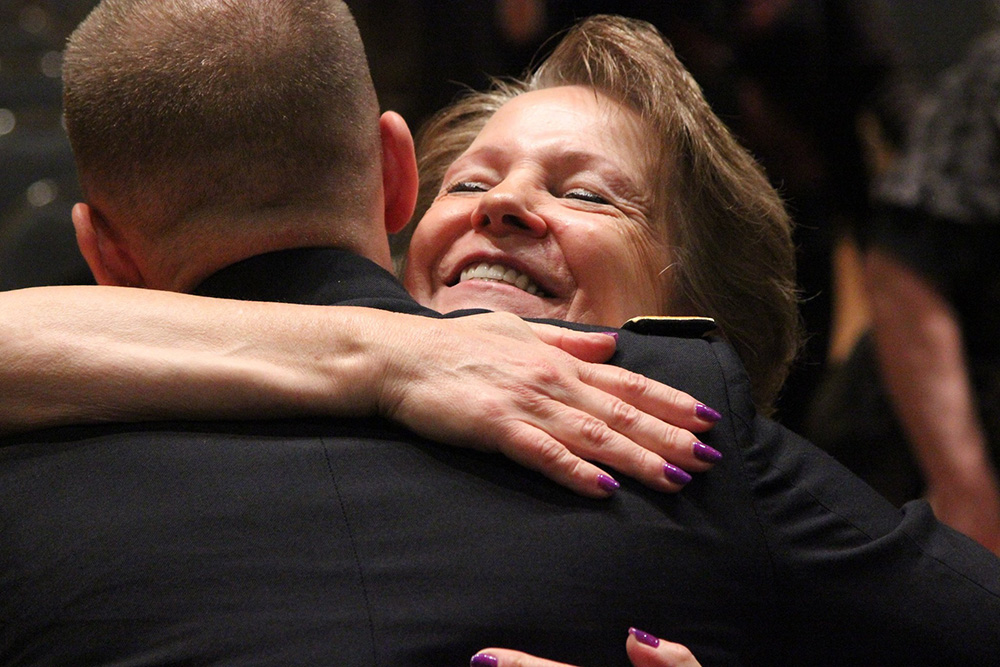 by Cadet Isabel Moritz

After 44 years of committed service with the University of Wisconsin-Stevens Point Army ROTC program, Judy Yenter, office manager for the department and lifelong friend of the cadre and cadets, has announced her retirement. As the third longest-serving employee in the university's history, she has helped commission over 500 officers into the United States Army.
"Ms. Judy," as the cadets call her, has been the constant in the office since she began her career in 1977 as an assistant in the ROTC department. She then advanced into the newly built department, taking the job title office manager where she has been the familiar face for students and faculty lucky to work with her throughout the years. The program has benefited from her leadership, passion and kindness for both the students and staff.
One piece of advice that she has upon her retirement is, "Enjoy what you're doing. Make the most of it, wherever you are at that time and appreciate what you have." Ms. Judy feels extremely lucky to have found a job that she has loved so much and will miss the university greatly, expressing that she has found comfort in getting to know the leaders of America on such a wonderful level. Moving into retirement, she is most excited to volunteer and travel, and looks forward to visiting Europe in her newfound free time.
The faculty, staff and students at UW-Stevens Point will never forget Ms. Judy's contributions and commitment to the people she has worked with. The smooth functioning of the program throughout years has been, without a doubt, credited to her work. Please join the UW-Stevens Point ROTC department in wishing Ms. Judy all the best in her retirement.
In tribute to the years of selfless service Ms. Judy has dedicated to the cadre and cadets of the UW-Stevens Point ROTC program, the department has established a scholarship in her honor. Though she will not be in the office as regularly, her presence will still be a part of the organization and, in a way, she will still be helping to commission future offices at UW Stevens Point.
If you are interested in supporting this scholarship, visit give.uwsp.edu/give-now. Under the "select designation" dropdown tab, select "other" and type in "Judy Yenter ROTC Scholarship."