Dean's List honors announced for Spring 2021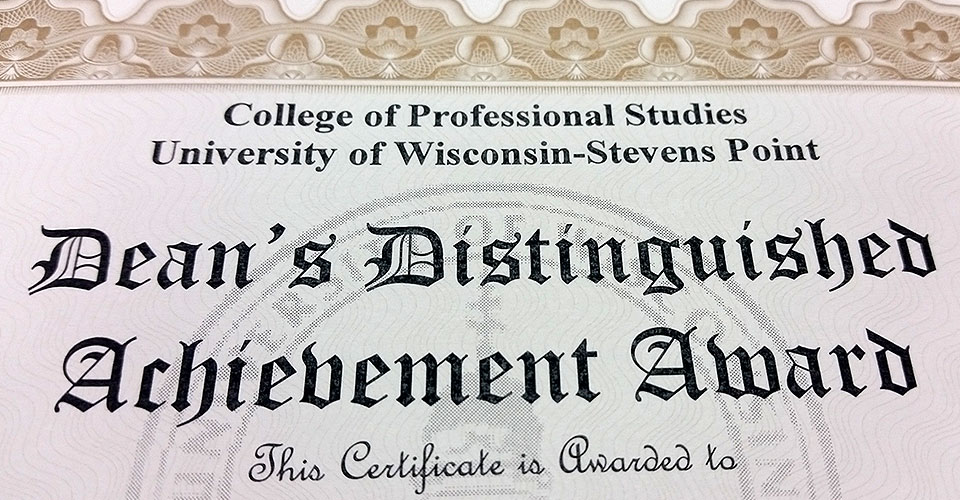 A total of 571 students had a GPA over 3.75–including 264 with a perfect 4.0–to earn dean's list honors for the 2021 spring semester in the College of Professional Studies at the University of Wisconsin-Stevens Point. Congratulations to all!
CPS Dean's List by major (number of 4.0):
Accounting: 20 (8)
Business Administration: 45 (21)
Clinical Lab Science: 9 (5)
Communication Sciences and Disorders: 74 (44)
Data Analytics: 16 (6)
Dietetics: 19 (12)
Early Childhood Education: 45 (19)
Economics/Bus. Econ.: 1 (0)
Elementary Education: 117 (63)
Family and Consumer Sciences: 27 (7)
Finance: 19 (5)

Health and Wellness Management: 3 (2)
Health Promotion and Wellness: 20 (9)
Health Science: 53 (18)
Health Sciences (AAS): 2 (0)
Leadership and Project Management (AAS): 1 (0)
Management: 16 (4)
Marketing: 21 (9)
Nursing/Pre-Nursing: 14 (4)
Physical Education: 25 (9)
Special Education: 32 (23)
Sustainable Food and Nutrition: 4 (1)
CPS Dean's List (* indicates 4.0):
Students must maintain full-time status and have GPA over 3.75 to earn honors.
Ellie Adams
Elizabeth Affolter
Sydney Ahern
Alyssa Ahumada
Paige Allemann
Brennen Anderson
Brooke Arneson*
Nicholas Aromatario
Jessica Bahr
Isaiah Baierl*
Molly Baker*
Ashley Balfanz
Colin Barker*
Isabelle Barrington
Dakota Bartlett
Janessa Bauer*
Sam Baumgartner
Joy Becker*
Jeanie Beer*
Lexi Behling*
Kelsie Belfiori
Kaylee Benson*
Bella Berg
Allison Berger
Brooke Bernier
Mariah Bethel*
Bethany Betro*
Kadie Biese
Hayley Bird*
Brandon Birkhauser*
Megan Bittner
Chris Blackmon
Casandra Blake*
Amy Blank
Ethan Bloemers
Jayci Blume*
Ali Bognar
Sarah Boller
Devon Bonikowske*
Maddix Bonnell*
Alec Braatz*
Brianna Bralich*
Ella Breitenfeldt
Kearyn Brennan
Brooke Brewbaker*
Skylar Bricco
Margaret Broeren*
Joshua Brown*
Jewel Brunner
Natalee Brzack *
Lauren Buchinger
Amanda Buechel*
Kaylee Bukolt*
Isaac Buntrock*
Kristin Burdeau
Brianna Burns*
Meghan Bussiere*
Kamryn Butt*
Sydney Calhoun
Keegan Campbell
Ryan Carmichael
Caity Carmody
Dakota Carriveau*
Megan Carroll*
Lindsey Casper
Sarah Casper*
Kaitlin Celius
Allison Ceranske
Erin Charles*
Jared Chatterton
Caleigh Chisholm*
Taylor Ciesielski
Tayyib Ciftci*
Breanne Cipriano*
Baylee Clark*
Zoe Clough*
Mikenzie Conrad
Emily Cook
Shantel Cordova*
Maddi Coutley
Ava Crary
Ava Critelli*
Bailey Crowell*
Kaleb Cuda*
Sadie Cummings*
Ava Dahlke*
Libby Dammen
Samira Darduk
Zack Daugherty
Ashlyn De Cleene
Hannah De La Pena
Olivia Decker*
Haley Dees*
Abagail DeGuire*
Valerie DeHaven
Haley Dexter*
Dikshya Dhital
Lauren Dhuey
Jacob Dickman*
Madison Dille
Logan Doering
Rylyn Donahue*
Bree Downie*
Teanna Draeger
Connor Drath*
Sophia Drosdick
Taylor Dudzinski
Lexi Dutton
Kaeden Dvorak
Alyssa Edges
John Elgersma
Michelle Ellie*
Morgan Elliot*
Jordyn Ellis
Natalie Englebert*
Conner Enright
Hayley Entzminger
Wyatt Erb
Laney Erickson*
Miguel Estrada*
Jenna Ewers*
Jordan Fader
Taylor Faivre*
Jayden Falteisek
Danielle Fay
Logan Feltz
Cassidy Ferguson*
Jonah Field*
Shauna Fischer
Lauren Fish*
Emma Fisher*
Katie Fix*
Sydney Frandsen
Kaitlyn Franklin*
Paige Franz
Darian Frawley*
Aidan Fredericks*
Kaitlyn Frierdich*
Emmalina Froehlich
Alyssa Froh*
Tyler Fugina*
Catie Gage
Gretchen Gagnon
Jake Gajewski*
Paige Ganzel
Olympia Garrigan*
Caelyn Garrison*
Karli Gay*
Victoria Geffers*
Abby Gehring
Morgan Geiger*
Brianna Geis
Ryan Genrich
Emily George
Hannah Gethers*
Cameron Gibson*
Kyle Gibson*
Erin Gillen*
Kyle Goke*
Crystal Golke*
Rebecca Goska
Elizabeth Graser
Jenna Greenwood
Sam Gregor
Nathan Grimes
Emily Gruber*
Emma Guenther*
Maryssa Guenther*
Xufang Guo
Hannah Gustafson
Anya Gutierrez
Kiana Haenel
Kiley Hahner
Trinity Hall
Mj Hallman
Ashley Hansen
Rachel Hansen*
Zach Hanson
Tyler Harding
Georgia Harrison*
Kalin Hassler
Haley Hauck
Joseph Hauser*
Collin Hawkins
Trent Heckel
Ambria Hegna
Brookelyn Heiss*
Danielle Heitsman
Kianna Heller
Mackena Hendrikse*
Chai Her
David Hill
Maya Hill
Ashley Hodell*
Emily Hodkiewicz*
Mya Hoernke
Aminee Hoff
Madison Hohn*
Jacob Hoier
Dawson Holtan*
Emily Holzem
April Hommerding
Paige Hoover*
Abby Hopfensperger
Kaylee Huberty
Mitchel Hudrick
Teagan Hughes
Kari Hybben*
Kyle Isakson
Rebecca Ives*
Lexi Iwanski
Mya Jablonski
Hannah Jackson*
Tianna Jackson*
Cailin Jacobs*
Kylie Jacobson
Kayla Jacoby*
Austen Jahnke
Caleb James
Samantha James
Joslyn Jamgochian*
Madelyn Jamroz*
Hailey Jarr
Kendall Johnson
Mackenzie Johnson
Meredith Johnson
Megan Jones
Amy Jordan*
Fernando Juan*
Alexa Juzenas*
Jessica Kage*
Katelyn Kalina*
Rachel Kaminski
Madeline Kasper
Samantha Kasprak
Bridget Kauzlaric*
Gracie Kelley*
Reegan Kelly*
Hannah Kelnhofer*
Harli Kelton
Shawn Kemnetz*
Emmalea Kenevan*
Emma Kennedy
Olivia Key
Chong Khang*
Jacqueline Kimball*
Maya Kingsley*
Austin Kirsch*
Landry Kirsling
Carley Kisling
Adam Klawitter
Ava Klawitter
Savannah Klimpke*
Chris Kloiber*
Jordan Klotz*
Averee Kluck
Kacey Koch*
Jenna Koepp
Gillian Kohl*
Jeffrey Kolb*
Megan Konkol
Kahner Konopacky
Savannah Kostichka
Casey Kowalski*
Zachary Kozlowski*
Kelsey Krahn
Ross Kramer
Paige Kraus
Mackenzie Krautkramer*
Katie Krayecki*
Hailey Kraynik
Ryan Krizenesky
Nathan Krommenakker
Alison Krostag
Katherine Krueger*
Madelyn Krumenacher*
Baily Kruzan
Michael Kubicki
Haley Kueffer
Jack Kuerschner
Chris Kuhnert*
Rebecca Kurszewski*
Taylor LaClair-Grow*
Carson Laffin
Rebecca Lahr
Ben Lane
Claire Lange*
Jessica Lange*
McKenzie Lange*
Alexander Larsen
Gage Larson
Colleen Lassa
Chase Latvala
Megan Lau*
Teryn Lau*
Emily Laue
Maddie Lawson
Kat Leaf*
Beth Lee
Sophia Lee
Sophia Lee*
Ryan Lehman*
Chloe Leithold
Jensynn Lesinski
Anna Lewandowski
Xueqing Li
Autumn Lins*
Jerry Lipke
Sierra Litwaitis*
Yixin Liu
Sarah Loff
Amy Loppnow
Terez Luedtke*
Kylee Lund*
Jordyn Maas*
Gabbie Machtan*
Ryan MacKellar
Rhiley Maguire
Ele Maki
Abigail Maliszewski*
Kaden Manternach*
Summer Manzke*
Alexandra Markuson
Jacob Martin*
Joshua Martineau*
Bailey Matis
Kaylee Matsche*
Morgan Mattern
Phoebe Mauk*
Samantha McCarthy
Brandon McReynolds
Samantha Merkel*
Heidi Meuret
Erin Mews*
Hope Meyer
Emma Michalek*
Brooklyn Miller
Cliff Miller
Gilbert Miller*
Kailey Miller
Marisa Miller*
Dylan Minch*
Madelynn Miramontes*
Alex Mischka
Kirsten Modrzewski
Mariah Moehn*
Eden Mokler
Olivia Molle*
Dane Moore*
Emma Moore*
Jasmine Moore*
Bekah Mootz*
Kellie Morgan
Samuel Mullins*
Eryn Murphy
Maycie Navis*
Shannon Nelson
Grace Nemecek
Nicole Neuberger*
Cassie Newcomer*
Ally Nickel*
Lynzie Nightengale*
Megan Nolan
Wilson Northey
Hannah Nygaard*
Grace O'Brien*
Erin O'Connell*
Cassidy O'Shasky
Kerri Olig*
Callie Olson
Carrie Olson*
Dallas Olson
Ryan Orgel*
Erin Osborne*
Rachel Ostrowski
Zach Ostrowski*
Megan Overfelt
McKenna Overland*
Hannah Pagel*
Benjamin Parmeter
Grant Patterson
Alexis Pawlowski*
Brandon Peckham
Cooper Peterson
Rachael Peterson
Kristin Petkovsek*
Caitlyn Phillips*
Faith Piller
Elizabeth Pischel*
Anna Pistone
Melissa Pohle
Madelyn Polich*
Kevin Polsean
Taylor Porter*
Sydney Possinger
Caden Prahl
Jonathan Prahl*
Taylor Pritzl
Alyssa Puccio*
Anna Pulvermacher*
Jessica Pyle
Chayce Radke*
Breana Ramczyk
Alyssa Rankin
Sophia Reddan
Lexi Reeves
Kathleen Reilly
Esme Reinders
Lauren Reinke*
Morgan Reinwand*
Gabe Retzlaff
Hannah Retzleff
Makayla Ripple
Tara Roberts-Turner
Emily Robles
Ethan Roehm
Jessie Roller
Kirill Romashov
Maddie Romatoski
Jackson Rose
Jacob Rosin
Emma Rozumalski*
Tyler Rufenacht
Craig Rusch
Anna Ryder*
Hawkin Saeger
Courtney Sakry
Alyssa Salzwedel*
Gabby Sanchez*
Deanta Saunders
Marnie Schecklman*
Tanner Schelvan*
Tia Schlagenhaft
Elyssa Schleis*
Tanner Schlender
Sarah Schmidt*
Erin Schmitt
Anna Schneider
Rebecca Schneider*
Megan Schroder*
Makenzie Schroeder
Trey Schroeder
Hailey Schroth
Bailey Schubert
Michael Schubring
Jessica Schutz
Brittany Schwark*
Hailey Schwobe
Mackenzie Seemann*
Matthew Seidl
John Seidler
Madison Senso
Bryce Shaw
Clayton Shears
Megan Shields*
Jarrett Simms
Melissa Simonar
Kendal Skrzeczkoski*
Kailee Slinkman
Cayleigh Smith
Cody Smith
Anna Smits
Megan Soukup
Sara Soukup
Sallie Spencer
Alison Spindler
Chloie Spitzer*
Kiarra Springstroh*
Gabby Sroda
Emma St. Maurice*
Noah Stary
Hailey Stefanik*
Megan Steffens*
Paige Steinbrecher*
Sabryn Steines
Nicole Steinmetz
Bailey Sternitske*
Harrison Stewart
Natalie Stewart*
Elizabeth Strehlow
Angela Stroik*
Katelyn Styka*
Brenna Sullivan*
Aimee Swedlund*
Rhiana Sweno*
Samuel Swiderski
Vina Sylvester*
Tatum Tackmier
Yulong Tang*
Brianna Tate
Tori Tayek
Madilyn Taylor
Gina Tepp*
Jake Theis*
Holly Thidemann*
Kiana Thompson*
Roy Thorson*
Brooke Thurber
Amanda Timm*
Kate Tischendorf
Prairie Tobul*
Lorena Torres*
Maddi Triplett*
Kaila Trzebiatowski
Ryan Tucker
Bailey Tueting
Brooke Tuszka
Riley Ubinger
Madilyn Ungerer
Madison Van Allen*
Grace Van Handel*
Joe Vance*
Morgan Vande Hey*
Peter Vande Hey*
Michael Vanden Heuvel
Sandy Vang*
Kally VanLaanen
Tatum Vannieuwenhoven*
Stephie Vaughan*
Morgan Vavra*
Alexis Verkruysse*
Kyra Verkuilen
Rachel Vogel
Sofiah Von Drasek
Faith Vosters*
Landon Vosters
Ashley Wagner*
Nick Waid*
Bryce Walkowski*
Caitlin Wallace
Kellie Walsdorf
Kelsey Warnke
Gabrielle Warren
Gina Wasniewski*
Stephanie Watkins
Amelia Wehner
Cooper Weinfurter*
Gracie Weinke
Margaret Weiss
Brooke Wellhausen*
Mak Werner*
Robert Werner
Jenessa Werre*
Payton Wester*
Jill Weyers*
Brenna Wiczek*
Allie Wiegand
Lydia Williams
Makala Williams
Elisha Wilson
Emily Wintrone
Jacob Wipfli
Mackenzie Wisdom
Ben Wisniewski
Morgan Witt*
Ashley Wojtalewicz
Kortney Woldt*
Katelin Wolfe
Clarice Wolff*
Breanna Wolter*
Kole Woodall
Cameron Woolworth*
Courtney Wuthrich
Kelly Yeakey
Aidan Young*
Treyton Zastrow
Ariel Zdun
Katelyn Zelinski*
Cacia Zierer
Maike Zipp*
Hannah Zoesch*



Students may major in multiple programs. Missing from this list? Contact cps@uwsp.edu.