CBEI Central Wisconsin Fall 2021 Report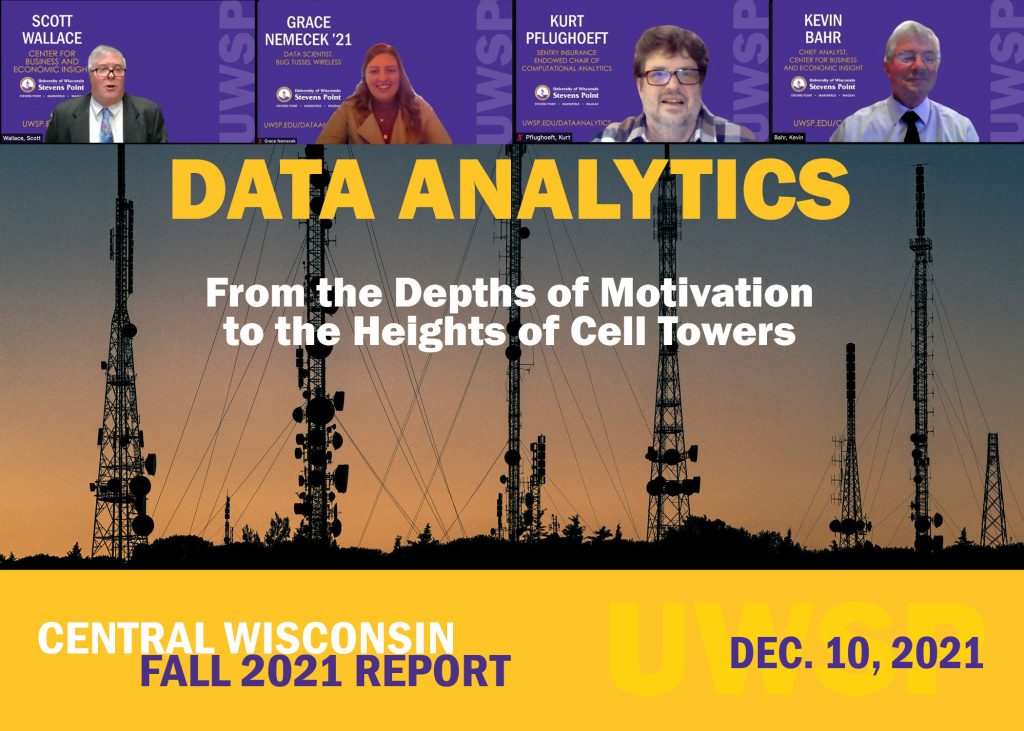 Interesting Times
Recent times have been both interesting and challenging with the spread of the Delta variant interrupting a return to normalcy that we were all looking forward to. Now, the emergence of the Omicron variant promises to keep things interesting as we head into the holiday season and the new year.
Speaking of interesting times, Chief Analyst Kevin Bahr in The U.S. Economy – Like Nothing That You've Seen describes how the pandemic has created a truly unique set of economic conditions. Our Economic Indicators section provides further evidence for Kevin's narrative.
Our special topic report, Data Analytics: From the Depths of Motivation to the Heights of Cell Towers by Prof. Kurt Pflughoeft and Grace Nemecek '21 demonstrates the enormous power of data analytics in informing a regional telecommunications company's decisions over the geographic locations of cell towers. These decisions are critical in maximizing cell tower revenue and in providing rural communities greater access to wireless services. Prof. Pflughoeft is a Sentry Endowed Chair of Computational Analytics at UWSP and Grace Nemecek is a data scientist at Bug Tussel Wireless.
This issue's Insight Spotlight features Bo DeDeker, assistant professor of accounting, describing the role of Corporate Social Responsibility (CSR) in expanding corporate goals beyond maximizing shareholder value to include improving environmental outcomes and supporting greater social equity.
The Center for Business and Economic Insight is very excited to announce our next speaker in our Business and Society Lecture Series: University of Chicago economics professor and UWSP alum John List will present The Voltage Effect on Friday, March 4 at 8-9:30 a.m. at the SentryWorld Atrium. John will talk about the importance of scaling new ideas, ventures, and businesses to ensure their success and maximize their impact. Preregistration is required and seats are limited. All registered attendees receive a free copy of his book, The Voltage Effect: How to Make Good Ideas Great and Great Ideas Scale.