UW-Stevens Point alumni in key roles for Olympic team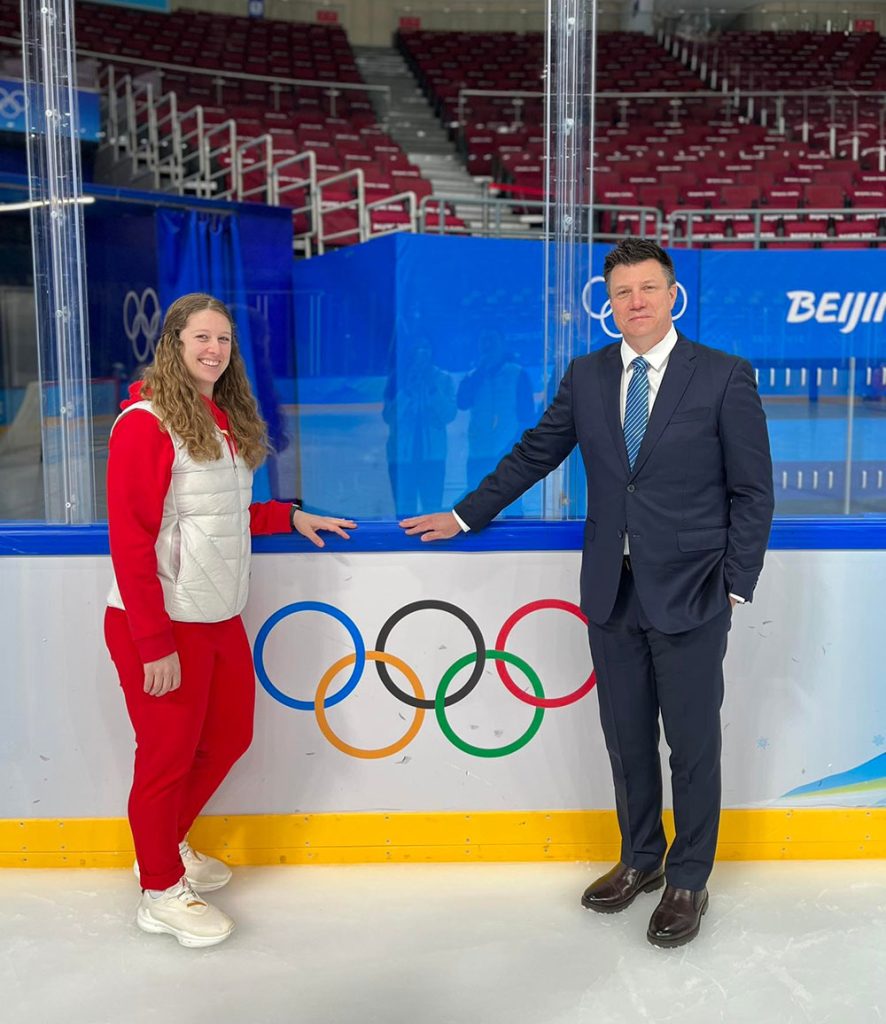 The Chinese National women's ice hockey team may not be the first team you'd cheer on at the Olympics. But this team has the strongest ties to northcentral and western Wisconsin.
It is coached by Brian Idalski, and Hailey Rock is its athletic trainer. Both are University of Wisconsin-Stevens Point alumni, and Rock is from Hammond in St. Croix County.
Idalski majored in health promotion and wellness, graduating in 2001. He played for the UW-Stevens Point men's hockey team from 1991-1995 and was part of the Pointers' 1993 NCAA Division III national championship team. He coached the UW-Stevens Point women's hockey team from 2001-2006.
Rock played on the women's hockey team, coached by Ann Ninnemann, and studied athletic training at UW-Stevens Point, graduating in 2018.
Ninnemann played hockey for and coached with Idalski. And Holly Schmies, athletic training professor at UW-Stevens Point, was the team's athletic trainer when Idalski was head coach. "It is really cool how all the connections come back to UWSP," Schmies said.
Idalski coached the University of North Dakota's women's hockey team for a decade, taking it to its first two NCAA tournaments and a Frozen Four. That program was cut in 2017. In 2019, he was hired to coach the Kunlun Red Star Vanke Rays, a Chinese-based women's hockey team in the top Russian league.
He contacted Schmies. "When Brian called, and we chatted about needing to hire an athletic trainer for an opportunity in China, I knew Hailey would be a great fit," Schmies said.
"It was the biggest gamble I've ever taken in my life," said Rock, who had never traveled outside the country. "My parents pushed me to go. They said, 'home will always be here.'" She quickly felt at home with the Shenzhen KRS Vanke Rays team.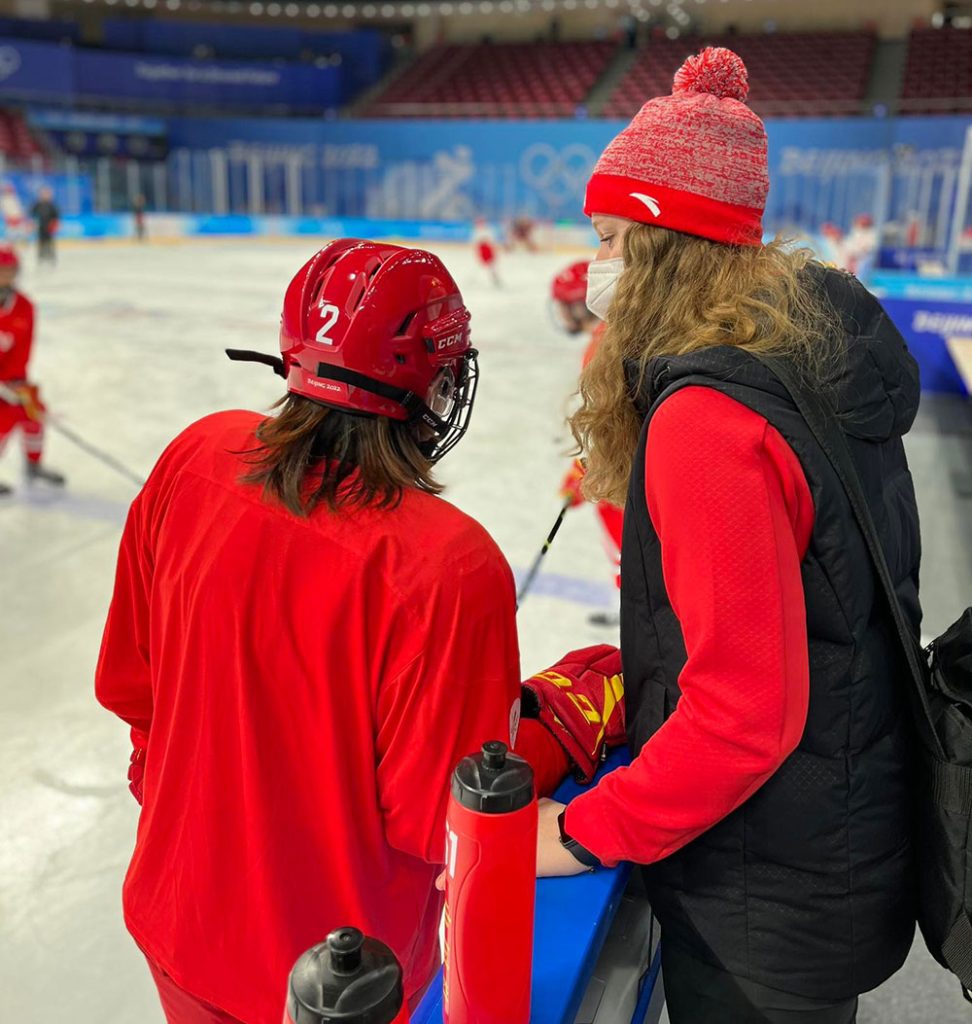 Having worked with both of them, Ninnemann said she knew Rock and Idalski would work well together. "Their competitive drives, sense of humor and overall general personalities mesh very well."
In Idalski's first year coaching, the Vanke Rays won the league championship, the first non-Russian team to achieve this. (Idalski has a translator and is thankful most of his players know some English.) In year 2, a 17-game winning streak was interrupted when COVID-19 postponed the championship series.
The coronavirus was a "surreal" experience, Idalski said. After being detected in one region of China, the country was under quarantine within a few weeks to protect Chinese from further spread. The team relocated to Russia to continue its season and is based in a Moscow suburb because COVID-19 travel restrictions require lengthy quarantines when entering China.
As athletic trainer, Rock's job is to attend each practice and game, assess problems and help players before and after games. COVID-19 added another layer of attention. "We know how fast it can spread," she said, adding: "We've maintained very well."
Idalski's success with the Vanke Rays likely contributed to the Chinese State Administration of Sports naming him head coach of the Chinese Olympic women's hockey team for the 2022 Games. The Chinese team received an automatic entry into the Olympics as the host country.
At the Olympics, teams are treated well, showered with clothing and collectibles, he said. That's just one aspect.
"No one knows what athletes go through to get to this point. It's difficult to perform at this level," he said. COVID-19 precautions are comprehensive, with daily PCR tests, mask wearing except on the ice and traveling only between the Olympic Village and their events.
The team's run ended Feb. 7. "It was a great experience. We won two games and defied expectations, so I was pleased," Idalski said.
"It's exciting. I never imagined I'd work at the Olympics. This whole experience has been amazing," Rock said. "I loved every second of it."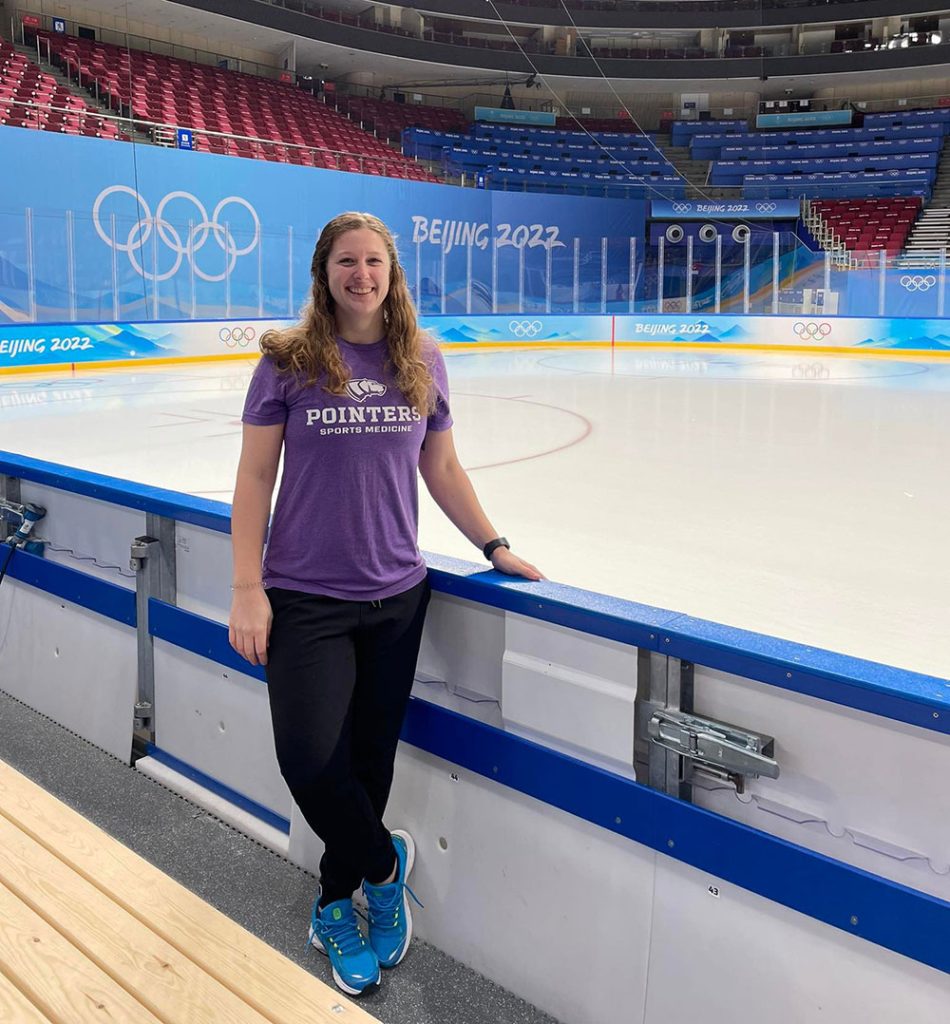 When she began her athletic training program at UW-Stevens Point in 2016, instructor Schmies asked students to write their top three locations to work. Rock listed the Olympics, a professional team and college team. She's already achieved two.
The program set her up for success, Rock said. "I definitely wouldn't be here without the athletic training program, my professors, my clinical preceptorship, my experiences. I will be forever thankful."
Idalski shares those sentiments. When the hockey season ends in April, he heads back to Wisconsin and spends the summer in Rhinelander, where his wife's family lives. He connects with his Pointer mentors.
"I owe a lot to many people at UW-Stevens Point," he said, citing Interim Provost Marty Loy, who was wrestling coach and professor in what was the Department of Health, Exercise Science and Athletics; Fred Hebert, chair of that department; and Frank O'Brien, then-athletic director.
"At times you don't realize how much you learned," Idalski said. Eight years after he began coaching and was rebuilding the UND team he drew on advice from Loy: "Step out of your echo chamber. Don't be afraid to draw from other sports, other people."
"I thoroughly enjoyed my time at UW-Stevens Point – as student, as a player, as a coach. I honed my craft and am very thankful for the opportunities."