Educators Rising Summit held at UW-Stevens Point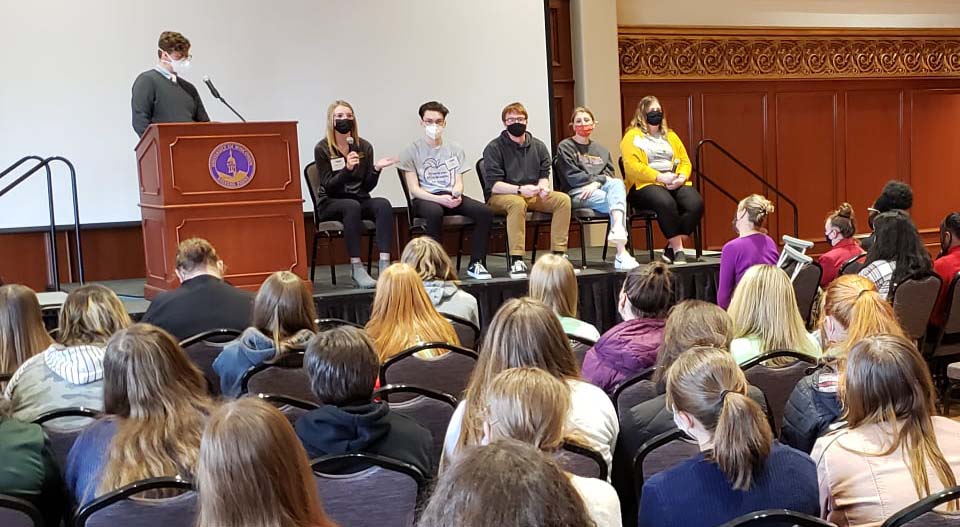 High school students from 18 school districts across the state explored future career opportunities in education at the 2022 Educators Rising Wisconsin Annual Summit and Competition Wednesday, March 2, hosted by the UW-Stevens Point School of Education. [View Photos]
Intended for students in grades 9-12, the event focused on the theme "To Plant a Seed is to Believe in Tomorrow – Strive, Survive, Thrive" and included speakers, competitive events and a panel from the UWSP Aspiring Educators student organization. Educators Rising Wisconsin is a network of educators and students who promote teaching careers.
"Educators Rising understands the critical role teachers play in achieving inclusive, quality education for all," said Lynda Fernholz, head of the UW-Stevens Point School of Education. "Teachers today have even greater significance considering the challenges both teachers and students have faced during the COVID-19 crisis. As the pandemic has shown, teachers make a vital contribution to ensuring stability of learning and supporting the mental health and wellbeing of their students."
This is the second year in row UWSP has been the host institution for the event, demonstrating how the ​Harju Center for Equity in Education at UW-Stevens Point aims to empower learners though collaborative, inclusive and sustainable opportunities.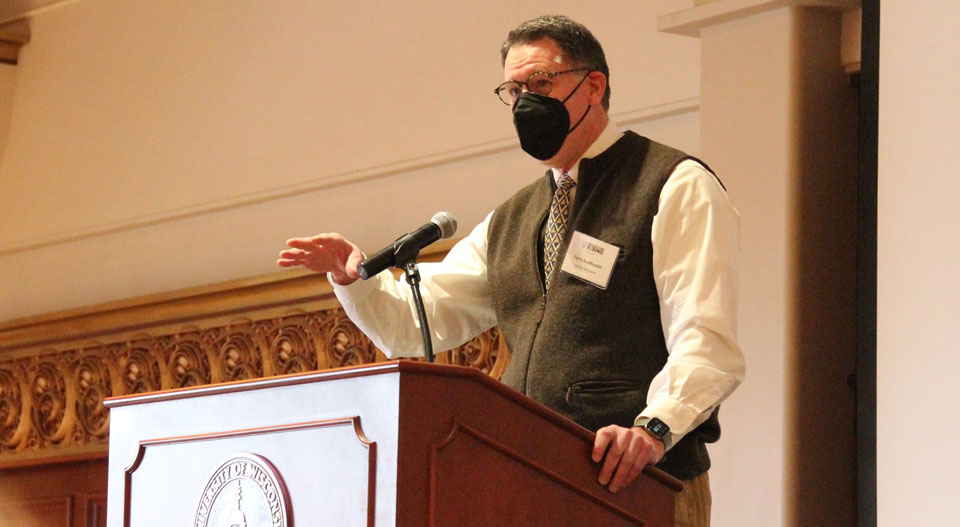 Keynote speaker Terry Kaldhusdal, a social studies teacher in the Kettle Moraine School District, shared stories of struggles, failures and successes with his students from the last 30 years. Kaldhusdal is a 2006 Kohl Fellowship award winner, 2007 Wisconsin State Teacher of the Year, 2011 American History Teacher of the Year for Wisconsin, 2014 Wisconsin Environmental Co-Educator of the Year and the 2014 Lowell Milken Fellowship Award.
Students attended breakout sessions led by award-winning teachers, K-12 teachers and social workers, statewide university faculty and Wisconsin Department of Public Instruction (DPI) staff.
A number of competitive events and contests were held about lesson planning, leadership, public speaking, research and ethics. The top two scoring contestants in each competitive event qualified for the national competition.
"Educators Rising enables students to identify their strengths and passions so they discover their purpose," said Fernholz. "Teaching is a tough gig but well worth it for those with the ability to make a difference in the classroom."
Formerly Future Teachers of Wisconsin, Educators Rising Wisconsin aims to inspire and equip a future generation of educators to serve Wisconsin's public schools. It works to encourage young people to explore the benefits of a career in education and embrace the calling of teaching as a profession. The organization is coordinated by the Wisconsin Education Association Counci (WEAC) and sponsored by the national Phi Delta Kappa organization.
Since 1894, the School of Education has been the hub of teacher preparation programs at UW-Stevens Point. It prepares future teachers majoring in early childhood education, elementary education, physical education or special education. The School of Education also supports students seeking certification in K-12 and secondary education.