Students present about mask-wearing, alcohol laws at 2022 Research in the Rotunda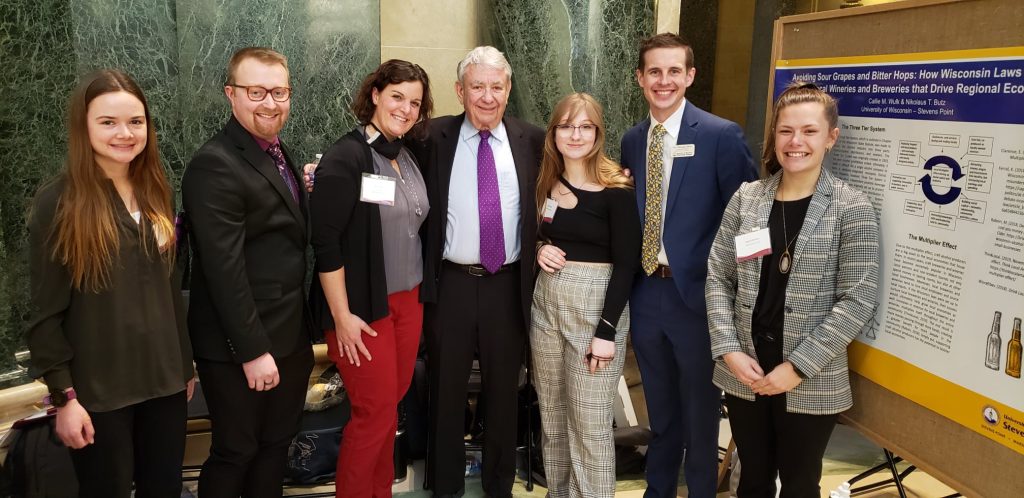 UW-Stevens Point students Callie Wulk '24 (business administration), Catie Gage '24 (dietetics) and Sophia Reddan '22 (health science – pre-athletic training) were among elite undergraduate students from around the UW System who shared their work with legislators, regents, faculty and fellow student researchers at the 18th annual Research in the Rotunda at the State Capitol in Madison on March 9. [View Photos]
Each year, Research in the Rotunda is a wonderful opportunity to learn about the exciting research going on throughout the state and to support Wisconsin students and faculty members who contribute to the state's strong economic future.
Studies show that undergraduate research leads to better job readiness, encompassing a broad range of student talents, interests and skills across academic disciplines. UW leaders believe broader participation in undergraduate research will provide students with the knowledge and skills they need for 21st century jobs, preparing graduates to succeed in a world that values innovation, problem-solving, teamwork and collaboration.
School of Business and Economics student Callie Wulk, of Wausau, presented "Avoiding sour grapes and bitter hops: How Wisconsin laws can nurture the local wineries and breweries that drive regional economies" with the support of Assistant Professor Nik Butz.
Abstract: The purpose of this study is to explore how Wisconsin laws and regulations affect local wineries and breweries. In particular, this research examines how these laws impact local economies via the multiplier effect, a phenomenon in which money spent by local patrons and tourists creates jobs and drives consumption. This research also explores how these local businesses navigate the laws that govern them. Since a lot of the laws affecting these businesses were originally created following prohibition in 1933—when alcohol production was virtually synonymous with large-volume breweries—the operation of small local breweries and wineries often do not fit well within the historic context of existing legislation. The methodology used to conduct this study was one-on-one interviews with local winery and brewery owners in Central Wisconsin. To this end, we collected first-hand perspectives on what it is like operating a small business under these laws and how they are affected both positively and negatively. Overall, Wisconsin laws could do more to drive local economics in the beer and wine sector, thereby contributing to the economic success of local communities.
---
School of Health Sciences and Wellness students Catie Gage of Janesville and Sophia Reddan from Madison presented their research of "Mask adherence surveillance of university and broader community settings" with the support of Assistant Professor Tiff Akins.
Abstract: SARS-CoV-2 virus (COVID-19) has disrupted millions of lives across the globe. Public health initiatives such as social distancing and mask-wearing have been suggested and even mandated to prevent the spread of the virus. The rate of COVID-19 positivity rates among young adults (18-30 years old) in the US has been higher than other age groups from June 2020 through August 2021. The goal of this research is to identify proper mask adherence on a University of Wisconsin System campus in comparison to the surrounding rural community to inform public health decision-making and gain insight into adherence to public health guidelines between these populations. Over the 12-week observation period, 4065 observations were made on the university campus and throughout various community entities. On the university campus, 1673 observations were made, 94.5% (1581 individuals) wore a mask, of those 91.4% (1445 individuals) wore a mask correctly. This is an 86.3% mask adherence and correct usage rate on the University of Wisconsin System campus. Throughout various community entities, 2392 observations were made, 79.2% (1895 individuals) wore a mask, of those 88.7% (1681 individuals) wore a mask correctly. This is a 70.3% mask adherence and correct usage rate within the rural community settings. Overall, our data support high compliance to the CDC recommended masking suggestions however the young adult population when observed on the University campus were observed in higher compliance with correct mask usage.