Issues in Aging students experience Virtual Dementia Tour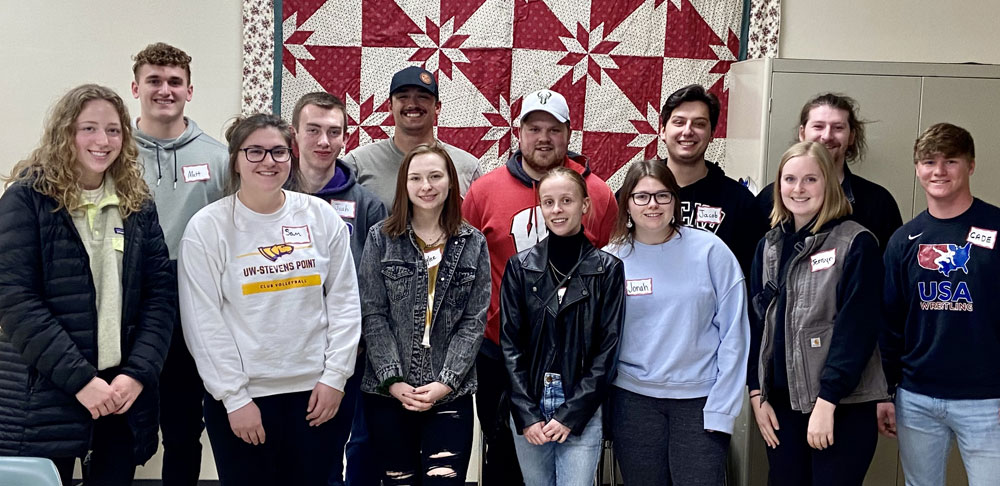 In partnership with the Aging & Disability Resource Center of Portage County and Dementia Care Specialist Carley Prochaska '15, UW-Stevens Point students in HS 410 – Issues in Aging gained experiential learning last week to a Virtual Dementia Tour (VDT). The VDT is a sensory tour using technology designed to alter the senses to the point where completing basic tasks and following instructions becomes difficult and frustrating.

Wearing sensory-altering items, students are led into a dimly-lit room and are given a list of five everyday tasks to finish within an eight-minute time frame, but with impaired vision, hearing and sensation. Most students found it impossible to complete all of them – let alone more than two of the tasks in this class. Throughout the tour, many students unknowingly exhibited some of the telltale signs of dementia, from shuffling aimlessly around the room or staring blankly at specific objects, fiddling with things not on their task list and unsure of what they're supposed to be doing, they became frustrated, disoriented and confused by the time eight minutes was up. There was a behavior observation by the tour staff and students were seemingly unaware of them. Notable behaviors of these undergrads were: pacing, rummaging through clothing, talking to self, sighing, holding onto items and wandering around, startling with phone ringing, wearing multiple layers of clothing and putting items in random places (none of which were on the task lists).

The value for students to experience for themselves the physical and mental challenges those with dementia face, and use the experience to provide person-centered care and build empathy for those with this disease process as dementia will impact each of us personally or professionally.
Students reflected on gaining a better understanding of expected dementia behavior, the sheer frustration of the seemingly simple tasks and how long eight minutes felt like to them. This will give students tools to reduce the number of challenging situations and increase their ability to connect to those they serve and interact with, in their own family and community.