CBEI Central Wisconsin Spring 2022 Economic Report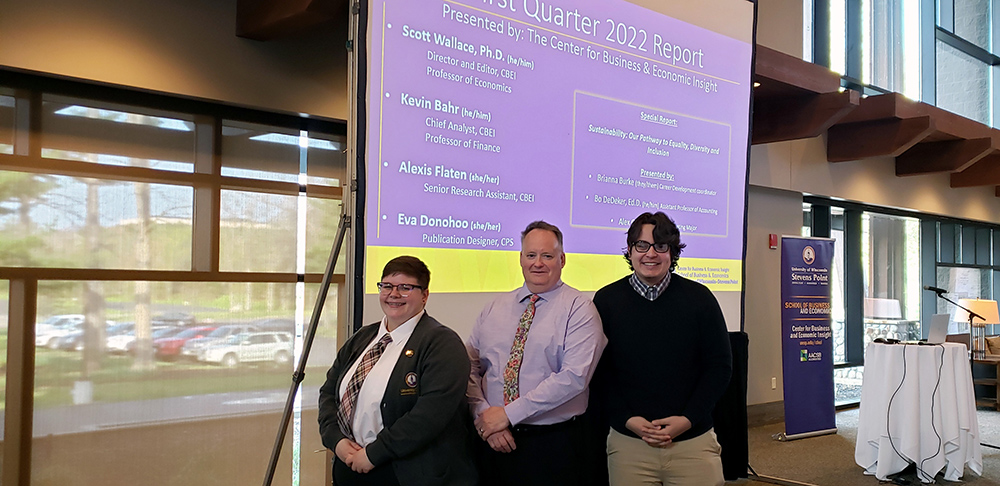 Just Like Old Times
by Scott Wallace, Ph.D.
Director and Editor, CBEI; Professor of Economics
UW-Stevens Point School of Business and Economics
Recent times have been both interesting and challenging with the spread of the Delta variant interrupting a return to normalcy that we were all looking forward to. Now, the emergence of the Omicron variant promises to keep things interesting as we head into the holiday season and the new year.
The Center for Business and Economic Insight crew and our presenters are very excited to be back in front of a live audience for our May 13 breakfast meeting at SentryWorld Atrium. It's been a long time! Our last breakfast meeting was in December 2019, just three months before the unwelcome arrival of COVID-19!
In The U.S. Economy: The Myths vs. The Realities, Chief Analyst Kevin Bahr provides much needed context in creating a more nuanced account of our current economic conditions. In doing so, he exposes the shortcomings of several popular myths about the economy. The macroeconomy is a constantly evolving web of extraordinarily complex relationships. Depictions that focus solely on one or two causal factors typically fall short in providing an accurate characterization of the economy.
I am excited to announce the revival of our business confidence index in the Economic Indicators section of the report. The index is based on a survey of business executives in Marathon, Portage and Wood counties. We are grateful for the cooperation of the following Chamber of Commerce leaders for sharing the survey with their members: Brian Otten, marketing manager of the Greater Wausau Chamber of Commerce; Scott Larson, president of the Marshfield Chamber of Commerce; Angel Whitehead, president of the Heart of Wisconsin Chamber of Commerce; and Karen Myers, director of programs and events for the Portage County Business Council. Thanks also go out to Prof. Nik Butz, Emma Fisher and Jenny Resch for organizing and managing the survey process.
Our special report, Sustainability: Our Pathway to Equality, Diversity, and Inclusion by Bo DeDeker (assistant professor of accounting), Brianna Burke (career development coordinator), and Alex Garcia (accounting major) addresses the critical importance of sustainability for both our planet and society and describes the important role that businesses, government, and universities can play in meeting sustainability goals.
This issue's Insight Spotlight column, The Growing Trend to Overcome the Labor Shortage, features Christopher Spranger, CEO of Spranger Business Solutions, describing how the adoption of Lean Six Sigma practices can help companies dramatically improve efficiencies in production and help relieve the current labor shortage problem.